Lighting and photographing a car does not always have to involve a giant studio space, expensive lights, and hours to setup and shoot. In this behind-the-scenes video, we are going to show you an inexpensive way to use one strobe and a constant light source to create this stylized track inspired engagement photograph which was lit and shot in less than 15 minutes!
Vision Behind the Image
When it comes to our clients' engagement sessions, we love to showcase their personalities and hobbies whenever possible as it creates a far more personalized and authentic product. So when this particular couple told us that they loved to race, we jumped at the chance to incorporate their passion for the track within their photos.
Watch the Lotus Exige Engagement Portrait BTS Video
About the Shoot
For their engagement portraits, we did a two-part session. The first part of their session was a more traditional set of lifestyle photographs featuring them goofing around and having fun throughout Laguna Beach. You can see some of their other shots taken during our session on the Lin and Jirsa Blog by clicking here.
For the second part of their shoot, we brought them back to the studio where we busted out their racing gear for some fun track inspired studio shots.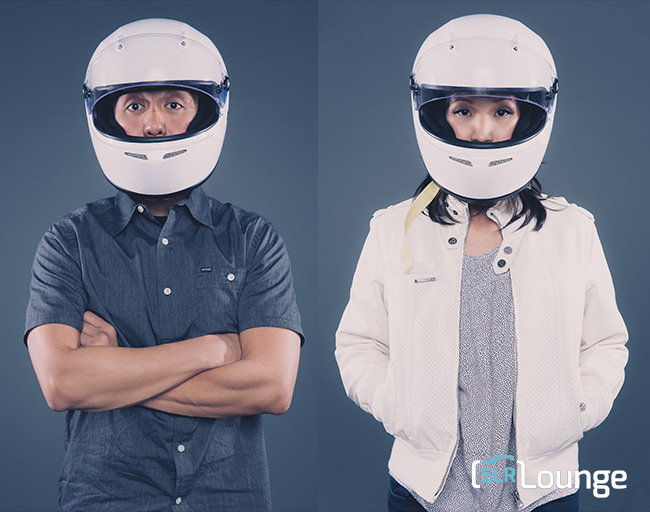 Oh, here is something else that is pretty awesome. The cover picture of the Import Tuner magazine that she is holding is actually her in front of her crazy tuned RX-7! Our groom-to-be is a lucky man, he's got a beautiful fiance with looks and talent with a torque wrench!
The Lotus Exige Engagement Portrait Shoot
At the end of our studio shoot, we only had 15 minutes left to shoot the couple in one of their cars. Both of them own awesome cars which they frequently track. For this photo, we chose her 2006 Lotus Exige in Aspen White. Pretty wicked, right?
Because our studio is far too small for the Lotus, we shot in our parking lot underneath the pedestrian overhang. We also opted to use just one Einstein strobe with the Paul Buff parabolic light modifier as a fill-light from above and the Lowel GL-1 to light-paint the car.
Before we start, here are a couple of tips with a light painting shoot. You will need to setup the camera on a firm tripod and optimally use a method of triggering the shutter that isn't going to cause any sort of camera shake or movement such as a wireless trigger, or tethered trigger.
Gears Used
Canon 5D Mark III
Canon 24-70mm f/2.8 Mark II zoom lens
Manfrotto 055XPROB Pro Tripod
Lowel GL-1 light
Camera Settings
Shutter Speed: 2 seconds
Aperture: f/5.6
ISO: 100
We exposed for the background, which gave us a 2-second exposure. Additionally, we shot from top-down angle in order to help accentuate the features and curves of the car.
This is what we got when metered to the ambient surrounding and lit with the overhead Einstein moonlight. Not the most exciting, but it is just the beginning. This first image is going to serve as our plate, and we will use all of the additional images to accentuate the highlights and shape of the car.
With Justin very gently triggering the camera, I moved around the car painting different features of the car using the Lowel GL-1 light. As we mentioned in our Lowel GL-1 review, the GL-1 is versatile and allowed us to control its light intensity and fall-off easily. We have included some of the key light painted frames in the image below. To see more light painting action, be sure to check out the behind the scenes video above.
Finally, we made a small adjustment for exposure and had our couple hop into the car with our female subject in the driver's seat since this is her car. I placed the GL-1 onto the dashboard and locked the setting, and then fired our final image in the composite.
At this point, the rest of the magic was done in post. I color graded each individual image in Lightroom using the Lightroom Presets v5.1, and then layered and composited areas of highlights and shadows into the car in Photoshop to reveal and accentuate the cars awesome curves. From our first shot to our last, we completed the shoot in only 11 minutes. Then, it took another 45 minutes to color grade and composite the images to get our final result. While the image isn't necessarily perfect, the clients were amazed and I was very happy with the results given our time and location constraints.
The Finished Image