Hey there, Sony users! Are you looking for a lightweight, compact, versatile and crisp zoom lens to capture every stunning moment in the highest of quality? Well, I've got just the lens for you! The new Sony 70-200mm f/2.8 GM 2.0 (II) is the perfect addition to any photographer's kit. The G Master series is Sony's best, but the original 70-200 needed a serious update. With version II's added aperture ring, impressive specs, lightweight and sleek design, plus amazing image quality, this lens is worth the price of admission. In this Sony 70-200mm f/2.8 GM II review, I'll show you some of the beautiful images it creates for my elopement packages in Colorado.
Spoiler alert: This lens is top notch and blows version 1 out of the water! The Sony 70-200mm GM 2 is a versatile telephoto zoom lens that delivers quick auto focus, stunning image quality, that is perfect for capturing awe-inspiring landscapes, portrait photos or elopements. As someone who shoots 50+ elopements per year in the mountains, the weight and size difference is a game changer in itself. Combined with its upgraded image quality, advanced features and customizable options, it's a dream for photographers who are looking to elevate their work and stand out from the competition.
Sony 70-200mm f/2.8 GM II Specifications
FOCAL LENGTH & ANGLE OF VIEW: 70-200mm, 34°-12°
LENS MOUNT(S): Sony E-mount
APERTURE & RANGE: f/2.8-f/22, 11-blade circular diaphragm
STABILIZATION: Optical SteadyShot image stabilization
AUTOFOCUS: Dual XD Linear Motors, AF/MF switch
MANUAL FOCUS: Focus Hold button, focus range limiter, aperture ring
OPTICAL CONSTRUCTION: 17 elements, which reduces the weight by 435 G
MAGNIFICATION & FOCUS DISTANCE: 0.30 x – 400 mm
FILTER THREADS & HOOD: 77mm
SIZE: 3.49 x 8.08" (89 x 205.3mm)
WEIGHT: 2.30 lbs
PRICE: $2,798.00
(Adorama | B&H | Amazon)
Sony 70-200mm f/2.8 GM II Review | Who Should Buy It?
Overall, the Sony FE 70-200mm f/2.8 GM OSS II lens is an excellent choice for professional photographers who require a fast, lightweight high-quality telephoto zoom lens for sports, wildlife, events, and portraits.
It's also a great choice for enthusiasts who want the best possible image quality and autofocus performance for their Sony full-frame mirrorless camera. The cost will price out a lot of photographers, but it's worth it for professionals or anyone who can afford it!
Primary Focus | Wedding Photography & Outdoor Portraits, Elopements
For my personal profession as an elopement photographer, I love how lightweight and fast this lens is. It allows me to start further back to get that compression, while coming in tight and grabbing those up close details. This lens allows me to have a seamless workflow and I don't have to worry about losing quality from shot to shot.
This is a must-have purchase for any wedding, elopement, portrait, or fashion/editorial photographer. It's also great for wildlife or landscape photography, too.
Sony 70-200mm f/2.8 GM II Review | Pros & Cons
Image Quality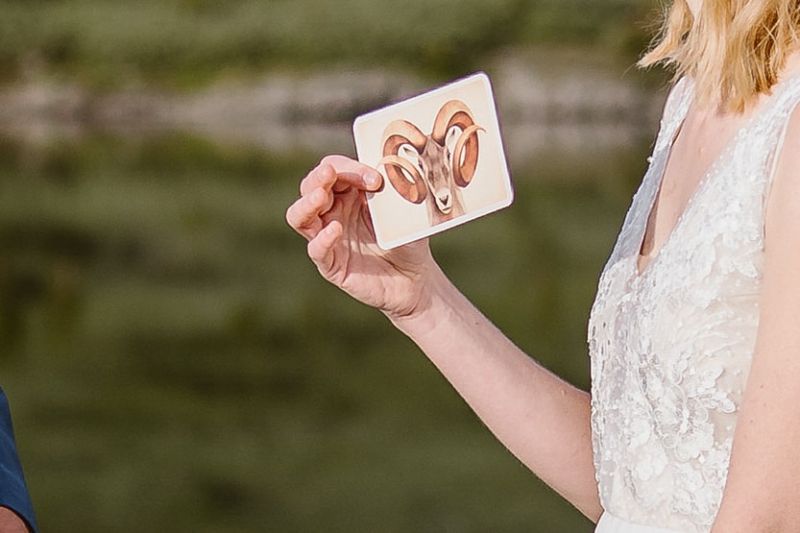 Here are the highlights of the results from the Sony 70-200mm f/2.8 GM II: beautiful image quality, with excellent sharpness and beautiful bokeh. Also, amazing images when doing close-up shots like wedding day details of rings and other details.
Sharpness
Overall, the Sony 70-200mm f/2.8 GM OSS is one of the sharpest telephoto zoom lenses on the market. When shooting wide open at f/2.8, the lens produces sharp images with good contrast and minimal distortion. As you stop down the aperture, the sharpness and contrast improve even more, producing extremely crisp and finely detailed photos.
Bokeh
Wedding and elopement photographers will love the bokeh of this bad boy. The creaminess thanks to the fast 2.8 aperture and the all-new optical formula help to create smooth, circular bokeh with soft edges that blend seamlessly into the out-of-focus areas of the image. It's an absolute game changer for mountain weddings in particular, because of how often harsh, "busy" backgrounds are encountered.
Colors & Contrast
You can't beat or reproduce the colors this lens renders. It is a great choice for photographers who need vibrant color and clear, crisp contrast from their lenses for big moments outside, low-light situations or wedding portraits.
Vignetting & Distortion
The vignetting is perfect when shooting at wide apertures. The lens features built-in correction for vignetting, which helps to reduce the effect and produce even illumination across the frame. The minimal vignetting and distortion make it an ideal choice for a wide range of photography genres, including portrait, wedding, sports, and wildlife photography.
Macro & Close-Up Photography
This isn't a designed macro lens, but it does have a close focusing distance of 0.96m (3.15ft), which allows you to get reasonably close to your subject and capture some close-up details. It can still be used for close-up photography and can produce excellent results when using the manual focus ring.
Design & Durability
Sturdy and weather-sealed construction for durability in harsh environments is standard for Sony GM lenses, and this one takes it to another level. An impressive 21 weather seal points make this the perfect lens for being outside in any condition. Your clients will need to run for cover long before you do!
Ergonomics & Portability
Sony really outdid themselves with this 2.0 version of their 70-200 GM: it's lightweight and compact, even though its image quality and performance are so improved. This zoom lens is only 36.9 ounces, making it one of the lightest zoom lenses in its class.
Autofocus Performance
The lens has been updated with Sony's latest autofocus technology, including two XD (extreme dynamic) Linear Motors for fast and precise focusing. This makes it ideal for capturing fast-moving subjects such as sports or wildlife. For portraits and weddings, it's an absolute champ.
Manual Focus Performance
The lens has multiple options for manual focus on the lens itself, as well as customizable buttons on the camera body for performing functions such as focus hold or AF-ON.
One neat feature on most Sony bodies is the ability to automatically zoom into a magnified view whenever you touch the manual focus ring, allowing precision to be almost effortless.
Value
In terms of price point, it's definitely on the high end, but the Sony 70-200mm f/2.8 GM II's advanced features and stunning image quality make it worth the investment. The images and performance it delivers is as good as, or better than, all other options on the market, and yet it accomplishes this in a lightweight, portable package with as many "bells and whistles" as possible!
Sony 70-200mm f/2.8 GM II Review | Cons
With a lens that is nearly perfect, there is never much to complain about, except for the fact that perfection comes at a steep price. If you're on a tight budget, then this $2,800 lens is likely not even on your radar.
So, the "con" we can come up with is this, admittedly biased one: as both consumers and as working professionals, we sure wish these lenses could have stayed closer to the $2K range. Having said that, accounting for inflation and the truly significant improvement in image quality, we totally understand why numerous flagship f/2.8 zooms are approaching the $3K mark.
Sony 70-200mm f/2.8 GM II Review | Compared To The Competition
Let's be honest. Sony gear geeks have been waiting a long time for this upgrade of the 70-200. Indeed, compared to its predecessor, this bad boy rocks. It boasts better image quality and improved autofocus performance. When compared to other same-mount, third-party options, it stands out for its weather-sealed construction and customization options.
The old version is heavier, bigger, and slower. The difference is quite dramatic and it over delivers for the G-Master enthusiast. This is the perfect lens for professional photographers, and we recommend saving up for it if you do full-time paid work. If you own the old version, this is worth trading it in for. If you don't own a 70-200mm yet and are trying to decide between the older and newer versions, again, just get this one!
However, anyone on a budget might want to consider third-party options. No third party has an E-mount native 70-200mm f/2.8 yet; you'll have to use an adapter and a Nikon or Canon DSLR lens. Honestly, we would only recommend this if you already own that DSLR 70-200mm, and only until you can save up for this workhorse.
Last but not least, an alternative to the 70-200mm focal length entirely is, of course, the Tamron 70-180mm f/2.8. It's not in the same league as the Sony, indeed it's not even close. It lacks stabilization, has a completely minimal user interface without switches or buttons, and is mostly plastic. Having said that, the Tamron is a mere $1,100, so it is certainly suitable for aspiring pros, and can eventually serve as a backup portrait lens, which is something all full-time pros ought to have.
In my opinion, if you are using this to create images for couples' biggest days, then the price is worth it. You have to have top-notch glass to create top-notch photos, and this lens delivers.
Sony 70-200mm f/2.8 GM II Review | Conclusion
Overall, the Sony 70-200mm GM 2.0 is an outstanding lens that delivers exceptional image quality and performance. It's almost 29% lighter than the previous model, which makes it a perfect companion for photographers who need a zoom lens in the mountains or on concrete. Though it may come with a high price tag, its advanced features, and customizable options make it worth the investment for those who want to elevate their work.
Check Pricing & Availability:
(Adorama | B&H | Amazon)
Pros
Excellent image quality
Professional, durable build quality
Impressive weight savings
Full compliment of features & customizations
Reliable, fast autofocus
Cons
One of the most expensive 70-200mm f/2.8's (though for obvious reasons)
Ergonomics & Portability
9
Final Verdict
This lens is top notch and blows version 1 out of the water! The Sony 70-200mm GM 2 is a versatile telephoto zoom lens that delivers quick auto focus, stunning image quality, that is perfect for capturing awe-inspiring landscapes, portrait photos or elopements.