What's in the kits of some of SLR Lounge's best wedding photographers in the U.S. & Canada and globally? And what do they rely upon other than their cameras to get the shots for which they're known? Well, we asked them! From modifiers to prisms to their trusty camera straps, and even a helicopter, read on for some inspiring images and examples of non-camera gear that helped these top wedding photographers get their shots.
Jim Pollard of Jim Pollard Goes Click (Instagram) uses a piece of "gear" that isn't all that accessible to the average photographer, because it's a helicopter. Seriously. A helicopter. According to Jim,
It's something I'm renowned for and use a lot, like every week. No particular preference, but I enjoy working with the Eurocopter AS35SD2, or Squirrel. It's big enough to fit a few people in, powerful enough to chop through a bit of rough wind, and looks cool too. Why do I like working with helicopters? Well, they help me take my couples to insanely awesome locations, places totally unique to them.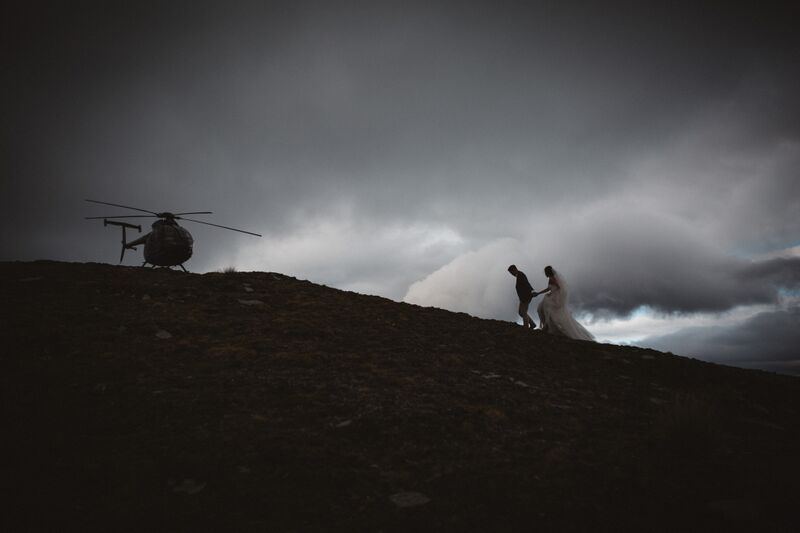 Easton & Laura Reynolds of Lurey Photography (Instagram), purveyors of "The Art of the Second Shot" (Instagram), used a MagBeam, fully extended with a 1/2 CTO gel behind the couple in the above image, to rim light-"outline" the couple. In front of the couple, they used a MagSphere and a 1/4 CTO gel. Right as they pressed the shutter, they zoomed their lens to cause the "light streaks."
Jason Vinson of Vinson Images also regularly uses MagMod's MagBeam as his modifier of choice because, according to Jason, "it can act like a grid that also makes the light from a flash more powerful." To capture the above image, Jason had his MagBeam on his Phottix Mitros+ at full power and high-speed sync, camera left.
Sam Gibson of Sam Gibson Photography has one goal with his wedding photography and it's to make his couples happy. He got this image thanks to a dance floor confetti bomb and his MagGrids and a MagGel. When we asked Sam how he specifically got this image, he said,
This image has three lights: one on my camera and then two speedlights gridded with MagGrids, one of which also has a blue gel via a MagGel. It was a really dark room so I likely had my focus assist on, and I was balanced up on the edge of a stage where the DJs were playing.
When Trevor Dayley of Trevor Dayley Photography first started shooting weddings nearly ten years ago, he would "haul around big lights, huge modifiers, batteries, stands, and even sand bags." Now, he prefers to keep it simple with MagMod gear. Trevor captured the above image at a recent wedding using two MagBounces on top of two speedlites.
Danny Dong's go-to gear (that isn't his camera) is his Phottix Mitros+ TTL Flash and Odin Flash Trigger Combo for Canon Cameras. For Danny,
[It's] very easy to use. The Phottix Plus has a built in radio receiver, so it's very quick to put on a light stand. And The Odin radio transmitter can quickly adjust the power output.
Check out more of Danny's work here: Danny Dong Photography.
Jacklyn Greenberg of JAGstudios loves her camera straps, which she attributes to her ability to be flexible throughout a wedding day. According to Jacklyn, there's no way that she could have managed the above shot without her trusty straps. And her straps of choice?  Trillo & Son Leather Co. She rocks a The Bresson Strap for her Canon EOS 5D Mark II and The Warhol Strap for her Fujifilm camera (pictured below).
She loves the way  Hiram Trillo "crafts his straps, utilizing a ring to attach the shoulder components so that it's not just flexible but also modular, allowing for ease of transforming from one strap to two!"
Lisa Rhinehart of Rhinehart Photography hasn't photographed a wedding in the last four years without her Think Tank Airport Security. According to Lisa,
It is well-constructed and designed, and keeps my gear organized, protected, accessible, and mobile on a wedding day.  It has adjustable compartments for everything from cameras and lenses to filters and memory cards. It is simple, sturdy, flexible and does not draw unwanted attention to itself.
Sam Hurd of Sam Hurd Photography is always progressing and always pioneering. The above shot is a serious example of how he keeps taking prisming to new levels. When we asked Sam about the image, he said,
I really wanted a different take on the 'string lights at night portraits.' Using a prism to reflect the lights with a streak, I made it look like some sort of perfectly placed shutter drag. In fact, it looked exactly like this on the back of my camera.
Follow Sam on Instagram here and on Facebook here; you'll be stoked that you did!
Timothy Eyrich of Timothy Eyrich Photography regularly uses two pieces of non-camera gear: a prism, which he used to capture the above image, and his phone. And the reason he loves these simple pieces of gear? According to Timothy,
The prism allows me to think outside the box and the reflection from the iPhone can help you transform an image, plus it can give you a light for details in a pinch!
CONCLUSION
What gear helps you get your epic shots? We'd love for you to comment below with an image and even throw up some links to your favorite gear too! We welcome all comments and images that are positively framed and add to the betterment of our community. And, as always, feel free to continue the conversation over at Facebook on our every-growing SLR Lounge Photography Community page. And, btw, if you haven't heard of MagMod, check 'em out! Premium Members can get $10 off their first purchase from MagMod. And the Partner Page has more details on that!
Cover Image by Jim Pollard Goes Click and images by Jim Pollard Goes Click, Lurey Photography, Vinson Images, Sam Gibson Photography, Trevor Dayley Photography, Danny Dong Photography, JAGstudios, Rhinehart Photography, Sam Hurd Photography, and Timothy Eyrich Photography, respectively, are copyrighted and have been used with permission for SLR Lounge. Do not copy, modify, or re-post this article or its images without express permission from SLR Lounge and the respective photographers. (Share the heck out of it on social media though!)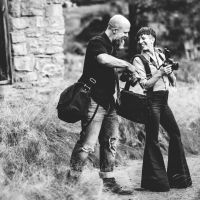 Amii & Andy Kauth
Amii & Andy are a wife and husband team of rad portrait and wedding photographers (Sunshine & Reign Photography) who absolutely love life and are generally just stoked! Yeah! When they aren't photographing or writing and teaching about photography, you'll find them off on a seriously legit adventure with their little ones, lifting weights in their garage, training jiu-jitsu, refining their archery skills, or surfing every chance they get. And on the rare chance they escape off on a "date night"? Yep! They'll find a wedding to crash (true fact). Website:
Sunshine & Reign Photography
Instagram:
@sunshineandreign