We're bringing you another artist feature from the winners of the SLR Lounge Awards! These articles highlight some of the very best wedding photographers around the globe and are meant to give the photography community insight into how SLR Lounge's award winners started their business, grew their portfolio, and achieved excellence in the photography industry.
This time we're featuring Donatas UFO, a wedding photographer based out of Lithuania. He entered his award-winning photograph into the wedding portraiture category in October and earned an Apex Award, a level reserved for those whose photographs are hand-picked by SLR Lounge's curators from the top 1% of submissions. Here's a look into Donatas' approach to wedding photography!
How Would You Define Your Approach To Wedding Photography?
I am completely passionate about what I do. Wedding photography is the perfect medium that allows me to be creative. It enables me to connect to people and make new friends, which is perfect. I eat and breathe photography, and I'm always pushing harder to try and get the most distinguished photographs I can. I see my photography as modern, creative, artistic, and individually handcrafted. I want to I feel something inside when I look at my photographs, and I hope that others will feel the same way too.
Who Are Some of the People That You Looked up to When You Entered the Industry?
I would consider Joe Buissink as one of my first mentors, and he inspired me to follow the path of a wedding photographer. I watched his seminars and workshops many times, and to this day he is still one of my favorite teachers. Also, I am in love with Peter Lindbergh's photography. And I want to also express a big thanks to my colleagues at Jūras Duo Photography; they showed me the right direction to head toward at the beginning of my wedding photography career.
How Are You Constantly Evolving and Pushing Forward Your Style and Quality?
Books about photography and art are favorite places for me to find inspiration; also fashion magazines have always been an inspiration to me. Day by day, I push myself to be creative and to take better photographs. I'm trying to be precise in every step to make my clients' photographs shine.
What Companies H
elp You Make Your Job Easier as a Photographer, and Why?
I'm a Fuji photographer because their gear is great, and because Fuji service is very responsive and attentive to what their customers need and are willing to share. I love their 35mm lens because it is so versatile. You can use it to do portraits, use it in a photojournalistic manner, and use it to shoot wide.
You can see more of Donatas' work on his website; check him out on Facebook and Instagram as well! And if you missed Donatas' SLR Lounge Facebook Live interview, check it out HERE!
You can view the latest SLR Lounge Apex Award Winners here. Don't forget to submit by the December 31 deadline to be considered for SLR Lounge's December 2017 awards competition. And remember that anyone can sign up for an SLR Lounge account for free and submit, but Premium Members are able to submit up to 3 photographs each month!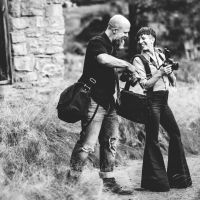 Amii & Andy Kauth
Amii & Andy are a wife and husband team of rad portrait and wedding photographers (Sunshine & Reign Photography) who absolutely love life and are generally just stoked! Yeah! When they aren't photographing or writing and teaching about photography, you'll find them off on a seriously legit adventure with their little ones, lifting weights in their garage, training jiu-jitsu, refining their archery skills, or surfing every chance they get. And on the rare chance they escape off on a "date night"? Yep! They'll find a wedding to crash (true fact). Website:
Sunshine & Reign Photography
Instagram:
@sunshineandreign