"SLR Lounge Awards Artist Feature" articles highlight SLR Lounge Awards winners, some of the very best wedding photographers around the globe. They are meant to give the photography community insight into how SLR Lounge's award winners started their business, grew their portfolio, and achieved excellence in the photography industry.
This article features Aly Kuler of Aly Kuler Photography. Aly is a multiple award-winning wedding photographer based out of New Jersey, USA. He entered his award-winning photograph into the wedding photojournalism category in November and earned an Apex Award. The Apex Award is a level reserved for those whose photographs are selected by SLR Lounge's curators from the top 1 percent of submissions. Here's a look into Aly's world of wedding photography!
What is your approach to photography, and how did you define your style?
My vision is defined by the true spirit and unparalleled personalities of the subjects that I photograph. My style has been described as highly creative, but also having an engaging and relaxed aesthetic. I strive to create a calm setting for my clients while also designing an unforgettable experience. This process is not only vital to me personally, but also essential in generating the most beautiful photographs.
What Would You Say Is the Main Thing You Did to Help You Get Your Business Off the Ground?
Well, photography was always a side job to my graphic design career. This lack of focus wasn't helping me grow in my photography skills, or develop my business. One day, I decided to take a risk, quit my job, and focus only on photography. That gave me the time to learn more about the field and grow my passion for a full-time business. I think we should all take risks sometimes for something in life for which we have a passion.
What Type of Marketing Has Been Most Successful for You? What Are Some Tips You Have for Photographers Looking to Grow Their Business?
I think online marketing is the most powerful marketing. Social media can make a huge publicity wave and send your business to the next level. I currently use Facebook and Instagram, as well as word of mouth. Recommendations from previous clients are also key. I try to provide the best customer service with all my clients, and building these relationships ensure happy clients who help me get more business in the future.
Do You Have a Favorite "Accessory" That You Use to Get the Epic Photographs for Which You Are Known?
I love to look around the location I am shooting for elements such as glass, crystal, vases, etc. I also carry a prism, led string lights, and other on-the-go elements to provide additional options. I used to work with a softbox and umbrellas, but when I am on a tight timeline for a wedding day and don't have time to set up my gear, I found that MagMod is a great, easy, and fast accessory to get my work done with the same results!
You can see more of Aly's work on his website. And give him a like/follow on Facebook/Instagram as well!
Check out the latest SLR Lounge Award Winners here. Don't forget to submit by the January 31 deadline to be considered for SLR Lounge's January 2018 awards competition. Finally, remember that anyone can sign up for an SLR Lounge account for free and submit, but Premium Members are able to submit up to 3 photographs each month!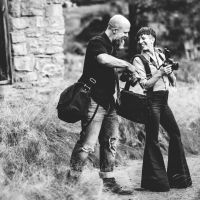 Amii & Andy Kauth
Amii & Andy are a wife and husband team of rad portrait and wedding photographers (Sunshine & Reign Photography) who absolutely love life and are generally just stoked! Yeah! When they aren't photographing or writing and teaching about photography, you'll find them off on a seriously legit adventure with their little ones, lifting weights in their garage, training jiu-jitsu, refining their archery skills, or surfing every chance they get. And on the rare chance they escape off on a "date night"? Yep! They'll find a wedding to crash (true fact). Website:
Sunshine & Reign Photography
Instagram:
@sunshineandreign