The Biggest Lens You Can Afford
It's a bird! It's a plane! And with the Sigma 120-300mm f/2.8 you can finally see exactly what that tiny thing is in the sky. At SLRLounge we've been using the new series of Sigma lenses extensively, and one lens in particular stands out (literally). It's reach, maximum aperture, quality, and price are enough to make any telephoto hungering photographer's mouth water, and for good reason. Check out our Gear Talk on this magnificent lens in the video and article below.
Sigma 120-300mm f/2.8 DG OS HSM | Gear Talk Episode 10
Sigma Sport Series
Sigma has given photographers who need telephoto lengths a couple of excellent options with their new Sport Series of lenses. This brand of lenses offer outstanding performance and incredible build quality at an affordable price. Here's what Sigma has to say about their Sport Lenses.
"Engineered for dynamic capture and split-second timing, our Sports line delivers sophisticated optical performance to get you closer to those powerful action shots you're after."

Justin's Safari with the Sigma 120-300mm f/2.8
Our very own Justin Lin recently went on a Safari in Africa and took this behemoth of a lens with him. One thing that becomes immediately apparent when you pick up this lens is how heavy it is. You can only hand hold this lens for a few minutes at a time before it becomes too taxing on your biceps, which is why we recommend using a monopod when shooting for long periods.
Justin's Safari Gear List:
Canon 5d Mark III
Canon 24-70mm f/2.8 II
Sigma 120-300mm f/2.8 DG OS HSM
Quality of the Sigma 120-300 f/2.8
If there's one word that clearly defines Sigma's new line of lenses, it's quality. Every image is tack sharp, colors come out beautifully, and unwanted artifacts like chromatic abberations and flares are well controlled. Wide open at f/2.8 the sharpness does drop slightly in the edges (when pixel peeping), and at f/4 you can't tell at all.
Capturing Animals With The Sigma 120-300mm f/2.8
"It's just so amazing to see the animals in the wild and to be a guest in their environment" Justin says. With the variable focal length of the Sigma 120-300mm f/2.8 Justin can get beautiful environmental portraits of the safari inhabitants, and amazing images of the animals from a safe distance.

Capturing Portraits With The Sigma 120-300mm f/2.8
Pye also took the Sigma 120-300mm f/2.8 on a desert fashion shoot (for an upcoming Lighting workshop!) which gave him beautiful results. Although this lens is in the Sigma Sports series, it's also makes for a powerful and beautiful portrait lens.
Conclusion
This is a lens that has impressed us all in the studio. For the price you cannot beat it's versatility, quality and performance. The Sigma 120-300mm f/2.8 is an extremely good value that we all stand behind. If you enjoyed this episode of Gear Talk be sure to subscribe to our Youtube Channel!
If you're interested in learning more about this lens be sure to check out Anthony Thurston's initial impressions on the Sigma 120-300mm f/2.8.
More Gear Talk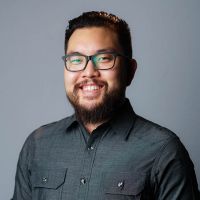 Joseph Cha
I'm a photographer and cinematographer based in Southern California. When I don't have a camera in my face I enjoy going to the movies and dissecting the story telling and visual aesthetics.