This awesome video tutorial comes from the folks of  The Slanted Lens. Jay P. Morgan shows you how he put together a shoot for a world famous trick roper. He creates two different looks; For the first look, he froze the motion of the rope and for the second look, he blurred the rope by dragging his shutter speed. He further lit his subject with a speedlight in a portable Photoflex softbox.
[REWIND: How to balance strobes with ambient light]

Every photographer knows that direct, harsh sunlight doesn't look very flattering in general, Jay gives tips on how to change that.
Solutions for Making Harsh Sunlight Look Better:
Place your subject so it has the sun in the back
Underexpose your ambient light
Expose your subject using a speedlight
How to Create 2 Different Looks Without A Lot Of Effort
Basically,  Jay created two different styles of the final image by changing his shutter speed.
For the first look, he used a shutter speed of 1/200 of a second to freeze the rope in motion. The shutter speed was possible because he used speedlights rather than studio strobes that usually sync at a slower speed.
For the second image style, he dragged his shutter speed all the way down to 1/50 of a second. This relatively long exposure time allowed him to blur out the rope and get that sense of fast movement in his final photograph. Because the talent didn't move as quick as the rope, he remained tack sharp.
As you can see the outcome of this technique is quite pleasing
Try this technique out on your shoots this week. Have fun using this technique in your own photographs and keep shooting. Or how Jay P. Morgan would say it: Keep those cameras roll'n and keep on click'n.
[via The Slanted Lens]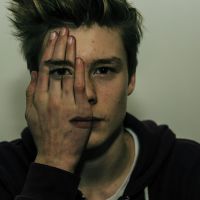 Paul Faecks
Paul Faecks is a portrait- and fine art photographer, based in Berlin. If you want to check out his latest work, you can do so by following him on
Instagram
or by liking his
Facebook Page