Since 2004 Qnap has been a preeminent force in the network appliance market. With a track a track record of industry firsts, Qnap recently released the most affordable Thunderbolt 3 NAS, the TS-453BT3.
The relationship between QNAP and Thunderbolt has matured over the last two years, developing into devices that have made their way into photo and video editors workstations; the TS-453BT3 is the newest culmination of the relationship.
This 4-bay NAS has a collection of connectivity including Thunderbolt 3, dual M.2 slots and a 10GbE port. The unit itself is powered by an Intel Celeron J3455 quad-core processor running at 1.50 GHz (bursts 2.30 GHz) with dual-channel 8 GB DDR3L RAM.
For those who need a refresher, a NAS, or Network Attached Storage, is a hard drive or enclosure that is attached to your network either via switch or router instead of being directly connected your computer. Most NAS systems allow multiple users to access/work on the same media concurrently.
The TS-453BT3, is the little brother to the TVS-1282T, featuring two Thunderbolt 3 ports that deliver up to 514 MB/s read speeds, providing speeds conductive of editing 4K and massive photo libraries for both Windows and Mac platforms.
The idea of using a NAS a direct storage is an exciting concept. In most NAS systems USB and Thunderbolt ports are used for external media, not for directly attaching a computer. QNAP has implemented in this feature to their lineup in spades, allowing the best of both worlds – Network and Direct attachment.
"In the 4K era, media professionals often face the challenges of slow connections and insufficient storage capacity. The QNAP TS-453BT3 tackles these problems with Thunderbolt 3 and 10GbE connectivity, M.2 SSD caching, and expandable storage, helping users to streamline production workflows while providing sufficient storage space for creative works," said Jason Hsu, Product Manager of QNAP.
Features:
• Dual Thunderbolt 3
• Quad-core Intel Celeron J3455 1.5GHz
• 10GBe Connectivity
• OLED Display with touch-sensitive controls
• M.2 SSD Ports inside for SSD Caching
• 4K Media Playback
• Supporting for JBOD, RAID 1, RAID 0, RAID 5, RAID 6, and RAID 10
• Native 4K Transcoding
• PLEX Media Server Hosting
• Thunderbolt3-2-10GBe Connectivity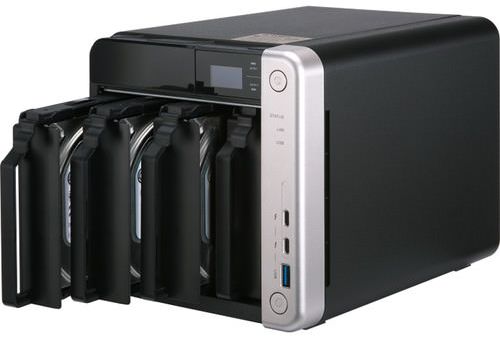 The TS-453BT3 features the latest QTS 4.3 operating system, providing a plethora of applications from the built-in App Center: Qsirch (full-text search), Q filing (automatic user workflows), Qsync and Hybrid Backup Sync (file sharing and syncing across devices). The QNAP TS-453BT3 is available from B&H, here, for just shy of the cost of a Profoto A1 – that is $999.
We'd like to extend a special thanks to B&H for their sponsorship of this trip, allowing us to bring you coverage of all the best and new from PhotoPlus 2017.
Justin Heyes
Justin Heyes wants to live in a world where we have near misses and absolute hits; great love and small disasters. Starting his career as a gaffer, he has done work for QVC and The Rachel Ray Show, but quickly fell in love with photography. When he's not building arcade machines, you can find him at local flea markets or attending car shows. Explore his photographic endeavors
here
. Website:
Justin Heyes
Instagram:
@jheyesphoto