Polaroid is celebrating their 80th anniversary and introducing a new line of instant classics and the nostalgia factor is very real. The king of instant analog film is once again becoming a pop culture phenom and bridging the gap between old school and new school photographers one happy customer at a time.
The cult classic has officially risen from the ashes with the revitalization of the Impossible Project and epitomizes the notion that everything old does become new again. Whether you are a camera enthusiast, working professional or appreciator of all things vintage, Polaroid has a place of belonging for every occasion.
Polaroid has released refurbished units of the original SX-70 and is available in five different color combinations. It is hard pressed to encounter a single person who can suppress a smile while holding one of these beauties. The Polaroid SX-70 is available now and priced at $399  with 8 exposure film packs priced at $18.99.
The OneStep 2 is the newest camera to join the lineup and is a refresh of the original OneStep that was first introduced 40 years ago. It is easy to use straight out of the box and blends modern style with a retro design. Priced at $99, the OneStep 2 is available for pre-order now and is expected to ship mid-November. Corresponding I-Type film is available in packs of 8 for $15.99.
Polaroids have made an incredible comeback and created quite a buzz. There is something refreshing about creating an instant product while still having to throw it back old school, anxiously awaiting the image to come to life. This is a product that is fun, fresh and appeals to an incredibly broad audience. There is a place for Polaroid in every genre of photography.
We'd like to extend a special thanks to B&H for their sponsorship of this trip, allowing us to bring you coverage of all the best and new from PhotoPlus 2017.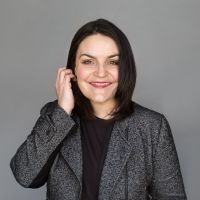 Brittany Smith
Brittany is a fashion and beauty photographer who works between NYC, Montana and LA. She photographs the way she has always wanted to feel and believes in the power of raw simplicity. When not behind a camera she can usually be found at a local coffeeshop, teaching fitness classes at the YMCA, or baking something fabulous in the kitchen. Instagram: @brittanysmithphoto