I was recently hired to photograph a group of 20 kids before their Prom. Photographing teens is really fun, but a large group like this one comes with some unique challenges. How do I pose them in a way that shows connection, but doesn't seem too intimate? How do I pose such a large group? How do I make the photo shoot experience memorable for the kids? Here are 6 tips for prom posing and photographing teen couples that I gathered from the SLR Lounge team. Thanks for the tips guys! This shoot was a big success and so much fun.   To pay it forward, here are prom poses and ideas to help you on your next shoot.
1. Capture the Candids
As the kids were arriving at our photo shoot location, I made sure to have my camera ready to capture some candid shots as they were walking arm in arm. Their excitement for this special date was palpable and I wanted to show that movement, energy and youth. Man, wouldn't it be nice to be 17 for just one day again?  Some of the best photos from the shoot came from these photojournalistic moments that were not posed or forced.
2. Keep The Lighting for Your Prom Photos Simple!
Most prom photo sessions are short, so be sure to keep things simple.  I only had about 45 minutes to take these group photos, so I kept things simple and used all natural light with no modification whatsoever. Just my trusty Canon 5D Mark III and 24-70mm f/2.8L II lens. Lucky for us, it was an overcast day and just before sunset, so I had some gorgeous light to work with. I edited with the SLR Lounge Lightroom Preset System.
If your prom photo session is was closer to dusk, consider simple lighting tools like an umbrella.  The key is to use tools that are fast to set up and adjust.
3. Listen to the Teens' Ideas and Wants!
Aside from couple shots, a group shot, and a boy and girl group shot, I was open to anything the kids wanted to do. And they were sure to let me know what they wanted. Listen to the kids and go with their ideas if time allows. The girls, especially, had specific requests for different groupings or pose ideas.
Also, don't be afraid to ask each couple if they are dating or going to the dance as "just friends." This will help you know how to pose them appropriately.
4. Avoid "Shrimp Cocktail Hands" in your Prom Poses
I stole this tip from the SLR Lounge Natural Light Couples Workshop, so all the credit for this one has to go to our Editor in Chief, Pye Jirsa. To avoid funky looking shrimp-like fingers in a hand holding pose, discourage the couples from interlocking fingers. Just have them touch hands lightly or interlock a pinky finger or however they feel comfortable without interlocking. The key here is to just pay attention to the hands and make sure they don't look weird or tense.
5. When in Doubt, Use the "V-Up" Pose
Here's another tip from the SLR Lounge Natural Light Couples Workshop DVD. One of the basic foundation poses in this workshop is called the "V-Up". You can use the basic V-Up with teens because it's a less intimate pose. Couples can hold hands or the girl can place her hand on the guy's lapel for more connection from this foundation pose.
6. Remember "The OC" (Editorial, Layered Prom Pose)
Hanssie offered me this tip when I was asking around about how to pose a group of teens. "Remember the OC!" Say what? Do a Google image search for "The OC" cast and you'll see how brilliant this tip really is. I pinned some of them on my Photography Prom board on Pinterest, if you want to check them out.
To get "The OC" look, you basically want to make sure to have everyone on different levels. Some sitting, some standing, some leaning on a post or wall. Everyone is doing something different with their hands. They look posed, but not posed, and it makes a group photo a lot more dynamic than just having everyone stand in two or three rows and smile. Now, this group of 20 was so large that this casual approach to a group photo was a challenge, but I still think it turned out great! Awesome tip.
7. Have Fun With Your Prom Poses
After the super posed pics are done, make sure to have some fun! Have the kids jump in the air (make sure your shutter speed is set at 1/500th of a second or faster to stop motion) or give you their best GQ/James Bond pose.
If they have an idea, go with it (gangster poses, anyone?). Michelle Ford offered me another great idea for an interesting group shot. After the formal group shot, ask everyone to look at each other and laugh. It totally works and these make great teaser images for your Facebook page.
Ok, now you have been armed with a plan for your prom, homecoming dance, Quinceañera, sweet sixteen or teen dance party photo shoot. Go for it and let me know how it goes!
Conclusion
Prom photography is meant to be fun and exciting.  Try your best to match the mood with your energy, your ideas, and your poses!  Capture their personalities, their laughs, and their interactions.  Some of the best photos and moments will happen when they are not posed, so always be ready.  Also, be creative with your prom poses and don' worry too much about sticking to the norm.  Capturing these teens' personalities is far more important than any posing rules or guidance that you might have in your mind.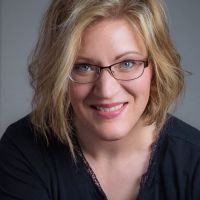 Tanya Goodall Smith
Tanya is the owner of WorkStory Branding Photography in Spokane, WA. Businesses hire her to create story-telling content that sells their high end products and services. She also teachings photographers her unique business model for making serious money as a corporate and personal branding photographer. Find her at
workstoryphotography.com
and
workstoryeducation.com