Once a year my husband and I try to sneak away for a weekend without the kids. It's really helped maintain our sanity (not to mention our marriage) and gives me a much-needed chance to take pictures just for me. I rarely get my camera out when my kids are with me out in public anymore. I find it difficult to focus on their well-being when I'm lost in "the zone" behind my camera. So, finding time away to experiment and shoot just for fun is a special treat for me.
Note: If you haven't already, read my initial thoughts on the Lensbaby Composer Pro before checking out this detailed look at the Lensbaby 35 optic.
We like to visit local-ish spots for our weekend getaways. Our favorite places are a luxurious treat but fun, adventurous, casual and relaxing. This time we headed over toward the Columbia River Gorge for a visit to Skamania Lodge in Stevenson, WA and it was everything we hoped it would be. I took my camera with the Lensbaby Composer Pro and 35 optic out for a spin on our hike through the grounds and here's what I found after a day of shooting.
Lightweight & Compact
On this trip, I decided to leave my ultra reliable but oh-so-heavy Canon 24-70mm f/2.8L II lens at home in favor of something a little lighter. I've been wanting to really put the new Lensbaby system I purchased for my birthday to the test, so I brought that along with my Canon 50mm f/1.4 prime. Both are lightweight and small. Perfect for touring around.
Slow and Steady
I quickly discovered this lens is not for fast paced shooting. I'm used to capturing fleeting candid moments on a photo walk, and this lens does not really lend itself well to that. Mostly because of the manual focus and the fact that the tilt-shift and narrow area of focus make it difficult to figure out where your focal point is at all. I'm near-sighted and wear glasses, which added to the difficulty (yes, I'm basically blind and auto focus is my friend). Perhaps with more practice I'll be able to focus more quickly.
On the plus side, this really made me slow down and compose my shots intentionally. It was quite enjoyable once I surrendered to the idea of it. Keeping in mind that a larger aperture will make that sweet spot of focus larger, I kept my aperture between f/4 and f/8 to help nail the focus. Shooting wide open with this made it almost impossible to focus on anything.
I found that changing the focus slightly can drastically change the composition and even the story your image might tell. Take a look at these two images below. Where does your eye go first on each? Which do you think is a stronger image or tells a more interesting or relevant story?
To me, the one with the focus on the crosswalk is stronger. It makes more sense. Otherwise, the focus is on a random patch of greenery and the viewer is left wondering why? Why would the artist want me to focus on this plant? For more tips on composition and focusing, check out our Photography 101 Workshop DVD.
Motion and Mystery
If you want to add a feeling of motion or mystery to your images, the Lensbaby 35 Optic is something you should try. After loading my images into Lightroom, I was delighted by the results of some of these that lend a feeling of motion along the hiking trail. It feels like I'm jogging through the forest.
Others have a tunnel-like feeling. If I were to shoot a series for a client, or even for my own portfolio, I likely wouldn't shoot the whole thing with this lens (as I have done here, which was for practice and to show you results). I would likely use it for a few carefully chosen images to show some variety, especially if a feeling of motion or mystery was desired.
A Fine Art Feel
If you want to add a fine art feel to an otherwise boring composition, this lens is a good tool. That blur just adds an impressionistic painterly feel that you can't get with a "regular" camera or lens. Yes, you can add some blur in Photoshop, but the tilt in this lens really adds a distinct look you can't replicate with post processing (at least not without spending a ton of time).
Have some fun playing with textures to create abstract images. The possibilities are endless with this thing!
To Tilt Or Not To Tilt
A little tiny bit of tilt goes a lot way with this lens. You can get some pretty funky effects just by tilting it slightly. Beware of too much tilt, since you'll end up with a black circle like effect in the side of your image (see below).
The ability to really tilt the lens upward or downward allowed me to do things I normally wouldn't be able to do with a standard lens. For example, I was able to tilt the lens upward enough to crop out the cars in front of the lodge and just get the architectural detail of the eaves from several angles.
In this example, tilting the lens downward allowed me to focus on the little shack that's normally out of my normal focus area, leaving the rest of the image blurry.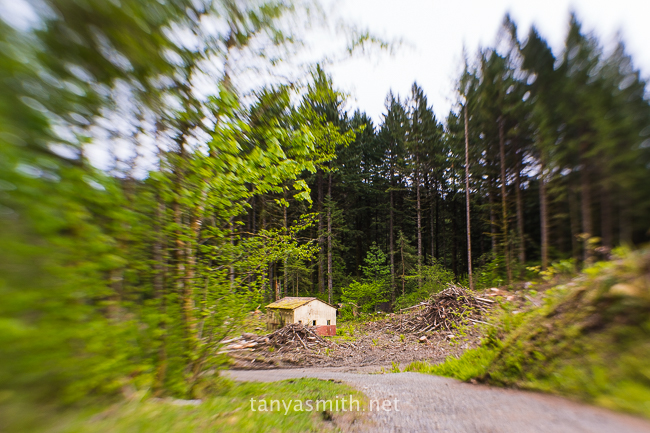 Other Issues
In-camera light metering seemed to be very unpredictable with this lens. I generally use spot metering with all my other lenses, so I assumed that would be fine for the Lensbaby, too, but my exposure based on the in-camera light meter seemed to be all over the place. Perhaps switching to a different metering mode would help? I'll try that out with the 80mm Optic and let you know how it goes.
Switching out the optic takes a little more time than simply switching out a regular lens, so for the purpose of a hike I just left the 35mm Optic in the whole time. Stopping to switch out optics didn't seem to be practical, especially with my super fast hiking husband leaving me in the dust.
Conclusion
After taking the Lensbaby Composer Pro with 35 Optic out on a casual nature hike, I probably wouldn't use the Lensbaby for a fast paced walking around lens. It's more conducive to pre-meditated shoots that allow you to take your time and really compose your shot intentionally.
On that note, I had a lot of fun using this lens and now that I'm more familiar with how it works, I can't wait to add it to my arsenal of tools for creating artistic and fun images.
Other articles you might like:
SEEING IN A NEW WAY—MY LENSBABY COMPOSER PRO FIRST EXPERIENCE & INITIAL THOUGHTS
5 WAYS TO IMPROVE YOUR STREET PHOTOGRAPHY (AND WHY YOU SHOULD DO A PHOTO WALK ASAP)
5 TIPS FOR TAKING AMAZING HIGH SCHOOL SENIOR PORTRAITS
FIVE MORE RULES TO ROCK YOUR PHOTOGRAPHY COMPOSITION
CREDITS: Photographs by Tanya Smith are copyrighted and have been used with permission for SLR Lounge. Do not copy, modify or re-post this article or images without express permission from SLR Lounge and the artist.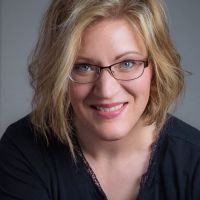 Tanya Goodall Smith
Tanya is the owner of WorkStory Branding Photography in Spokane, WA. Businesses hire her to create story-telling content that sells their high end products and services. She also teachings photographers her unique business model for making serious money as a corporate and personal branding photographer. Find her at
workstoryphotography.com
and
workstoryeducation.com