The digital age has opened up a plethora of opportunities for photographers to generate income outside of traditional client work. The concept of "passive income" is the topic of hundreds of "financial gurus" on Youtube and a common aspiration for many households. I mean, who doesn't want to make money without doing any "work?" However, it's important to note from the outset that there is no such thing as purely passive income in photography. Each opportunity requires setup and maintenance for success, and anyone who promises otherwise is selling a false dream. But with some effort and knowledge, passive income opportunities can provide a steady stream of income with less active involvement, diversifying your income and helping you earn more. In a previous article, we covered how to make money in photography, and in this one, we'll focus more specifically on ideas for passive income in photography.
Why Diversify with Passive Income?
As a successful photographer, do you need to think about how to diversify your photography income? The thing is, even if you're doing great in your career, relying on one income stream is risky. A sudden illness, life changes, or another global pandemic can come along and change everything. 
Give yourself the freedom to pivot when life throws you a curveball. Future-proof your business by leveraging your skills into multiple earning streams. A passive income side hustle can also provide a creative outlet where you can just be you, an outlet that isn't dependent on clients' demands.  With that said, here are 7 ideas for passive income in photography.
Teach Education or Mentor Online
Teach a Course or Start a Community
Sharing your knowledge and expertise online is a great way to create a stream of passive income. Platforms like Udemy, Skillshare, Kajabi and Coursera allow you to create and sell courses on topics you are well-versed in.   Once your course is created and published, you can earn money each time someone purchases it, watches it or subscribes to it.
An example of this is our very own SLR Lounge Premium. A word of caution though, this is quite challenging. Due to the unprecedented number of content creators and the vast amount of top-notch content available for free on YouTube, the oversaturated market necessitates that you effectively teach a unique skill set and foster the community.  This will take time and can quickly become a full time job.  If you're interested in pursuing this route, see our article on The Best Online Course Platforms.
Sell Prints Online
One of the best ways to add passive income to your photography business is to sell prints of your client work to the guests of your events.  Online galleries such as Pixieset and Smugmug streamline the process so that order fulfillment is automatic and handled by a third party.  This lets you earn money from your prints without the need for active involvement in the printing and shipping process.
While you will have to come up with a strategy that works for you, here are a few tips:
Ensure that purchasing is enabled in your galleries.
Ask your couple to share the gallery with their family and friends.  Consider adding incentives or bonuses if the do so.
Consider passing out cards to guests with a QR code to collect their email and send them a notification when the images are ready.
Cull and curate the images so that you're only showing the best of the best and so that you're eliminating the duplicates.  A great image can get lost in a sea of repeats and below average shots.  To help you cull, consider using a tool like Narrative Select, but be sure to take the time and manually scan the final selections as well.
Send email reminders during the holidays with special promotions on prints.
Sell Presets and Other Workflow Tools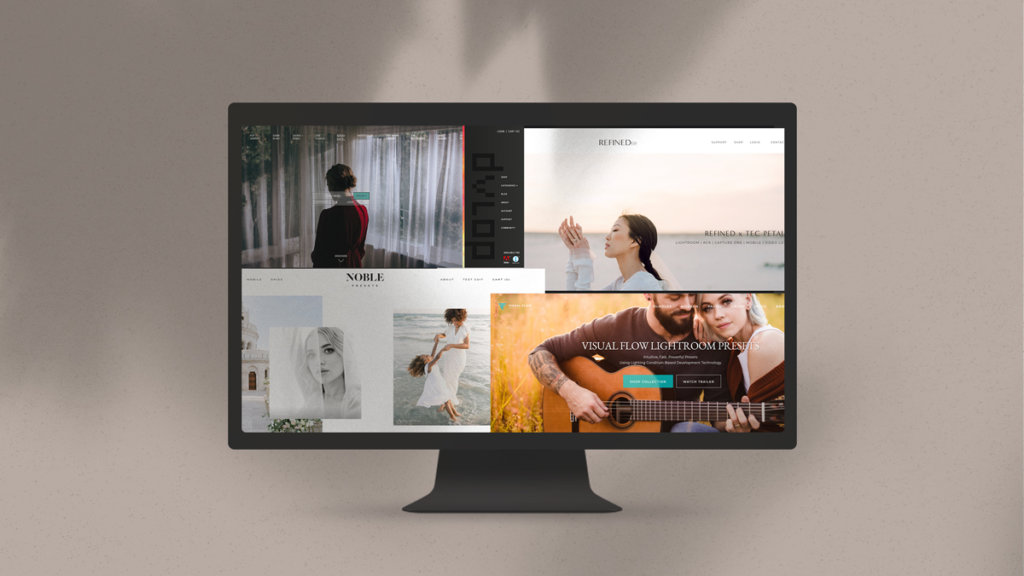 Many photographers and content creators are willing to pay for tools that will help streamline their workflow and enhance their images. Selling editing tools such as Lightroom presets, Photoshop actions, or other tools to run a photography business, such as email templates or contracts, can be a great way to generate passive income.
In terms of presets, this is exactly what we have done for years with our Visual Flow Presets.  However, just like with education, the market is very saturated and competitive. So if you decide to pursue this route, make sure you're offering something unique and be prepared for a lot of work.
Start a Blog for Affiliate and Sponsorship Revenue
Starting a blog on photography or a related niche allows you to share your knowledge and passion while also generating income through affiliate marketing. By recommending products or services you trust and use yourself, and including affiliate links in your blog posts, you can earn a commission each time someone makes a purchase through your link.
Here are a few affiliate programs to consider:
Amazon affiliates
Adorama's affiliate program
B&H's affiliate program
Affiliate programs for software such as Lightroom, Skylum, Shootproof, Honeybook, and more
Affiliate programs for your favorite lighting gear such as Magmod or Westcott
More!  Search your favorite brand plus the words "affiliate program" to see if they offer something
Sell Stock Photography
Although the popularity and profitability of stock photography have been affected by platforms like Pexels and Unsplash, it is still an option for generating some passive income. By uploading your images to stock photography websites like Shutterstock, Adobe Stock, or Alamy, you can earn money each time someone purchases a license to use one of your images.
Start a YouTube Channel
Starting a YouTube channel is another way to share your knowledge and passion for photography while generating income. By creating and publishing videos on topics of interest to photographers, and monetizing your channel through ads and affiliate marketing, you can earn money each time someone watches one of your videos.
What can you expect?  In the photography niche, you can usually expect to receive $2-$5 for every thousand views directly from Youtube.  From there, you can leverage the audience to land sponsorships with major brands, which will pay a wide range of rates depending on your audience and engagement numbers.
Start a Related Business
You may have other creative outlets that you can lean into to diversify your photography income. You could find a way to express your brand and reach a broader audience through unconventional methods. There are obvious photo-related accessories like postcards or zines, but think outside the box – the sky's the limit.  We've seen photographers go on to launch successful marketing agencies, tech platforms and more!
For example, married couple Chris and Ruth naturally progressed into an unrelated side business – making hats. In an interview, they told the story of how they always wore hats when shooting weddings, and people started associating that with their brand. Over the years, they bought a lot of hats and decided they wanted to create a better product, so they did. Now, they have a side hustle selling straw and felt hats. Watch the interview below.
Capturing New Opportunities for Passive Income
Earning a living as a photographer means succeeding in a competitive and unpredictable market. By finding ways to diversify your photography income, you can earn more while enriching your professional life and opening new doors for your creativity to flourish. We hope you have found inspiration to enhance your photography career for a long and profitable future.
Generating passive income as a photographer requires some initial effort to set up, but with some creativity and dedication, it is possible to create multiple streams of income that require minimal ongoing effort. By exploring the options listed above and finding what works best for you, you can create a more stable and diversified income as a photographer.
Alice Houstons
Photography has been a part of Alice Houston's life for over a decade now. Here at SLR Lounge, she prides herself on being a wealth of knowledge in the latest photography news and tech. Always searching and a self-described "Digital Nomad," she loves learning about those unique stories that inspire photographers around the world!