"Photography is a way of feeling, of touching, of loving. What you have caught on film is captured forever… It remembers little things, long after you have forgotten everything." – Aaron Siskind
Bipasha Shom spent her summer vacations as a kid traveling to the beautiful city of Kolkata, the thriving capital of India's West Bengal state, known for grand colonial architecture, art galleries, and cultural festivals. She frequently stopped to take photos with her SLR and noticed that these people had no family photos of their own, mainly because they didn't have access to a camera. What became a time-consuming task of shooting images and then getting them printed was rectified with the resurgence of instant photography, where Shom was able to simplify her process and offer instant memories to "people who have no photos of their children, their weddings, or their own childhoods."
She paired up with her husband Chris Manley, an Emmy-award-winning cinematographer, to manifest the #GivePhotos initiative, offering the impoverished people of Kolkata the opportunity to see images of themselves in an instant, giving away over 1,000 photos over a month long period of time, a concept that truly embodies the power of print photography.
The importance that printed images hold in a quickly evolving time of camera technology is the reason why storytellers like Fundy play such an important role in the present and future of our industry. "Being able to immediately hand a print to someone who has never seen a photo develop before their eyes is pure magic," which is why Shom also brought along her friend Julia Black Nicholas to document their reactions.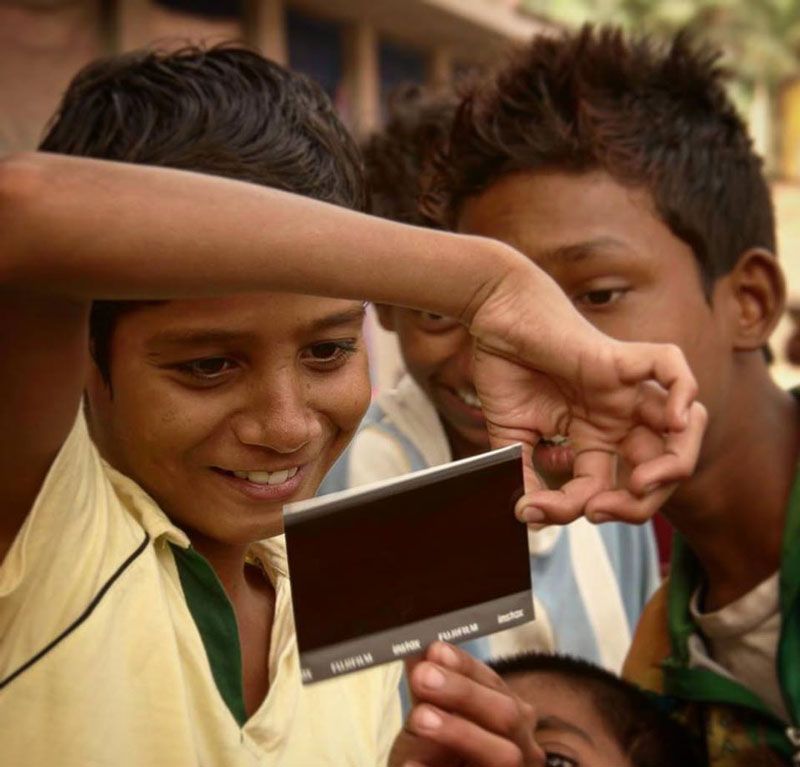 Prior to photographing, Shom and her team asked people whether their families had any photos taken of them in the past, and usually, the resounding answer was no. Some of these individuals were living in thatch huts with dirt floors and no running water or electricity.
Which story stood out to you the most in terms of reaction?
Once I took a photo of a woman who was a bathroom attendant. I didn't know it at the time but after I took the photo and gave it to her I realized she was deaf. It was hard communicating with her but the look on her face, when she saw the photo develop, was just incredulous. She was beaming. This was the first time anyone had photographed her. We saw her again a couple hours later and found that she had put the photo in a plastic bag to protect it and was carrying it with her like some kind of precious object.
How did you get FujiFilm on board? What role do they play in your project?
I wrote to Fujifilm explaining the project and they responded wanting more details. It probably helped that my husband is a professional cinematographer who is well known for his work on the TV show Mad Men.
Fujifilm donated 1,000 Instax wide prints and gave Shom and her team three instax cameras and helped promote the images on their social media sites once Shom had returned to the states. Having such a name brand company sponsor the initiative helped get the exposure the project deserved, but soon Shom found the travel costs to be out of her budget, forcing her to think outside the box and develop a way of continuing to 'give photos'.
Trying to juggle logistics with creative intent, Shom and her team struggled with packing 500 packages of Instax wide film in carry-on luggage, worried that Indian Authorities would question their purpose. But once they got past TSA, Shom began to feel nervous about the project itself, questioning whether or not people would like to have their picture taken, or if it would incite anger or offense. Upon first arrival, she was met with confusion which later turned into gratitude, which was enough for her to continue pushing her mission.
What was the most challenging aspect of the project?
Often times we ran out of film since we only took limited amounts with us so we could use the film in different locations. I now wish I had spent more time talking to people learning about their stories.
Any advice for photographers looking into coordinating a sponsorship with major camera brands in order to gain exposure for their own passion projects?
I think you'll have the most luck if your idea fits with the company's marketing goals, but I think our project probably pushed FujiFilm in a slightly different direction. I think these days companies know that there are many different ways to reach potential customers and the traditional ad campaigns don't always work. This was a humanitarian project that really made the company look good.
All reaction photos are captured with the Samsung NX1, while the photos given to the people are captured on an Fujifilm INSTAX Wide 300 Instant Film Camera.
To follow more of Bipasha's work, check out her Instagram and Facebook! See how you can help achieve her mission here.
CREDITS: Photographs by Bipasha Shom are copyrighted and have been used with permission for SLR Lounge. Do not copy, modify or re-post this article or images without express permission from SLR Lounge and the artist.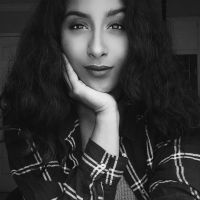 Shivani Reddy
Shivani wants to live in a world where laughter is the cure to pretty much everything. Since she can't claim "Serial Bingewatcher" as an occupation, she'll settle for wedding/portrait photographer at Lin and Jirsa & marketing coordinator here at SLR Lounge. For those rare moments when you won't find a camera in her hand, she will be dancing, eating a donut, or most likely watching Seinfeld. Follow her on Instagram:
@shivalry_inc