Remember the original Olympus E-series?  Before the days of all these mirrorless "micro" cameras, there was the E-1, the E-3, and the E-5 as Olympus' flagship DSLR camera bodies.  They were robust, feature-rich, …but often not taken seriously because of their 2X sensor crop factor.
Well it has been 3 years since the E-5 was announced, and until now there has been very little word as to how Olympus would (if at all) continue the original four-thirds lineup of camera bodies and lenses.
With today's announcement of the OM-D E-M1, Olympus has effectively confirmed the "passing' of the original Four Thirds mount, as well as their long-term dedication to professional-grade equipment for the Micro Four Thirds system.  In other words, the E-M1 should be viewed more as a successor to the E-5, than the ~$900 OM-D E-M5 which is still actually quite new.
The OM-D E-M1 will retail for $1399 without a lens, or $2199 with the equally new M.Zukio Digital ED 12-40mm f/2.8.  Check out the assortment of new Olympus gear on B&H Photo, or Amazon, or Adorama.
Features, With Commentary
16 Megapixel Four Thirds Sensor, (2x crop) True Pic VII
Similar to the sensor in the in the E-M5, but without an AA (low-pass) filter plus two other significant improvements: Automatic lens profile corrections for perfect distortion correction etc, (no, you still have to process the RAW files with Olympus' software, apparently) …and on-sensor phase-detect AF, which we will talk about next…
High-Speed, on-sensor phase-detect autofocus in addition to Contrast-Detect AF
That sounds complicated, but potentially awesome.  We'll have to reserve judgment until we actually get our hands on one to review.  Initial reports are that it is great, but not exactly as good as say, a flagship Nikon or Canon sports camera.
ISO 200-25,600, with "LOW" ISO 100
As usual, here the proof will be in the pudding.  However based on image quality from the OM-D E-M5, it is safe to say that the sensor in the E-M1 will perform quite nicely up to about ISO 3200 or so, depending on your personal standards.
6.5 FPS continuous shooting, 10 FPS without autofocus
Not bad at all, on par with most advanced / semi-pro DSLRs
1/8000 – 60 sec shutter speed range, with a 1/320 sec flash sync
Simply put, this is actually better range than any other camera on the market!  many beginner DSLRs are far more limited than this, and even the flagship DSLRs out there don't offer anything better.
3″ LCD display, with articulation
It is difficult to tell from the official press release and photos, but it sounds as if the E-M1 screen is not as fully-articulated as the likes of the Canon 60D / 70D.  Still, having a little help with low-angle / high-angle shots is always appreciated.
Touch Screen
Another feature that depends entirely on its implementation in order to succeed or fail.  We'll let you know!
In-Body Stabilization, 5-Axis, In-Body Sensor Cleaning
Olympus was one of the original pioneers of these features, and has always excelled in the features' execution.  You can expect to be impressed.
Electronic Viewfinder, 2.36K
As much as I used to hate EVFs, I've tried them out and I am definitely willing to use them especially considering the plethora of new features they afford, such as focus peaking, live histograms, etc.
Built-in Wifi, no built-in GPS
As a wilderness / adventure photographer I'm kinda bummed that GPS isn't built-in, but the built-in wifi will probably be more useful to most photographers out there…
PC Sync Port
Wow, this might make it even usable for wedding photojournalism and other things!  Pretty cool…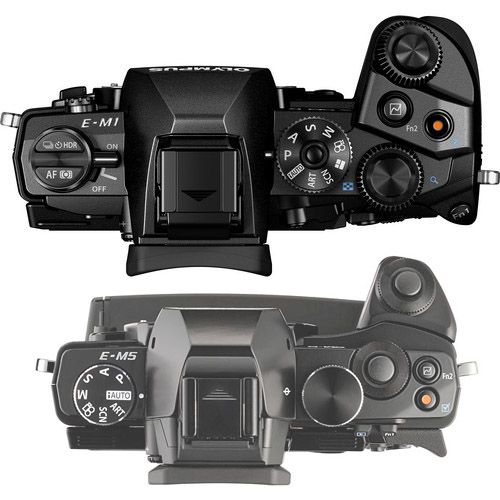 An approximate comparison between the E-M1 and The E-M5 with a vertical grip attached.  In general, the E-M1 is very similar, but appears to have more buttons and controls which makes sense for a more advanced, professional user.
The new Olympus M.Zukio Digital ED 12-40 f/2.8
A demonstration of the similarly weather-sealed E-M5.  The E-M1 adds "freeze-proof" to it's spec sheet, though!  We'll have to test that out, hehehe…
Who Should Consider the E-M1?
Okay in all seriousness, "freeze-proof" pretty much sums up what the E-M1 is all about in my opinion.  This is the pinnacle of what the Four-Thirds mount has always stood for:  The ability to operate professionally in extreme conditions.  I think that the type of photographer who should pay attention to this camera is going to be at least a little adventurous, looking for something lightweight and compact so they can go on long trips etc, …yet without any compromises with respect to professional quality and features.  Heck, the E-M1 will even offer a few features that the likes of the Canon 6D/5-series, or Nikon D600/800, simply do not have.  Of course the in-camera stabilization, but also the more subtle things like the 60 sec shutter speed and the over-the-top weather sealing, will make this camera an adventure or travel photographer's best friend.
Check out the assortment of new Olympus gear on B&H Photo, or Amazon, or Adorama.
Take care, and happy clicking,
=Matthew Saville=