We previously shared our thoughts on the new MagMod XL line after getting our hands on the MagMod Professional Strobe Kit XL. This time around, we're going in-studio to show you how to use the kit to capture dramatic portraits. We've been wanting to use MagMod gear with larger lights for some time, so we're excited that now, we finally can.
Let's get started.
Video: Hands-On with the MagMod Professional Strobe Kit XL, Pt. 2
Gear Checklist
Here's a list of the gear used in this tutorial for the MagMod Professional Strobe Kit XL.
1. Composition
Like always, we begin with the C.A.M.P. Framework (Composition, Ambient Exposure, Modify/Add Light, Pose & Photograph) and then work our way through the shot. In this case, we're going with a two-light setup to create a dramatic, silhouetted-esque dance portrait.
2. Ambient Exposure
For more dramatically lit shots, you'll want to go darker in terms of setting the ambient exposure in-camera. Otherwise, going with a brighter exposure and lower powered flash will render a more natural look.
Here's an example of a dark ambient exposure setting, which will work well once we add our lights (see above). As you can see, pretty much all of the ambient light has been taken out.
3. Add and Modify the Light Source
Now, we need to add some light back into the scene. We'll start with one and then go from there.
Add the Backlight
Place your subject into the scene so that you can set up your lights as needed. Here, we placed a Profoto B10+ directly behind our subject, approximately 5'-7' back. We're using a B10+ as a backlight to give us more power. We'll use a regular Profoto B10 (and a little less power) for the main light up front. We can do this because our main (or front) light source will be very close to the subject.
Here's what it looks like when we add the first light as a backlight. We used our go-to combination of a MagSphere XL, MagGrid XL, and a Dome Gel (all placed on a Reflector XL, which was mounted to a MagRing).
Add Main Light
We could stop here for great silhouette shots, but a second light on the front of the subject will help us create a more dynamic portrait. As we mentioned earlier, we don't need as much power from the front flash. As you probably guessed, we used the Reflector XL, MagSphere XL, MagGrid XL, and a Dome Gel gel to modify the front light as well. The grid control minimizes light spill light while the sphere softens and diffuses the light.
Make Final Adjustments
With both lights set up, we can now dial in the final settings for the second light.
We captured the image above with the second flash set to full power. Clearly, the light is too bright and out of control. So, that means we need to lower the power down to 1/16th power (about 3-4 stops).
You might not have a white floor to add fill light back onto your subject. Don't worry, you can improvise with something like a v-flat or reflector on the ground. Continue adjusting the light power until it looks the way you want it.
4. Pose and Photograph Your Subject
All that's left now is to direct your subject into a variety of poses and start capturing photos.
Pro Tip: Because we've placed the light almost directly over our subject, she needed to tilt her head slightly up in each shot. If she looks down, we end up with a "raccoon eyes" effect.
Lighting Comparison with the MagMod Professional Strobe Kit XL
Here's a look at what each light is doing independently.

Final Images Using the MagMod Professional Strobe Kit XL
Now, here are the final edited images….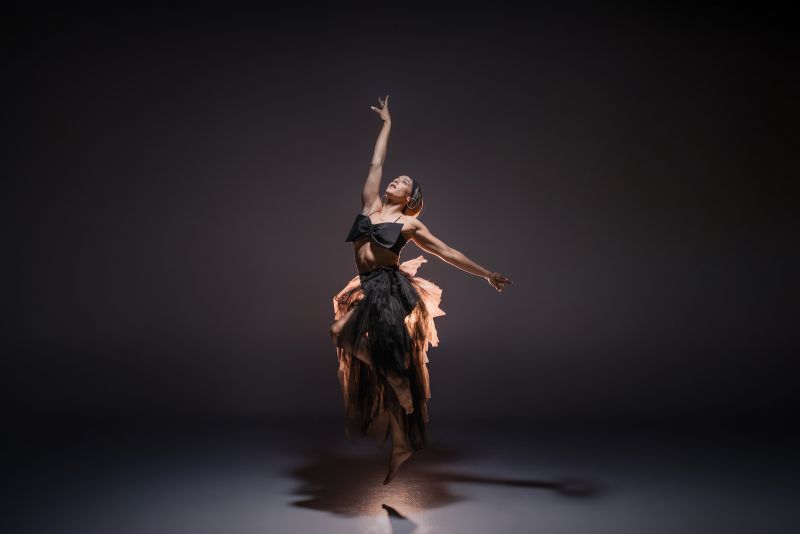 Conclusion
At the end of the day, the new lineup of MagMod XL modifiers (including the MagMod Professional Strobe Kit XL) make it incredibly easy to get the look you want from larger, more powerful lights.