A photographer can never have enough bags; it is almost as much of an addiction as the gear that we put in them. Some photographers need big bags, some need small bags, some need bags that can hold more than just camera gear, and others need bags that hold just their extra gear.
We all need bags for different things, but we all need different bags for different things. This last week, Lowepro announced their new ProTactic bags, and were kind enough to send me a sample of the SH 200 AW, the largest of these new bags. This review is based on my last 3-4 days of use with this bag as my daily driver and only bag.
The ProTactic SH 200AW, as Lowepro describes it, is a modern, photojournalist style shoulder bag designed to fit a professional DSLR with a classic 70-200mm lens kit, two to three extra lenses or speedlights, up to a 13-inch laptop and tablet, smartphone, and accessories. Based on my experience over the last week, I think that this description is perfect, and the bag performs exactly as you would expect a bag designed for that use to perform.
I cleared out all of my other bags and used the SH 200 AW as my daily driver, carrying all of my gear to and from work, and even to a wedding. The defining characteristic of these ProTactic bags is the mounting loops that allow you to extend and increase the carrying power of the bag.
You can get extra pouches and attach them to the bag securely. You can also mount clips and other items to these mounting locations as well. I had my Rode VideoMic in my extra pouch making it easy to bring with me when I think that video is something I will be doing.
The bags is easy to access, the front clip is secure yet easy to open with one hand, and the zippers are as well. Overall, I have zero complaints about the performance of the bag, and for that reason I am giving it a solid 4 out of 5 stars.
The features of this bag are great! As I mentioned above, you have Sliplock mounting locations all over the bag, making it easy to expand its storage with extra pouches or clips. But the bags goes beyond that, making it easy to carry your entire kit with lenses, a tablet, laptop, pens, paper, etc.
One thing that I really liked, though it is not an actual feature, is that though the official laptop pouch is designed for 13″ laptops, the space between that and the lens compartment is large enough to accommodate my 15″ Macbook Pro. This was great for me because it allows me to bring my laptop, and all my camera gear in one bag.
I also loved that the bag has built-in memory card holders. This makes having extra cards easy peasy.  I did not use my holders for memory cards though; I put a couple of extra batteries for my A7R II in them instead and they worked great for that too.
Another feature that I really thought was great was the zipper opening for easy access to the lens compartment from the top of the bag. This allowed me to easy access my camera and lenses without having to undo the front clip and open the whole top lid. This bag is just full of useful features, and for that I am happy to give it a full 5 out of 5 stars.
As far as the design of the bag goes, it is very practical, very sleek, very minimalist. Everything on this bag has a reason for being there and a specific use in mind.  It's not going to win you any style awards, but it's not meant to.
This is meant for the news photographers out there, the one man show guys who need their full kit with them at all times to capture important events. This bag has a purpose and it's good at it. If you want a glorified purse or style accessory, check out this bag Hanssie recently reviewed.
That said, while incredibly functional, this bag doesn't wow us in the design department. For that reason, we are giving it a very respectable 3 out of 5 stars.

Everything about this bag is quality. The zippers are great, the front clip (while plastic) is quality, and the padding used is sufficient to protect your gear. The straps and mounting points are all solid and give off a high-quality feel.
I really have absolutely no complaints about the quality of this bag. I am not really sure what else to say about it other than that I would definitely trust this bag to keep my gear protected and dry in just about any situation. I'm not sure what else more you could ask for from a bag, so I am giving the SH 200AW a 4 out of 5-star rating.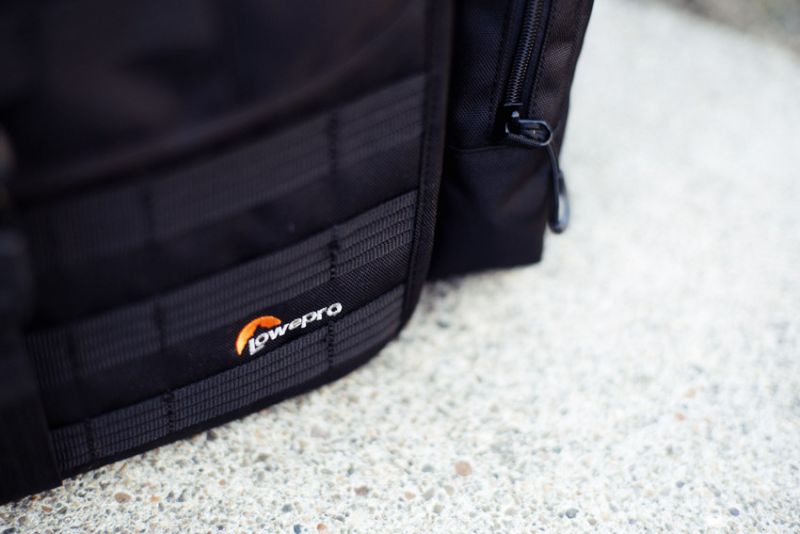 Now for the part that you are all most interested in, the value proposition of this SH 200 AW bag. There are some really awesome bags out there with all the bells and whistles but are simply out of reach for many people due to their cost. The Protactic SH 200 AW is not one of them.
While it is a little on the more expensive side, coming in at $169, it is not out of the realm of affordability. There are certainly worse bags you could buy for more than this, that is for sure. The great features of this bag, along with its ability to expand with your needs, and carry virtually your entire kit (camera, lenses, laptop, etc) makes this bag a solid value in my book.
So, here we are with a solid 3 stars out of 5 for value to indicate that this bag is right about where it needs to be on pricing.

I have really enjoyed my time with the Protactic SH 200 AW and look forward to giving some of the other models a try here in the future. This bag offers great features and storage capability for those looking for a good messenger style bag. Our overall final rating of 4 out of 5 stars is well deserved and I am happy to 'Highly Recommend' this bag.
If you are interested you and head on over to B&H to get your hands on this bag or any of the Lowepro ProTactic series bags here.