Portrait and wedding photographers who shoot on-location are always looking for new ways to get the best quality lighting without having to lug around an entire studio setup.  Especially in low-light conditions, a constant light source (AKA a video light, a hot light, etc.) can be extremely useful!  With just a couple hand-held "light guns", you can create almost anything.
The Lowel GL-1 is a new product designed by John Solano and Brian Marcus to be the ultimate light gun for on-location photographers!  We'll have a full review coming soon, but for now check out our brief introduction to this awesome new product!
Watch the Video Review Below
What is the Lowel GL-1
The Lowel GL-1 Hot Light is a completely portable LED light that can be focused from a wide beam to a narrow beam. The light ouput is dimmable by either the analogue dimming trigger or the scroll wheel dimmer.
Specifications (from GL-1 Website)
High powered focusing LED light source
Dimming Range 5-100%
Focusing Range 5:1
90 CRI for high quality color output
3000K color output
1/4" and 3/8" stand mounting options
82MM threaded front element allows you to add a Tiffen 80B to covert to Daylight balance output
Rechargeable Battery
Dim via trigger with feel or by dial for a fixed exposure
Battery life of approximately 1 hour on a full charge
Power consumption 25W
Performance: 5 out of 5 stars
The quality of light that comes out of this light is absolutely fantastic. In front of the LED there's a Fresnel lens which creates a well controlled and well dispersed light. The versatility of the zoom and output makes this light a candidate for almost every troubled lighting situation. We weren't sure what to expect when we first got the GL-1, but we can confidently say it's exceeded our expectations and it now comes with us on every shoot.
Features: 5 out of 5 stars
We gave features 5 out of 5 stars because we have a lot of control over the light. Unlike most portable LED lights the GL-1 gives us zoom functionality (spot to flood) which allows us to light a variety of different scenes. We also have 2 ways to control the output, via the trigger on the light or with the dial on the back. The battery life on the light is also fantastic and I've never been on a shoot where I had the battery run out on me.
Design: 2 out of 5 stars
First of all the trigger and dial on the back are plastic and yellow. This may be a personal aesthetic opinion but I feel like the GL-1 looks more like a construction tool rather than a professional light for photographers. The size and shape of the GL-1 is functional, but it is also an issue because I need to have a dedicated Onebag to carry the light. We have been notified by Lowell that all the areas we've mentioned have been noted and they are working on fixing those issues.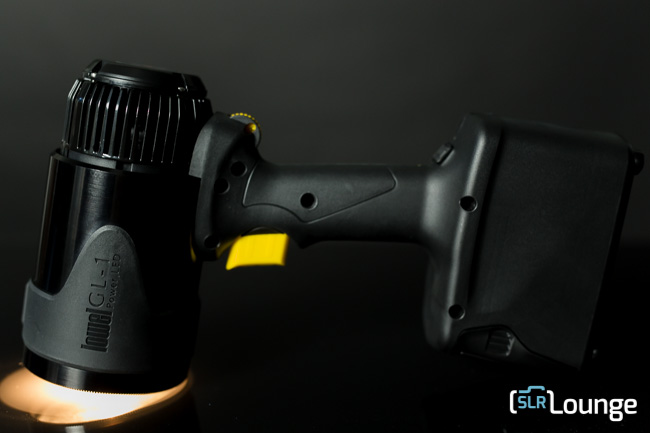 Quality: 2 out of 5 stars
Quality is also an issue with the GL-1, which Lowell is also addressing. The battery compartment door comes loose, which is why I have a piece of blue masking tape holding it together. But for those who have battery compartment issues, Lowell does a great job in replacing those for you. We also had one of the screws inside the light get loose and fall out, which didn't effect the light quality but it was disconcerting hearing a rattling noise inside the expensive light.
Value: 4 out of 5 stars
Overall the GL-1 is a great value, and the only reason why it didn't get 5 out of 5 stars is because of the quality issues we mentioned. The reason we didn't give it 1 out of 5 stars is because Lowel stands behind their product. Anytime we had any problems with the GL-1 (and we use 6 in our studio) Lowel will address the problem and fix them quickly. Lowel standing behind the GL-1 means that this will be a long lasting product, and that also means it's a great value.
Overall: 3.6 out of 5 stars
The GL-1 is not without it's problems, but because of the images we're able to create with this Light, it's still well worth investing in. Overall the Lowel GL-1 is a great product because of it's portability and versatility, be sure to check out some of the images that we were able to get using the GL-1 in the video above.
Overview of The Pros of the Lowel GL-1
The first primary benefit of the Lowel GL-1 is its focusable beam. You can extend or retract the head, and because of its 5 to 1 focus, the beam will tighten or widen to exactly where you want it to be. This comes in handy in situations where it is necessary for the light to be in a specific area.
The GL-1 has a great quality of light, measured at 3K color temperature, with a beautiful graduation and even lighting from edge to the edge, made possible by using a Fresnel lens. This makes for a perfect handheld gunlight for portrait lighting. It is also built with an 82mm threaded element on the front, so that you are able to use a variety of filters.
Another great feature of this hot light is its analog trigger. This allows you to brighten or dim the light to the exact brightness you want, in addition to a constant dial that lets you fix the light power at a specific constant setting.
Now, if you do not have or are not planning to have an assistant on a shoot when using the GL-1, there is no need to worry. Not only can it stand up on its own, but it also comes with a mountable ¾" tri-pod mount on the bottom. This allows you to set the light to a constant power setting, place it on a tri-pod, and place it exactly where you want without having to bring along a lighting assistant.
Lastly, the Lowel GL-1 comes with a powerful battery that lasts around one hour on a full charge and a solid overall build quality.
Overview of the Cons of the Lowel GL-1
We found that after using this for a good period of time that there was really nothing to criticize about the light itself. One thing worth mentioning, however, is that if you are using the light for video the light has an internal fan. It measures at around 5 decibels when tested from a 1-foot distance, so the fan is definitely quiet enough for most video uses, but if you need pure silence on set, then you may want to test out the light before purchasing it.
Now the only negative thing we could say about the light is the overall price point. It is priced at $699, which is out of the range of most non-professional photographers, and even professionals may have a hard time coughing up the cash for a handheld light. However, when we compared the Lowel GL-1 Hot Light with other professional hot lights of similar quality, most of the similar lights also ranged from $500-900, and are not as portable and flexible as the GL-1.
Images from Actual Engagement Shoots Using the GL-1 Hot Lights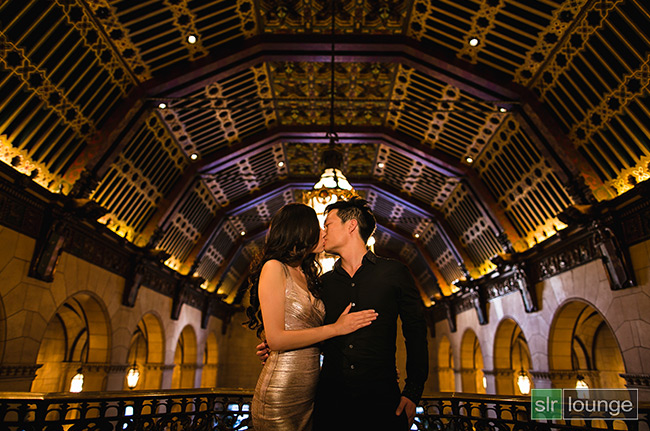 Conclusion
We give the Lowel GL-1 Hot Light a 4 out of 5 stars. If it were to be priced at more of the $300-400 range, this would definitely be a 5 out of 5 stars product. This is an amazing product, and we highly recommend anyone to try the Lowel GL-1 if they are looking for the best portable hot light with great power and amazing quality. To find out more, you can visit GL1Hotlight.com and also check out their Facebook page.