There are plenty of ways to market your business; and with limited time and resources, it's hard to determine which ones are worth pursuing. The argument for Email Marketing Campaigns is that Google search algorithms change, social networks come and go, but people will always check their email. This is why it's important to at least consider a newsletter service. It's easier than you think and often times it can be free.
Why Start Email Marketing Campaigns
Starting an email campaign will allow you to remain in frequent and consistent contact with your customers and clients. You can use this list to announce print sales, remind your clients of holiday portraits during that time of year, and keep them up to date on the latest happenings at your photography studio.
Why Use an Email Newsletter Service?
So why pay for a service when you can just send it directly from your email address?
Advanced Reports – Each email is a potential lead and knowing your open rates , click rates, unsubscribe rates and other information will be important for your decision making.
Easy Design – High-quality service providers will have templates and drag and drop editors to simplify designing a newsletter without html or CSS knowledge.
Avoiding Spam – These services will also help you avoid being flagged as spam.
Automated Processes – Automatically unsubscribing bounced emails, having unsubscribe options with each email, and other automated processes keep your lists clean and reduces the amount of time you need to actively manage your lists.
The Best Newsletter Marketing Service
We've tried a lot of options for newsletter services, but we've narrowed it down to two, Aweber and Mailchimp. Keep in mind that migration is not difficult, so you will not be married to your newsletter provider. You can always export and import from service to service and each have helpful customer service reps to assist with the process.
So let's go over each important point and compare the two services.
1) Aweber vs. Mailchimp – Adding Subscribers
Let's start out with the deciding factor for many photography studios.
With Aweber, you are not allowed to add subscribers without an opt-in confirmation email sent to the email address from Aweber. With Mailchimp, you can add emails without this opt-in email confirmation.
If most of your subscribers are coming directly from your website, then this will not be an issue because if they signed up directly on your site, they will likely expect this opt-in follow up email. However, if you're collecting emails from another source, i.e. adding previous clients or manual sign-ins from a workshop, Aweber has the confirmation opt-in email hurdle that Mailchimp doesn't have.
Note: That's not to say that you should go around spamming people who haven't signed up for your newsletter. Your account will likely be shut down if you do so.
2) Aweber vs. Mailchimp – Newsletter Pricing
Both newsletter email services offer great pricing that steadily creeps up as your subscriber list grows.
Aweber – Here is the Aweber Pricing. One important thing to note is that the incremental pricing you see below (included, $10, $30, $50, $130) does not include the additional $19 per month, so you will have to add in the monthly cost to the incremental cost. Aweber charges $1 for the first month of service with a 500 subscriber limit. It also offers a 30-day money back guarantee. However, after the first month, Aweber charges $19.99 for the first 500 subscribers. Also, in order to cancel, the customer needs to call in and wait in the queue to speak to a customer service rep. Then the customer needs to find the last 4 digits of the credit card on file. Offering a free trial but making it difficult to cancel is not the best business practice and not the best way to treat a customer who may have decided to return otherwise.
Mailchimp – Here is the monthly Mailchimp Pricing. Not pictured below is a FOREVER FREE plan with which you can "send 12,000 emails a month to a list of up to 2,000 subscribers."

Pricing Conclusion – For most photographers, Mailchimp is going to take the cake here. You will likely get by with the Forever Free plan until your popularity exceeds 2,000 subscribers, at which point, you should be able to afford the low monthly costs.
3) Aweber vs. Mailchimp – Interface and Design
The Mailchimp interface is more intuitive and polished than the Aweber interface. Things just seem to make a little more sense across the board. For example, to create a campaign in Aweber, you go under "Messages" the "broadcast."
On the other hand, to create a campaign in Mailchimp you simply click the large "create campaign" button (see images below). This is just one example of the many small but noticeable things that make the user interface better on Mailchimp.
Aweber Interface:
Mailchimp Interface:
Going further, when you go into actually creating your campaign, Mailchimp has huge advantages as well.
If you're designing from scratch with HTML, the two services are going to be the same. However, even though both have hundreds of predesigned templates, the Mailchimp newsletter templates are more modern and clean. It's also easier to find the ideal newsletter template in Mailchimp, as they have a strong categorization system. Furthermore, the drag and drop editor for creating email campaigns in Mailchimp is another powerful advantage.
Mailchimp Design Options
Notice that you have 4 options, 1) Drag and Drop Editor, 2) Basic Layouts, 3) Predeisnged Templates, and 4) Saved Templates.
Mailchimp Template Selection Interface:
Notice the categories on the side that make discovery easier.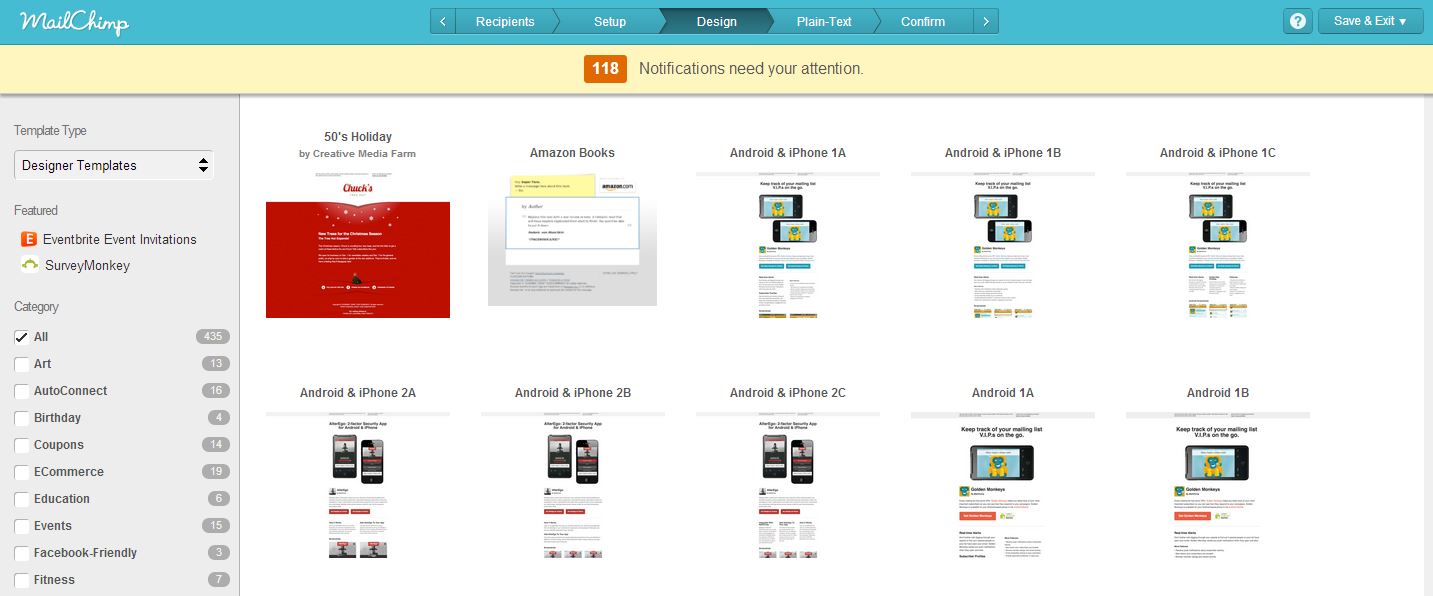 Aweber Template Interface:
The Aweber template system is a lot more clunky, with one single scroll down menu (on the right) for all of your templates. It's also harder to find a clean, modern design and you'll likely have to code something yourself to get it to a satisfactory level that fits current design standards.
Conclusion
While both are very popular and offer very reliable service. In our opinion, Mailchimp is a better service for photographers because of 1) The ease of adding subscribers, 2) the free introductory pricing, and 3) the better design and interface. We would love to hear your thoughts in the comments below. What services are we missing out on? What do you use?