Welcoming a newborn into the family is one of the most cherished moments in any parent's life. As time flies, those precious moments of the little one's first few weeks can quickly become a distant memory. This is where newborn photography comes into play, capturing those precious moments in a way that can be treasured for years to come. However, photographing newborns can be challenging, and it takes a lot of patience and care to get the perfect shot. In this article, we will provide you with some essential newborn photography tips to help you create stunning and memorable baby photos.
For more newborn photography tips and tutorials, please see our Newborn Photography Workshop, a full guide to baby and newborn photography, teaching posing, lighting, planning, and post production for newborn photography.
Tip 1. Safety First for Newborn Photography
Safety should always come first when it comes to newborn and baby photography. The list can get quite extensive for tips on newborn safety, but in general, use your common sense. Here are a few general rules to follow:
Never bring in any hard or sharp objects as props.
Never place your newborn on high or unsteady surfaces without a spotter.
Realize that some of your favorite photos of newborns are actually composites.
Monitor the temperature of the room, especially if you're using heat lamps
Keep the heat lamps at a safe distance from the newborn
For other general newborn safety tips, see this article on The Ultimate Guide for First-Time Parents
Below is an example of a composite newborn photograph.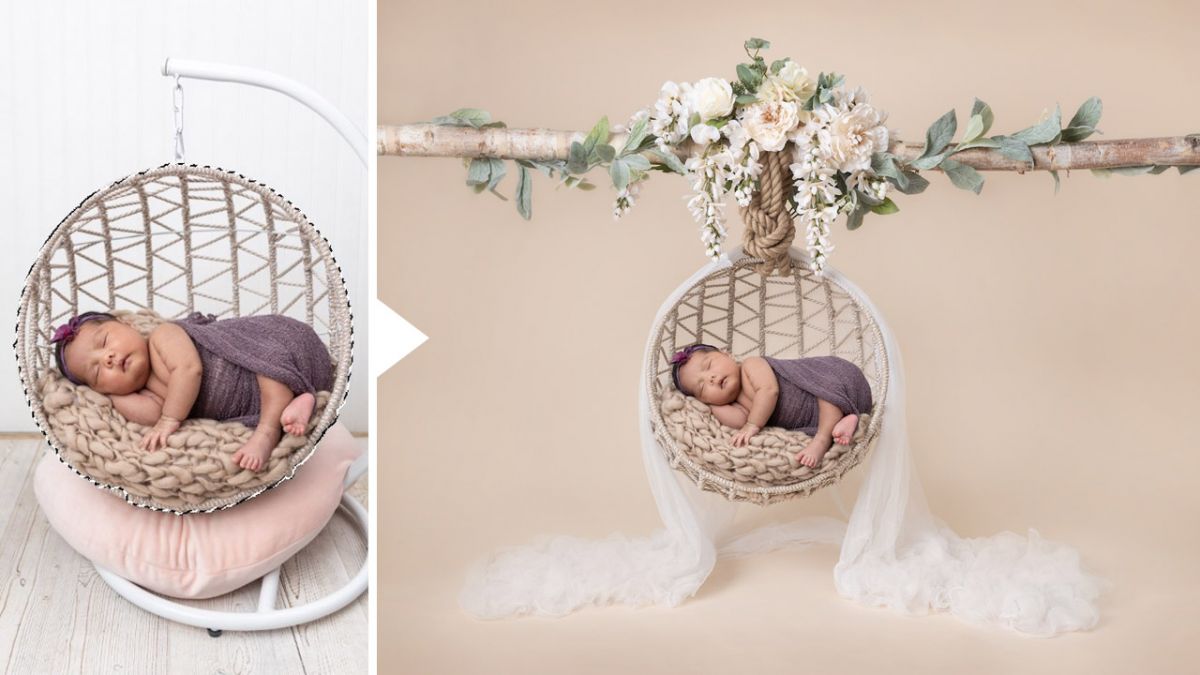 So any time you see a picture of a baby hanging from a branch or resting on a basketball or in any other precarious position, understand that the images should not be attempted without proper safety and composite techniques for newborn photography.  For a full tutorial, see this article on Newborn Composite Tips | A Case Study for Photographers.
Tip 2. Don't Focus on the Camera Gear for Newborn Photography
You should be able to get amazing newborn and baby photography results with almost any camera and lens if you simply learn the proper lighting, creativity, and camera angles for newborn photography. Though a professional camera like a Canon 5K Mark III, a full frame camera, will give you better overall image quality than an advanced point and shoot camera like a Sony NEX, a camera like the Sony NEX will likely be sufficient for capturing great images of newborns. Below is a quick side-by-side showing images from the two cameras mentioned above with the Canon 5D Mark III image on the left and the Sony NEX image on the right.
Tip 3. Keep Your Newborn Comfortable
In newborn photography, you are generally going for two looks, peacefully sleeping or awake and happy. If the baby is uncomfortable, you run the risk of him or her being fussy, potentially crying, and overall causing a difficult time for everyone involved in the shoot. Consider wearing gloves if your hands are cold. Use heating pads, and consider space heaters if the room is not nice and warm.
Regulate the Temperature In Your Photography Studio
Keep in mind that newborn babies have spent the last nine months in the womb. The womb is about 100 degrees Fahrenheit, so babies tend to be at their most relaxed in a warm room. I set my studio's heater to about 80 degrees, which seems to be the most comfortable temperature for newborns. Plus, this temp will keep their skin nice and peachy, while they could get blotchy patches if they're too cold.
Amp Up the Ambient Sound and White Noise
Newborns are inundated with noise during their nine months in gestation. Not only do they hear their mother's heartbeat, they tune into her blood flow, digestive system, and her voice! While you don't want to play loud music during your newborn photo sessions, you might try plugging in a white noise machine (you can download white noise apps on iTunes) or a heartbeat monitor to recreate the baby's time in the womb.
Other Baby Comfort Tips
Feed & burp baby to keep them comfortable & sleepy
Swaddle or wrap the baby
Rock the baby gently
Use a soft, soothing voice
Keep your hands warm as cold hands are startling
Tip 4. Select the Right Timeframe for Newborn Photography
Your magic window for Newborn Photography is within the first 14 days of birth. Newborns are easiest to work with during this time because they are sleeping for most of the day. They are also the most easy to adjust during this time-frame. Consider taking your baby's photos after his or her umbilical cord has fallen off (which is typically after 5 days or so).  For more information, see the article on The Best Time To Do a Newborn Photoshoot.
Tip 5. Get Your Basic Poses First for Newborn Photography
Being creative is a large part of being a newborn photographer, but so is making sure you get the basic, must-have shots. You should always start with the basics and move towards the more advanced photos just in case the baby gets too fussy and you have to call off the shoot. Below are some of the basic shots you should get before introducing complex, time-consuming, and difficult photographs.  For more information, see our article on newborn poses.
The Back Pose for Babies
The Side Pose for Babies
The Tummy Pose for Babies
The Small Details
Tip 6. Get Creative Props for Your Newborn Photos
Creative props can be the difference between a professional photo and an amateur one. Newborn props don't have to be expensive and you can find most of what you need at home or a local crafts stores. Other recommended locations are Beautiful Photo Props and Etsy. For ideas, consider incorporating the parents' hobbies, their culture, their favorite colors, or their overall personalities. We came up with the concept below for Ellie because her mother used to live in Paris.  For more information, see this article on Newborn Photography Props and Ideas.
Other tips for newborn props:
Consider colorful hats, headbands, wraps, swaddles
Show how small baby is with baskets & bowls
Consider props based on parents' hobbies/interests
Tip 7. Use Color Coordination in your Scenes
We recommend planning your scenes using the website Kuler by Adobe. On there you'll be able to find complementary and analogous color combinations that work well together. Being able to see the colors together visually prior to going out and looking for the props and backdrops will save you hours. On Kuler we arranged the pink and yellow combination you see in the left image below prior to searching for actual newborn props and accessories.
Tip 8. Use Window Light and reflectors for Newborn Photography
You certainly don't need to get too fancy with the lighting. All you need is a large window for your main light and a Westcott 5 in 1 Reflector to help fill in some of your shadows. Below is a screenshot of the setup we often use.
Image Copyright Line and Roots Photography
Tip 9. Be Flexible and Work With Your Newborn
Your newborn baby has his or her own schedule. When they get fussy, be sure to take your time and wait it out. Sometimes you'll spend 3-4 hours on a shoot with the baby crying the entire time and finally, in the last 20 minutes, you'll get everything you need. It's not going to be easy and be sure to plan sufficient time or the shoot. Your shoot duration will vary depending on the number of wardrobe changes and scene setups, but in general be flexible. If you're doing this professionally, consider charging per session, per image, or per scene rather than charging per hour.
Tip 10. Learn Newborn Photography Editing
Your post production for newborn photography will generally be more light and airy than other types of photography. Consider using fades, tasteful black and white effects. Also consider brushing up on advanced Photoshop techniques like Frequency Separation and other advanced retouching techniques.
Note: If you're new to Photoshop and/or Lightroom, you can also consider outsourcing your post-production and retouching to companies that specialize in editing newborn photos.
Part 2 of our Newborn Photography Workshop covers post production and includes newborn photography presets.
6 Safe and Easy Newborn Photography Tips Video
To review and visualize some of these tips, see this video by Pye.
Conclusion
Though newborn photography may seem daunting at first, it's like any other form of photography in that the more you practice the better you become. Take your time, be patient, and don't second guess yourself. With the proper planning and research, some creative and personalized props, in addition to careful and safety-first execution, you should come away with at least a few good images on which to build your foundation. For more newborn photography tips and tutorials, please see our Newborn Photography Workshop, a full guide to baby and newborn photography, teaching posing, lighting, planning, and post production for newborn photography.
Remember, photographing newborns represents only one many opportunities in family photography. Many families hire photographers to shoot cake smash photos (for the baby's one-year-old birthday celebration), holiday cards, graduations, and so on. Adding relevant services for clients will give you a reason to keep in touch with the family and ultimately lead to increased revenue over time.
Hanssie
Hanssie is a Southern California-based writer and sometimes portrait and wedding photographer. In her free time, she homeschools, works out, rescues dogs and works in marketing for SLR Lounge. She also blogs about her adventures and about fitness when she's not sick of writing so much. Check out her work and her blog at
www.hanssie.com
. Follow her on
Instagram