Loupedeck has just launched the newest product to its console lineup: Loupedeck Live, the power console for content creators and streamers.
Building upon its expertise in creating consoles that improve workflows across industries, the Loupedeck Live is the Finnish company's answer to the growing demand for a versatile device that enhances the unique work of live streamers and content creators. It provides convenient access to essential tools and applications helping content creators to connect, engage and produce quality content. With its aluminum cover and dials, powerful LCD display, and unlimited customization possibilities, the Loupedeck Live is the perfect addition to live streaming and creative setups.
[Related Reading: Loupedeck CT – A Hands-On Review Of The New Creative Tool]
Like its previous consoles, the Loupedeck Live is a natural extension of your keyboard, mouse, tablet, and pen for precision control over your workflow. The Loupedeck Live provides native support for a variety of streaming and creative software, as well as the Loupedeck Profile Creator, allowing users to build their own profiles for any software application.
"With the continued rise of live streaming and consumer desire for high-quality streams that not only integrate music, but respond to questions, add graphics and more, we saw an opportunity to improve workflow of streamers," said Mikko Kesti, Founder and CEO of Loupedeck. "With our extensive expertise in developing products that seamlessly integrate into the creative workflow, the Loupedeck Live was a natural next step in our line of consoles, offering streamers that same customization without sacrificing the quality their viewers have come to expect."

Key benefits and capabilities of the Loupedeck Live include:
SOFTWARE INTEGRATIONS: Native integrations to your favorite streaming and creative software, right out of the box. The Loupedeck Live is also context-aware, allowing you to move freely from one software to the next – all from one sleek interface.
ENHANCED AUDIO CONTROL: Audio controls have never been more intuitive with Loupedeck Live's intuitive interface, allowing you to arrange, compose and adjust the sound on the fly – even without a deep knowledge of audio control.
EXPANDED CREATIVE POTENTIAL: With the integration of Custom Profiles, the Loupedeck Live can now pair with any software you use – from Spotify to Microsoft Excel – further expanding the console's functionality.
INTUITIVE DESIGN, QUALITY BUILD: Designed to provide consistent, reliable support for all aspects of content creation and streaming, the Loupedeck Live features a compact premium build body, analog dials, customizable buttons, LED backlighting, and more.
CUSTOMIZABLE EXPERIENCE: Create, edit, and stream your way. Get started quickly with our ready-made profiles for streaming and content creation or easily organize your tools into custom workspaces, uniquely tailored to your personal workflow. Combined with color-coordinated, fully customizable buttons, dials, and touchscreens, creating fresh content has never been this easy.
[Related Reading: Loupedeck+ Review: A Big Improvement From The Original]
"Live streamers are consistently on the hunt for next-generation tools that help them create professional-quality content," said Ashray Urs, Head of Product at Streamlabs. "Our native integration with Loupedeck Live gives creators greater control of their live stream. Go live in seconds, effortlessly switch scenes and sources, record gameplay, save replays, and seamlessly create top-notch content while streaming."
System Requirements
OPERATING SYSTEM:
Win 10, Mac 10.13 or higher
SUPPORTED SOFTWARE*:
Streamlabs OBS
OBS Studio
Spotify
Twitch
Adobe Lightroom Classic
Adobe Photoshop CC
Adobe Premiere Pro CC
Adobe After Effects CC
Adobe Audition CC
Final Cut Pro X
Adobe Illustrator CC
*Loupedeck's native plugins always support the latest version of the applications.
LOUPEDECK LIVE SPECIFICATIONS:
Display: 4.3-inch 480×272 pixel LCD with capacitive touch panel
Buttons: 8 round shape push-buttons with RGB backlight
Rotation encoders: 6 endless rotation encoders with detents and push-button
Dimensions: 150x110x30mm Weight: 230g
What's in the Box:
Loupedeck Live console

USB-C (USB-C to USB-A adapter included in box)

Stand for Loupedeck Live
From now until the end of 2020, Loupedeck Live comes equipped with all your favorite streaming and creative software, allowing users to test the Loupedeck Live across creative applications, before selecting the two creative applications using the most for continued support at no additional charge. Additional support for creative applications will be available for purchase through the Loupedeck software, via an affordable subscription or lifetime license, and all streaming applications will remain free for Loupedeck Live owners. A full list of supported software can be found on the Loupedeck site.
The Loupedeck Live is now available for purchase exclusively in the Loupedeck Online store for $269. Shipping of the Loupedeck Live will start on September 29, 2020, and will be available on Amazon later this year.
For more information please visit www.loupedeck.com.
Check Pricing & Availability of Loupedeck Consoles Here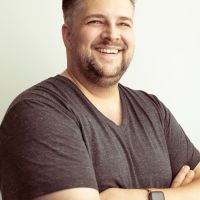 David J. Crewe
David J. Crewe is a full-time commercial photographer and Senior Editor with SLR Lounge. Based out of both Southern California & Las Vegas, Nevada. View his work and blog:
DavidJCrewe.com
Follow his Instagram:
@DavidJCrewe