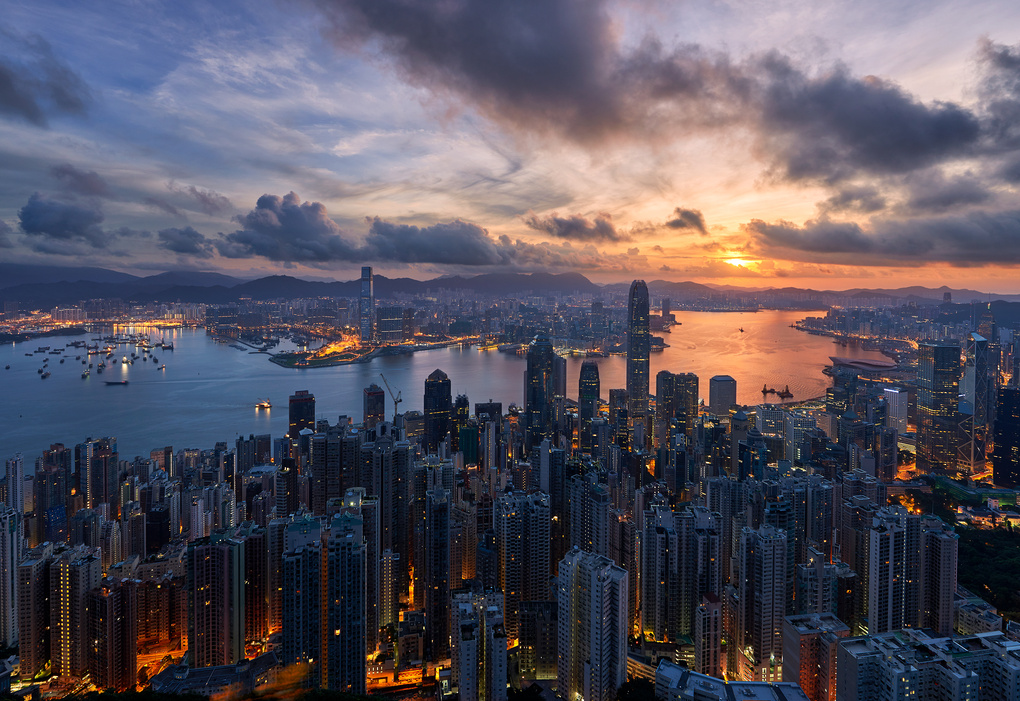 Some time ago, I had the pleasure of reviewing the landscape photography tutorials portion of Fstoppers' collaboration with Elia Locardi. If you read that review, you'll know that I was very impressed with the quality of education and production value. There are few tutorials that I am actually excited to watch, but when part 2, Photographing The World: Cityscape, Astrophotography, and Advanced Post-Processing, was released, I immediately requested it to review.
Check out this video featuring Elia Locardi (the instructor), Lee Morris, and Patrick Hall as they introduce this latest tutorial. You'll get an excellent idea of what's in store with this tutorial.
What's Included In The Digital Download:
15+ Hours of Video Content (1080p, 23.9fps, H.264 mpg4, over 32GB of material)
19 On Location and Studio Post-processing Lessons
Intro to the Basics of Photography
Overview of every piece of photography gear Elia uses and why
Full interview on Elia's Business practices
Full RAW files and companion software catalogs so you can follow along (PSD and CaptureONE)
10 Behind the Scenes episodes of our experiences traveling and filming this incredible project
Private Elia Facebook Group access for extended education and photo sharing
What Is Covered In The Tutorial:
Photography Basics (ISO, Shutter Speed, Aperture, White Balance, etc.)
Overview of best lenses and gear for Cityscape and Astrophotography
Tips for better composition, angles, and vantage points
Advanced Panoramic Photography Shooting and Stitching
Working in Urban Environments
Solid Neutral Density Filters
Capturing Stars and Star Trails
Locating and Capturing the Milky Way Galaxy
Understanding and Mastering Light (Golden Hour, Blue Hour, Sunrise and Sunset)
Using Fisheye Lenses for Artistic Compositions
Shooting Through Windows and Removing Glare
Time Blending (combining exposures shot at different times)
Bracketing and multiple exposure blending
RAW Processing
Extensive color correction and image adjustment
Complex selections and masking techniques
Luminosity masking
Advanced object removal and cleanup
Precision Sharpening and Noise Reduction
Who Is Elia Locardi AND Can He Teach?
I don't want to repeat myself too much from the last review but here's a quick rundown for those that didn't catch it.
Elia is a world renowned travel photographer, Fujifilm Global Ambassador, writer, public speaker and educator. Since 2009, he and his wife have a led a location independent lifestyle (no permanent address), in which they have visited more than 45 countries and flown over one million miles.
To cut a long story short, if you wanted to learn travel, landscape or cityscape photography from anyone, it should probably be Elia. And can he teach? Without hesitation, yes. Elia is one of the best educators I have ever watched, and I've watched a lot of them.
What I Liked About Photographing The World: Cityscape, Astrophotography, And Advanced Post-Processing
The Fstoppers team blew it out the water with the landscape portion of these tutorials. Having set such a high benchmark for themselves, I did wonder if they would fall short this time. I am pleased to say, they did not. Everything I enjoyed from the first tutorial was there, and then some. The quality of education and production value remained very high. Amazingly, Elia did not become boring to watch (or worse, grating), as many instructors do. The same light-hearted nature of the videos remained, AND so much more value was added in the form of advanced processing and shooting techniques.
Cityscape photography is vastly different to shooting landscapes. As well as that, cities are as varied as the landscapes that we previously saw. Elia and the Fstoppers team take us through every possible environment, from the ancient to the ultra-modern. Each environment presents its own shooting and editing challenges, which Elia explains and demonstrates very clearly.
As with the last tutorial, each of the 19 lessons have the same logical progressive structure. We arrive at the location. Elia takes us through his thought process for finding his frame and the challenges we face in this particular area. Having shot the photos, we're taken to the post-production studio for the remainder of the lesson. We follow Elia as he edits and explains the steps he takes to arrive at the final image. Along with the videos, we are also given the files from each location so that, if desired, you can give the editing a go yourself.
The Editing Techniques Used Are Far More Complex
I loved the first tutorial but, as a fairly well informed professional, I did find the editing somewhat basic. Although it did become more complex toward the end, for me, this cityscape tutorial opened up a whole new world of editing. Exposure blending, blending time, and luminosity masks are regularly used to amazing effect. I consider myself to be a good editor, but even for me, the techniques used were interesting, new and, at times, very advanced.
The before and after which you see below involved the blending of multiple images, shot at different times of day, to create this stunning image of the Hong Kong skyline. The biggest challenge here was mixing images that had been shot hours apart from one another. I'm sure you'll agree; Elia has done an incredible job, and it was fascinating to watch how he arrived at this final result.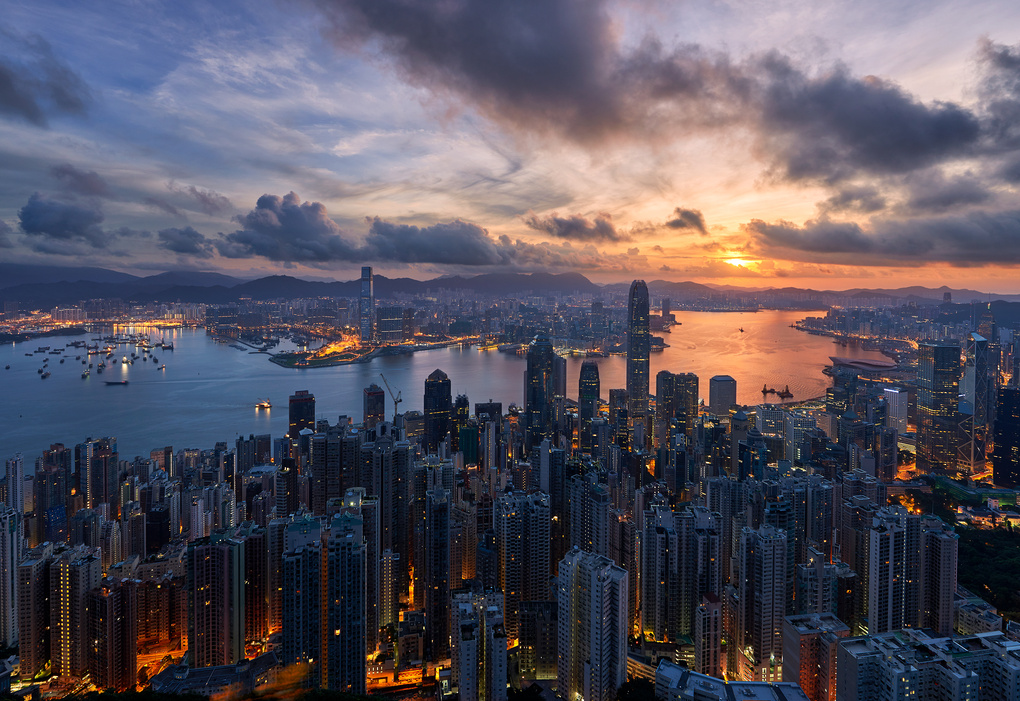 It Will Make You Comfortable Shooting And Editing In All Environments
The tutorial takes us to Cambodia, Cinque Terre, Rome, Singapore, and Hong Kong. Experience locations with hundreds of other photographers to contest with, Italian renovations (aka large unmoving pieces of machinery), reflections shooting through windows, smog, difficult security personnel and so much more.
Throughout every unexpected event, in every starkly different scenario, we are given a rare glimpse into the mind of a master travel photographer. In fact, it's far more than a glimpse. Elia himself, says he wanted to divulge every piece of photographic knowledge he has. I think, across the two tutorials, he did just that. The knowledge you will gain is invaluable.
The Unexpected Bonuses
As well as the cityscape tutorials, we are also given a number of lessons at the end which cover astrophotography. True to form, these lessons are excellent. Elia shows us how to capture the night sky across the world. And how to create some unique photos of star trails like the one below. I thoroughly enjoyed this section of the course and found it to be a fantastic addition.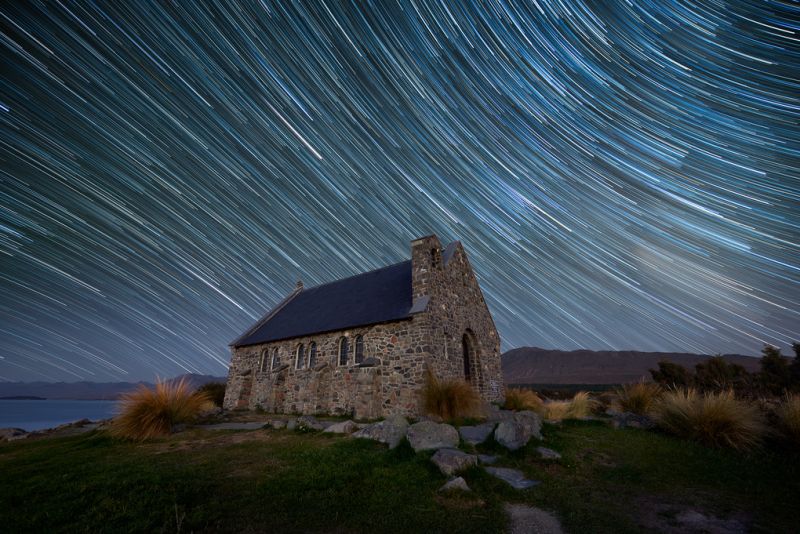 This course, compared to the first, is undoubtedly directed more toward professionals. In fitting with this, another unexpected bonus was a video on the business side of things. Elia talks to us about how he got his start and how he makes a living doing what he does. He talks about gaining a social media following, building a portfolio, and finding the most profitable revenue streams for his business. This is a welcome addition but in all honesty, the topics covered warrant a tutorial of their own. It's hard to condense that education down into an hour long video. I feel this could have been omitted, but then again it does have value hearing all of this from Elia.
What I Didn't Like
This review is becoming very long, so thankfully this section is short. There's not much I didn't like. However, for the sake of balance, I will put on my ultra-critical hat.
Elia uses a lot of plugins throughout his editing workflow. Rarely does he stay solely in Photoshop, which leaves you pondering the purchase of some additional editing software. I know that for some, this will be annoying. However, while I too would have liked him to remain in Photoshop, I am glad he didn't. Why? I wanted to see his workflow exactly how it is. I would not have wanted him to alter his editing style to pander to this criticism. That being said, it will annoy some.
Other than that, there is little fault I can find. As with any photography video, it has left me with a long list of items I now wish to purchase (chief of which being Patrick's oh-so-stylish moon boots), but that is not the fault of the course (more my own gear acquisition syndrome, which I forever battle against).
Should you Buy Both Tutorials?
Bringing this mammoth review to an end, should you get both? The first course is directed more toward amateurs. However, each course makes use of very different techniques. You will pick up different skills from each as each photograph very different subjects.
If I only had the money for one, I would purchase the Cityscape tutorial (this one). But I am an advanced photographer who found more value in the advanced techniques shown. If you consider yourself to be less advanced, then perhaps the first course is more appropriate. Bottom line, if you can afford both, get both.
If you're interested in purchasing a copy of Photographing The World: Cityscape, Astrophotography, and Advanced Post-Processing, you can find it here.
I'll leave you with this BTS video from their first destination, Cinque Terre. Looks as though they had a lot of fun shooting this.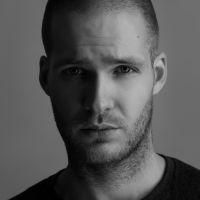 Max Bridge
Max began his career within the film industry. He's worked on everything from a banned horror film to multi-million-pound commercials crewed by top industry professionals. After suffering a back injury, Max left the film industry and is now using his knowledge to pursue a career within photography. Website:
SquareMountain 
Instagram:
Follow Author