Just home from covering the Sochi Olympics, Kevin Jairaj, an award winning wedding and portrait photographer, traded in his winter snow jacket for Vegas party clothes at WPPI. With a background in fashion photography and a sports photographer with USA Today Sports, Kevin's work and experience is well rounded and well sought after.
I caught up with Kevin last week on the trade show floor and we got to chat a bit about life, love, sports and photography.
Give me a little background info about your start in photography.
I graduated from the University of Oklahoma with a business degree before actually starting my photography business.  I basically photographed portraits and sports while in college for fun and it soon became a passion.  Once I graduated, I worked in Corporate America for a little while while shooting on the side and improving my photography skills.  In fact, I assisted several fashion photographers as I have always been drawn to high fashion.  You can probably see that fashion influence in my work today as I love the use of bright, vivid colors and bold, daring concepts in just about everything I shoot.

I saved up some money and eventually quit my corporate job and started KJImages Photography.  I went full time and quickly built up a good portrait and wedding clientele and the rest is history. ;)
You shoot weddings, portraits, celebrities  and sports? How did you get into that wide variety of genres?
Well, the first three naturally occur together and I have been doing them since I started my company.  I have always loved sports and so when I had the opportunity to shoot some assignments for USA Today Sports, I jumped at the chance.  I also love photographing sports as it's almost the total opposite of portraits and weddings!  I feel that I am forced to develop and use other skills and to me it is a fun challenge!
 What is your favorite sport to shoot? Why?
This is a hard one as I really like shooting a lot of different ones.  But, if I had to choose, I would probably say basketball as I grew up playing the game and pretty much know what is going to happen before it does.  The key to being a great sports photographer is to be able to anticipate the moments instead of to simply react to it  Knowing the sport inside and out, whether it be coaching or player tendencies to knowing the most intricate rules of the game, it can be a huge advantage.

What is the biggest challenge in your line of work?
I'd say in shooting sports, the biggest challenge is sometimes the action goes away from where you are at.  For example, say in an NBA game, a big star player goes up for a dunk on the opposite end from you and gets hit and hurts himself badly, the shots from across court are probably not going to be the best as opposed to the ones where the action happened.  In that case, you are scrambling to get a good view of the injury as well as taking photos of the other players, coaches, and fan reactions to help tell the story.  Hopefully, at some point you will be able to get a good shot of the player maybe being taken off the court, etc… but it is still frustrating when the action happens away from you.
Describe the coolest event you've ever shot?
I would definitely say the Sochi Winter Olympics that I just got back from.  I mean, it was the most grueling and demanding, yet rewarding photography experience of my life.  It was awesome to see our team of USA Today Sports editors, writers, technicians, and photographers all come together to provide complete coverage of such a major event and to create so many fabulous images and stories over the lifespan of the games.  Yes, it was incredibly hard on my body and mind, but I would do it again in a heartbeat!
[REWIND: The 3 Minute Workflow of a Sochi Olympic Photographer & The Gear They Use Most]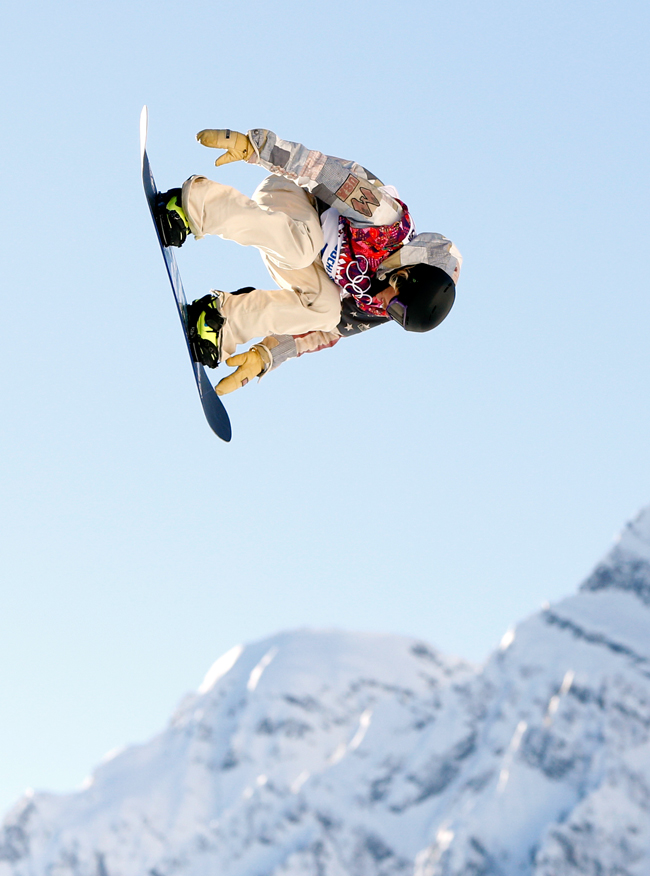 Have you ever had any moments during a shoot when you really felt star-struck or nervous? If yes, how did you handle it?
It's funny, but I have never felt star struck at all!  I guess that I just get into my "zone" of wanting to create the best images for my clients no matter who they are that I am more focused on that.  Once I explain the concepts and my visions to my subjects, I think we all get on the same page and I forget about their "celebrity" status, etc…

I know you shoot with Canon Gear. If you could only take one lens with you on a shoot, what's your favorite go-to lens? What else is in your camera bag?
I get this question a lot and I always have the same answer, my Canon 70-200mm lens can do it all in a pinch!  It's definitely the one I cannot live without! I use Canon 1D X Bodies with the following lenses:
Canon 16-35mm f/2.8L II
Canon 24-70mm f/4L
Canon 70-200mm
3 680ex Canon speedlights
I also use Pocketwizard multimax and Plus 3 units along with Profoto D1 Air 1000 strobes for studio lighting.
What is the next project you are totally excited about shooting?
I'd say this is a pretty big sports year for me as I am looking forward to shooting my first NCAA Final Four as well as the First College Football Playoff Championship Game!
Where can we find more of your work and adventures?
My adventures can always be found on my blog and my website.  I am always updating my blog from all of my weddings, photoshoots, and sporting events.  You can also find our product for photographers at www.ringstorattles.com. That is my shared site with my awesome girlfriend Alycia Savage, who just happens to be one of the best baby and children photographers on the planet!
Hanssie
Hanssie is a Southern California-based writer and sometimes portrait and wedding photographer. In her free time, she homeschools, works out, rescues dogs and works in marketing for SLR Lounge. She also blogs about her adventures and about fitness when she's not sick of writing so much. Check out her work and her blog at
www.hanssie.com
. Follow her on
Instagram