When first diving into the pursuit of following one's dreams it is easy to get sidetracked with the overwhelming ideas of what we thought it would be like versus the harsh reality of what it is. This video from Trudi Tapscott, model talent scout extraordinaire, is primarily for aspiring models but is loaded with advice that can also apply to aspiring photographers in fashion and other genres.
One of the biggest mistakes aspiring models make is thinking that they will immediately be famous and make a lot of money almost immediately once they are "discovered". The bitter truth is that this is essentially never going to happen. There is also a common misconception that the life of a model is easy, but it is a job, a difficult one at that, and requires so much more than looking pretty in front of the camera. It requires dedication and sacrifice, long hours, years of experience, and learning that you are one small part of an entire team that makes this happen.
It also extends far beyond the realms of selling a product. A model must be polite, professional and personable. Having a personality and being able to successfully communicate are now part of the job description. As glamorous as the life of a model may seem, it can get very lonely at times and having a good support system is imperative. It certainly pays for a photographer to understand this, to understand the life of a model; their trials, tribulations, and how that realm operates.
All of this information can crossover to aspiring fashion photographers. In addition to all of this, I have a few other lessons that I have learnt along the way that apply to both career paths, as they are intertwined.
It is important to learn that you are an individual commodity and product. This can be disheartening at first, but it is true. Learn how to sell yourself without selling your soul. Take the time to develop positive relationships, and no matter what, do everything possible to keep them that way. Nothing is worse than a torched bridge because the web of the fashion industry really is the size of a small town and word spreads like wildfire. Someone can possess all of the skills and attributes necessary to become successful but it is a moot point if they don't know how to network and carve out their networking path accordingly.
The job is hard. It requires a lot of dedication, research, continuous education, and practice. Most do it for the love of the art because it is definitely difficult to make a living out of it at first. It is an investment, rather, for photographers and models alike. It is taking the time in learning that niche to sell a product and produce quality content, which eventually can be applied to sell a product, and hopefully someday, every and any product. It is a journey that can be overwhelming at times and is really incredible. It is every bit as rewarding as it is challenging.
Learn more from and about Trudi Tapscott here.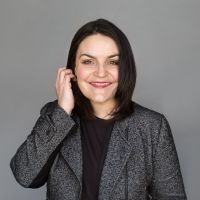 Brittany Smith
Brittany is a fashion and beauty photographer who works between NYC, Montana and LA. She photographs the way she has always wanted to feel and believes in the power of raw simplicity. When not behind a camera she can usually be found at a local coffeeshop, teaching fitness classes at the YMCA, or baking something fabulous in the kitchen. Instagram: @brittanysmithphoto