Take a Time Out with Tanya, art director & graphic designer turned commercial photographer who really just wants a break from her three kids. Sign up for her weekly email here so you'll never miss a Time Out.
I got my first Canon Speedlite 430EX in 2007 as a Christmas gift from my husband. I had been teaching myself digital photography after making the switch from film and realized I needed to learn how to use artificial lighting for some applications. Unfortunately, that flash sat in my camera bag unused for over four years because I didn't know how to use it. I basically consider those to be four wasted years because since I've learned to use flash, an entire photographic world opened up to me.
That original Canon 430EXII is almost 10 years old now and the primary light in my kit. I've never had a problem with it. I bought an identical flash second-hand and those two lights go with me on every shoot. Yes, I've used other strobes in-studio and on-location but I found them to be heavy, cumbersome and not necessary for the type of work I do. Yes, I have the Profoto B2 250 Air TTL Location Kit on my wish list (seriously, I dream about it at night) but the Speedlites work just fine in a variety of situations and elevate my photography to a professional level without having spent a fortune or having to lug around a huge, heavy kit. Here are a few ways you can use one light flash photography to boost a basic scene to a more professional look.
Bounce the Light
I recently did a commercial session for a client in her home. Jolene Fisher is a nutrition and fitness coach and wanted "day-in-the-life" images for her business' (No Bad Days) social media campaign. Her home had plenty of natural light coming in, but I wanted to add just a pop of fill light and did so by simply bouncing the light off her white vaulted ceilings. She was amazed by how professional the photos looked with that extra lighting. It elevated the quality of the photographs from snap-shot to more commercial images.
We also shot at a local coffee shop and I used the same Speedlite with a MagMod MagBounce modifier attached. I had my assistant holding the flash on a monopod toward the window of the cafe and we bounced the light back onto the subjects, creating a nice soft light and also allowing distractions in the background to fall off into shadow.
For these conceptual images for a Facebook Ad campaign for Karen Does My Hair, I set up sheets of white foam core board in a box-like shape around the items I was photographing (see photograph below, but I had an additional board on the left side). With my flash mounted on-camera I bounced the light off the wall of one board, which cast a nice soft light over the objects, leaving no harsh shadows. 
The client loved them and  was pleased I was able to create these quickly on-location with no complicated, expensive set-up.
For another shoot for Karen Does My Hair, I used the same single Speedlite bounced off a 45 degree angle vaulted ceiling (White vaulted ceilings are seriously my favorite!). There was some light coming into this room but it was a little overcast that day so adding that bit of fill flash really elevated the look of the images. For one thing, I didn't have to crank up the ISO so the images are noise-free and crisp.
Modify the light
This shoot for Rainmaker Creative had some challenging lighting issues. The conference room, where we spent about half the shoot, had overhead lights that cast an unflattering yellow hue. Also, the back part of their office where the staff worked was largely in shadow so we had to add some light to highlight the focal points and avoid using a high ISO.
I had my assistant hold a Speedlight on a monopod with the Cowboy Studio Octagon Umbrella Softbox modifier for these shots. I love this modifier because it's so affordable and folds up like an umbrella for easy transport, setup and take down. The only drawback to this modifier is that you have to take the diffuser off the front to access the flash, which can slow things down a bit.
However, I've used the same Octagonal Umbrella Softbox for these executive head shots for ITProGuy.com, which we created on-location in a very small room. It was a rainy, overcast December day in Seattle, and I'm so glad I planned ahead and brought my lighting gear because there was very minimal natural light coming into that room and there's no way we could have gone outside in the cold. I love how the light is soft but gives some dimension to the face. The soft box is placed at camera left at a 45 degree angle and then I had my assistant hold a reflector down below to create a touch of fill, and eliminate any shadows under the eyes.
Don't Be Afraid of Flash
Now that you've seen a bunch of different ways I use one pocket strobe in my professional work, are you ready to start giving it a try? Don't be afraid of flash. It doesn't have to be expensive, heavy, or bulky to carry around. If you're not sure where to start, I recommend the SLR Lounge Lighting 101 workshop. This workshop is dedicated to showing you how to use one light on-camera. In Lighting 201 you learn how to take the light off the camera and utilize more than one at a time. Alternatively, you can become a Premium Member and watch both Lighting 101 and 201, plus all the other incredible SLR Lounge workshops instantly, whenever you want!
For more examples of using one light to create professional quality imagery, check out the following articles: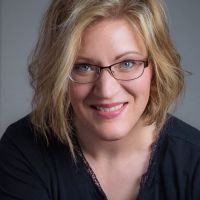 Tanya Goodall Smith
Tanya is the owner of WorkStory Branding Photography in Spokane, WA. Businesses hire her to create story-telling content that sells their high end products and services. She also teachings photographers her unique business model for making serious money as a corporate and personal branding photographer. Find her at
workstoryphotography.com
and
workstoryeducation.com