Our "SLR Lounge Awards Artist Feature" articles highlight SLR Lounge Awards winners, some of the very best photographers around the globe. This article features Florin Stefan of Florin Stefan Fotograf (Craiova, Romania). Florin is an internationally recognized wedding photographer, with six Fearless Awards to his credit. He entered his Apex Award-winning photograph into the wedding photojournalism category in December, 2018.
Read on as Florin talks about his journey into wedding photography. He discusses the importance of attending workshops. Also, Florin talks about how he is able to photograph long hours on wedding days. (Hint: he's super fit!)
Florin, thanks for taking the time to join us for an interview! First of all, tell us about how you first got into wedding photography. Additionally, what's your favorite part about photographing weddings?
In 2009, my ex-wife and I  had a floral business. Photographers didn't send any photographs with our flowers to us. So, I decided to learn how to use a camera. When we divorced, it was the main thing that I did. I began photographing seriously in 2013, and wedding photography in 2014.

What do I love the most about wedding photography? Definitely the people. I love people!
Talk to us about photographing weddings in Romania.
It's actually quite challenging. I think Romanian weddings are the longest in all of Europe. Most of them last between 14 and 18 hours. You have to stay fit for sure.

For that reason, I participate in a lot of sports. For  example, last year I walked the famous Camino de Santiago Francés (900 km). And this year I am training for the IRONMAN 70.3 (St. Pölten, Austria).

Other than that? First, you have to eat healthy. Second,  you must stay hydrated/drink a lot of water. You will have a problem during long weddings if you do not!
Solid advice. Our weddings average 15 hours, so we can definitely relate. We'd love to hit you up for some additional advice! What do recommend for wedding photographers looking to improve their photography skills?
Other than working hard as hell? Above all, going to workshops has been very important for me. I always attend, with great joy, the Fearless Photographers Conference and WEDDCAMP. In fact, I try to attend one or two conferences each year. This year, I'll get to see Two Mann in Romania in June! For me, if I can learn one thing from attending a conference, I am very happy.
You're also an active speaker/educator. Where can photographers connect with you as a speaker?
Well, I recently spoke at shootLess in Romania. Next, I'll speak at the Bulgarian National Association of Professional Wedding Photographers and Videographers' 8th International Forum for Wedding Photographers and Videographers.
Rad! Before you go, Florin, what's something that other photographers might not know about you/would find surprising about you?
Easy! I also work at KISS FM. It's Romania's No. 1 radio station!
You can see more of Florin's work on his website. Furthermore, be sure to give him a "Like"/"Follow" on Facebook/Instagram.
Check out the latest SLR Lounge Award Winners here. Don't forget to submit by the April 30 deadline to be considered for SLR Lounge's April 2019 awards competition. Finally, remember that anyone can sign up for an SLR Lounge account for free and submit. However, Premium Members are able to submit up to three photographs each month!
Please note, all photographs are copyrighted by Florin Stefan of Florin Stefan Fotograf. They have been used with permission for SLR Lounge. Do not copy, modify, or re-post this article, or the included photographs, without express permission from SLR Lounge and the artist.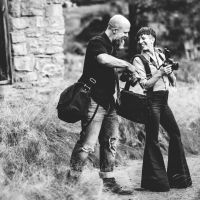 Amii & Andy Kauth
Amii & Andy are a wife and husband team of rad portrait and wedding photographers (Sunshine & Reign Photography) who absolutely love life and are generally just stoked! Yeah! When they aren't photographing or writing and teaching about photography, you'll find them off on a seriously legit adventure with their little ones, lifting weights in their garage, training jiu-jitsu, refining their archery skills, or surfing every chance they get. And on the rare chance they escape off on a "date night"? Yep! They'll find a wedding to crash (true fact). Website:
Sunshine & Reign Photography
Instagram:
@sunshineandreign