A couple weeks ago I interviewed Sara Story, a portrait photographer who shoots primarily with film. Sara claims that shooting on film basically eliminates the post processing step from her work flow, which makes it worth the extra expense of developing film. No fiddling with white balance or touching up blemishes when shooting with an appropriate film for portraiture, according to her.
I was super curios to test film vs. digital for myself, so, I ordered a box of Kodak 35mm Professional Portra Color Film (ISO 160) from Amazon and spent an afternoon cleaning out the closet in my basement in search of my old 35mm film Canon EOS Rebel. Of course, I had to go shopping for a new battery, too (which I found after searching 5 different kiosks at Super Wal-Mart…) and google how to change the aperture because it had been so long since I used the thing. In fact, I'm not even sure I knew how to shoot in manual mode back in the day.
Dusting off that old film camera felt like welcoming home an old friend. After 3 years of working on the high school year book staff, my parents gave me the camera as my graduation present. I couldn't have asked for a more appropriate gift. It was well worn when I switched to a DSLR almost 10 years later.
While photographing Brandon, class of 2015, I whipped out the film camera and gave it a try. I used the same lens, same location, natural light, same ISO and aperture with the film and digital cameras for a comparison. Here's the verdict, comparing the straight out of camera RAW, strait out of camera jpg, edited RAW file and scanned film negative. You can see them side by side in the graphic above and take a closer look in the individual images below.
I have to admit, the rich tones and smooth skin texture of the film version look really great! In fact, I'm surprised by the difference. And I didn't have to do a thing to it post process. Except pay for the film and the processing, of course (not mention drive 35 miles round trip to take it to a lab that still develops film…)
While I don't think I'll be switching back to film permanently, I did notice while shooting I slowed down, composed my shot more carefully, anticipated the right moment to click the shutter and took the time to get my settings right before firing off a bunch of shots. I found myself constantly looking at the back of the camera and then feeling a little sheepish because, well, there's nothing to see back there! Constantly looking at the LCD screen on my digital is a really bad habit I didn't even know I was doing.
Shooting on film was a really effective exercise for me and I'll be doing it every once in awhile from now on. I'm so glad I didn't get rid of my film camera, which by the way, is so light and easy to carry around compared to the 5D Mark III. It feels like a toy in my hand. Stay tuned later in the week for my attempt to recreate the Portra film look in my RAW digital file and how you can get the look, too using the SLR Lounge Lightroom Presets.
CREDITS: Photographs by Tanya Smith. Do not copy, modify or re-post this article or images without express permission from SLR Lounge and the artist.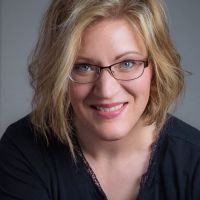 Tanya Goodall Smith
Tanya is the owner of WorkStory Branding Photography in Spokane, WA. Businesses hire her to create story-telling content that sells their high end products and services. She also teachings photographers her unique business model for making serious money as a corporate and personal branding photographer. Find her at
workstoryphotography.com
and
workstoryeducation.com