If you're  a photographer who loves travel and adventure, then you have probably heard of Elia Locardi. In addition to being an acclaimed travel photographer with quite a list of prominent publications and clients, his "Photographing The World" series created in collaboration with F-Stoppers is a world-class workshop for anyone who is passionate about landscapes, cityscapes, seascapes, and more.
Today, I am reviewing Elia's latest addition to his Photographing The World series: Japan. As the fifth workshop in the Fstoppers series, Japan follows two beginner and two advanced courses, one of each being entirely dedicated to landscapes or cityscapes. This time, Elia is combining all of his favorite types of subjects in one workshop, which, (spoiler alert!) makes it quite simply the best value yet!
In this workshop, you will not only experience a grand tour of some of the best photography spots in Japan, but also be given a comprehensive view into the mind of one of the best travel photographers around. Elia brings his experience of both photography and world travel (to over 70 different countries) to this workshop, making it a fantastic value. With that said, let's dive in!
Photographing The World | Japan: Workshop Details
PRICE:

$299




(For a limited time, this includes any one additional Photographing The World workshop!)

FORMAT:

Video

CONTENT ACCESS:

Streaming online, downloadable videos, downloadable raw files

TOTAL RUN TIME:

>60 hrs

TOTAL VIDEOS / CHAPTERS:

22 videos (including 1 free chapter & 6 BTS videos)

SUBJECTS / TOPICS COVERED:

Landscape photography, cityscape photography, travel photography, seascape photography, general urban & nature photography
Photographing The World – Japan Review: Who Is It For?
If you're passionate about landscape and travel photography, then the Photographing The World series is definitely for you. It's scope is broad enough that it won't matter if you're highly experienced, or a beginner with minimal experience.
Also, it doesn't matter if Japan is at the top of your to-go list, or if you're simply aspiring to visit the beautiful attractions around your home state/country! In any case, if you like travel in general, and if you like photographing beautiful scenery, then you'll benefit from this series, and the Japan workshop in particular.
Photographing The World – Japan Review | Highlights
What I really like about this workshop in particular is that it combines both landscapes and cityscapes in one workshop. The four preceding workshops, as their names imply, focused on either landscapes or cityscapes; either beginner or advanced.
With this workshop, you get a little bit of everything. (Plus, as a huge bonus, though maybe for a limited time, you can get one additional entire workshop when purchasing this one!)
These two key highlights make this simply the best workshop yet from Elia Locardi & Fstoppers. With that being said, let's dive into the actual subject matter, the style of the content, and other details…
Subject Matter
As its name implies, this entire workshop is all about Japan! Simply put, it does help if you are interested in visiting Japan someday, if you are considering this workshop. By comparison, Elia's other Photographing The World workshops each include numerous locations from around the world.
Having said that, as a resident of the American West who has never visited Japan, I still found myself relating to the subject matter very closely. Even here in my home state of California, I was continually thinking about how my own local areas could provide similar opportunities for cityscapes, seascapes, and mountain…scapes?
Therefore, I think it's not as "Japan ONLY" as you might think. The actual subjects, from intimate gardens and temples to distant skylines and dramatic mountain peaks, provide insight to all photographers who are interested in the general subjects.
Of course, the other main subject that is mastered by this workshop is post-production. Elia dives into his full start-to-finish workflow, from raw development to advanced photoshop techniques. Whether you are an adventure travel photographer who simply wants to document what you see, or you are a fine art travel photographer who is creating absolute perfection using advanced composite techniques, you'll find expert guidance in this workshop.
Techniques & Tricks
The Japan workshop covers not only a diverse array of subjects, but the abundance of little tricks and techniques is common throughout the whole workshop. Little details about lenses that accept front filters, tripod techniques, when to trust (or not trust) our camera's various features, …it's a goldmine of technical knowledge.
Beyond the technical knowledge, of course, the creative insight is very useful, as well. Elia seamlessly blends the technical and creative flow, both in the field and in post-production, to demonstrate how everything from choice of focal length to choice of timing, position, and sheer patience, …can all pay off.
The advanced edits Elia teaches are definitely master-level tools for any fine-art photographer, including techniques such as blending multiple exposures for focus, subject motion, optimal lighting, and using "plate" images to help those pesky tourists vanish from your scene!


Educational Style & Format
Of course, no matter how valuable the information of any workshop is, I would have to "ding" it a lot of points if the style & format of the content itself isn't easy to absorb. Thankfully, Photographing The World as a whole series has been incredibly well-produced, with an educational style that is relatable, student-friendly, and just enjoyable overall.
In Photographing The World | Japan, Elia does an excellent job of explaining everything in very understandable ways. I never feel like I have to "strain my brain" to understand a concept. This is wonderful because it allows me to feel inspired right off the bat; I feel ready to get outside and capture my own images!
One thing I should note is that, oddly, the very first video did not start with an overview of what you're going to learn, or which videos or chapters you should jump to for a particular topic or location. Instead, the workshop firstly dives into the software that is commonly used for the tutorials. (It's mostly Adobe Lightroom and Photoshop, with some plugins as well.)
After this, the second video gets into the gear that is used, and it's a bit of a daunting list, (medium format digital; 100 megapixels!) …however, Elia focuses primarily on the focal ranges (in full-frame equivalents) and that is the most important, useful information for other photographers who might not have the same gear. Also, since this is a workshop all about landscape and cityscape photography, Elia does a great overview of the accessories you'll need, as they can absolutely make or break many of your photo opportunities in a beautiful location such as Japan.
All in all, Elia's style of educating is highly relatable, even though the gear (and the locations themselves) may seem rather exotic. Right from the start, you feel that he is a genuine person who really understeands what he's doing, and he does a great job of explaining himself whether it is the technical details or the creative visions.
Value
If you aspire to be a working professional landscape / travel / cityscape photographer, then this content is invaluable. It can make you into a true master of all the subjects, both in Japan and anywhere in the world that has similar opportunities!
Of course, the content does not go very deeply into the business side of being a professional landscape photographer; subjects regarding marketing your work, selling prints, etc. are not covered, and would be an entire workshop by itself, I suspect.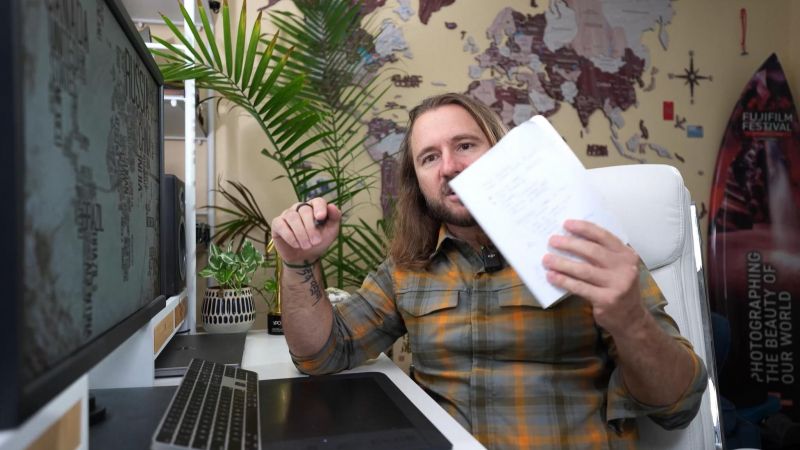 HOWEVER, one of the most valuable videos in the entire workshop is the "How To Plan A Project" video! It gives incredible insight into the "real work" that goes on to even give you a chance to click the camera shutter! As a passionate adventure landscape photographer myself, I cannot stress enough just how important it is to plan ahead! Research your locations, "do your homework" so to speak, and the photo opportunities you get as a result will be significantly better than a casual "wanderlust" type approach to globetrotting.
Is this workshop worth the investment, if you are a hobbyist? Yes, absolutely. Even if you never aspire to make a dime from your travel, landscape, cityscape etc. photography, this workshop will be rocket fuel for your passion. From the creative inspiration to the technical skills and sheer confidence that you gain, the entire workshop provides one of the best values in the entire genre
Photographing The World – Japan Review | What's Missing?
As mentioned, this isn't a workshop for those who are looking to learn the business side of travel & landscape photography. I would love to see such a course from Elia and Fstoppers someday, because he is clearly a success story with over 20 years of experience, and an impressive list of accolades. Again, of course, that's a massive subject all by itself, for an entire workshop, indeed.
There isn't much content "missing", besides the obvious fact that this workshop is created exclusively in Japan, while Elia has visited more than 70 countries around the world. As I mentioned, the comprehensive nature is rather broad, and would apply to anyone who wants to get better at landscape or cityscape photography in general. Compared to other workshops that are entirely dedicated to landscapes, cityscapes, or post-production in particular, this one has a lot more to offer.
Additionally, the bonus material, mostly BTS footage that tells the story of how the whole workshop was created, gives another layer of insight into just how challenging travel photography can be in general. Whether it is setting your alarm clock for 4 AM, or navigating the transportation of a foreign country, Japan is just as entertaining as it is educational.
Photographing The World – Japan Review | Conclusion
All in all, I highly recommend the Photographing The World | Japan workshop to any photographers who are interested in travel & landscape photography. It is one of the most well-produced, entertaining yet informative, and comprehensive workshops that I have experienced.
There are a lot of video courses & workshops available online these days, but few have the renown of such a highly experienced travel photographer like Elia. So, whether you are looking to visit Japan soon, or any similar travel destination with a blend of all different types of "'scapes" to photograph, this workshop is worth the investment.
Check Pricing & Availability
Photographing The World | Japan is available for $299 from FStoppers. At this time, they also have a valuable offer: with the purchase of this one course, you can also access any other one Photographing The World course, too! So, depending on your skill level, this would pair perfectly with one of the beginner or advanced workshops that focus entirely on either landscapes or cityscapes.
Also, for those who are curious, you can currently download the entire 1st chapter for free, and the BTS videos will also be periodically released on the FStoppers Youtube channel.