I was on a hunt for an urban daypack to carry around and I came across the Kenti by F-Stop. It's part of their mountain series. Mind you, I'm not a hiker or an outdoor adventurer at all. I was just hunting for a smallish backpack to take around on city excursions. I wanted something that didn't scream camera carrier, was functional, easy for me to use but hard for itching fingers to get into.
[REWIND: Pro Gives Advice on How To Conquer Street Photography Fears]
Best Feature
The first thing that caught my attention as a great feature was the backpack's dual access points. There are zippers on both "sides" of the backpack for easy access into separate compartments of the bag. Depending on which shoulder you favor as your dominant side, I kept all my lenses on my dominant (changing) side and my camera with lens attached and a flash on the opposite side. The body of the backpack comes with removable and adjustable dividers that make it easy to arrange your preferred layout.
Other Great Features
1. Material – The pack is made of nylon ripstop with a polyurethane coating which makes it fairly weatherproof and safe from light moisture. It's also got a rain cover pocket on the bottom of the pack and you can purchase an optional rain cover if you fear getting caught in the rain. The back panel, like most well-constructed hiking packs, has the raised padding for ventilation and comfort.
2. Safety and Security – One of the things I get paranoid about when traveling with a backpack is the accessibility of my gear around crowds.
• The pack comes with quick release compression straps which also double as a security feature. With the zippers closed all the way at the bottom of the pack and the snaps are in place, access to the main compartment isn't easy.

• A similar strap called gate keeper straps can be purchased from F-stop to attach across the front for use as additional security for the front pocket and for mounting tripods and other gear to the front of the pack
• The roll top compartment also locks in with tension straps to secure belongings contained in that section.
[REWIND: 6 Most Stolen Photography Gear of 2013]
3. Hydration – Again, I'm not an outdoor expert, but if I was, I might think that the optional water pack and dedicated hydration pocket at the back of the bag is convenient. They even have all the loops to hold the hose in place and a drainage weep hole to prevent moisture from seeping into the bag. Interestingly, this pocket also nicely fits an iPad or similar tablet if not used for the hydration system.
4. Roll Top – Got a sweater? A mug? Or some other non-gear related item that you want to carry with you? The convenient roll top compartment with its adjustable size is the perfect section to store extra necessities.
5. Camera Capacity – I'm smaller in stature and not exactly the strongest person, so when I do urban exploration, I tend to pack light. This bag fit my gear selection quite nicely. A Canon 5D Mark III body with a Canon 70-200mm L attached, a flash, a set of triggers, my Canon 50mmL, Canon 85mm L and Canon 16-35mm L.
6. Comfort – Stabilizer straps around the hips are the best way to save your back and your shoulders. It allows even distribution of weight for greater comfort.
Not So Great Features
1. Laptop Compartment – Access to this compartment is through the roll top area making it a little inconvenient. I would have preferred to have a separate zip compartment altogether.
2. Front Panel – This panel is a little tight for my taste. With the bag empty, there isn't much I can put into that area that isn't flat so batteries are a definite no-no in that section. The 13" laptop compartment is found directly behind this panel and with a laptop in place the front panel gets even tighter. This leaves me with a need to find room for batteries, card wallet, triggers and cables somewhere in the main compartment or in the roll top section.
3. Belt Pocket – This pocket would have been the ideal spot to keep sunglasses or a cell phone, but the size of it is rather inconvenient as it fits neither of those items.
4. Zippered Pockets on the Side Access Panels – I actually love this but I'm disappointed that they only put it on one of the panels.
5. Non-standard features – This bag has an abundance of straps, D-rings, accessory loops and boasts a MOLLE attachment system that meets international standards for military, police and fire departments, but didn't come standard with the 2 extra straps that go across the front of the bag for tripod and stands, which photographers would find very useful. It's an additional $15 to purchase.
6. Price – I'm not one to skimp on my camera bags since security and safety are key for guarding my expensive gear, but I might say that $245 for a camera bag (plus another $15 for the front straps) is a little steep.
CONCLUSION
Overall, I would say it's a well-constructed bag, with some great features and I would definitely use it for urban travel, but I really hesitate on the price and shortage of easy storage placement for my little items like batteries and cards. I would give this bag 3 stars.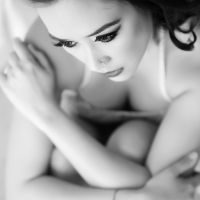 Michelle Ford
Michelle is a Southern California Portrait and Wedding Photographer. When she's not geeking out with a camera she's nerding out in her IT world. All other moments in the day are spent with her two wonderful children. See her work on
The COCO Gallery
check out her blog at
frexNgrin