Welcome to Time Out with Tanya, where I've put my fast paced graphic design career on hold in favor of adventures in motherhood. I'm capturing every moment on camera and you can come along, if you'd like. Sign up for my weekly email here so you'll never miss a Time Out.

My poor kids have been subject to their Mamarazzi since birth. It's no surprise, then, that they want to take pictures, too. I've been letting my oldest snap away on various cameras since he was about 3 years old and even publish some of his shots on my blog in a fascinating series called Calvin Up Close. I've learned a lot of Do's and Don'ts about handing a camera over to my kids through trial and error. Here are my top tips for introducing kids to photography.
[In case you missed it, check out my tips for Editing Newborn Portraits in Two Minutes or Less]

DON'T let your kids play with your camera phone unsupervised
They might dial 911, delete all your apps, update your Facebook status with an embarrassing picture they took of you, or spill an entire cup of milk on your $500+ phone. Trust me on this one. All of the above have happened to me…
DON'T waste your money on cheap "made for kids" cameras
After the "spilled milk and totally obliterated mom's phone" incident, I thought, maybe I should get my son a toy camera? While I haven't tried every toy camera on the market, the $30 camera purchased for him was a total waste of money. The images produced by the camera were so small they were unusable. The batteries would die within 20 minutes and the included (annoying) video games on the device distracted him from actually taking pictures. He just wanted to play the games.
If you feel you must go this route, be sure to read all the reviews and specs about the camera. Make sure the resolution of the images is at least 650 px wide, which will be appropriate for sharing online, but won't make a nice print, FYI.
DON'T let them play with your "nice" camera
If you would be totally devastated if your good camera was damaged, just don't let them touch it. At my house, the kids know they aren't allowed to mess with my Canon 5D Mark III. It's totally off limits. This is why I have a designated camera for them to use, which brings me to the DO'S…
DO encourage your kids to "pretend" to take pictures
This is a great idea, especially if you can't afford a real camera for them at this time, or just don't want to let them use one. My kids love the Fisher-Price Fun 2 Imagine Pocket Camera that has colorful slides of wild animals inside the view finder. They like to pretend to take pictures of each other and of mom and dad. I swear I only paid like $6 for that thing 5 years ago, but now it's listed on Amazon for $40! Here's a similar retro version for under $20. They'll often pretend other objects are cameras, too. You could decorate a small box to look like a camera. Let them use their imaginations.
DO give your kids an appropriate camera they can use without constant supervision
I tried a few different cameras before I found the perfect one for kids. Problems with a typical point-and-shoot like a Nikon COOLPIX L28, include risk of dents and scratches or breakage from being dropped on hard floors or sidewalks, potential damage to the camera if it's submerged in liquid and damage to, or loss of, the battery and memory card, especially if those components are easily accessed.
My favorite kind of camera to give to the kids is one intended for extreme sports, like the Fujifilm FinePix XP60. This affordable little camera is waterproof, shockproof, freeze proof and dust/sand proof. All of those things basically equal kid proof. They can drop it on the sidewalk, take it to the pool and the park without worrying about breakage. Plus, the image quality of the photos will be decent enough to share or print if you desire. The one I have came with a handy neoprine carrying case and also has a wrist strap, which I make sure they use. Keep in mind you should keep all electronics away from the kiddos under age 3.
DO teach your kids the basic functions of the camera and then let them explore.
No need to correct them or teach them anything about photography "best practices" at this time. It's interesting to see what they chose to photograph and how they intuitively compose their images. If your camera has a video function, let them take videos, too. Be prepared for an eye opening real look into your life, though, and some good laughs!
Finally, make sure you let your kids look at their pictures. They love it! My son likes to plug his memory card into the Wii and look at a slide show of all the pictures he took on the big TV. Or we'll upload them to my computer and flip through them together, after I've gone through and weeded out all the photos of the ceiling and giant fingers blocking the lens (there will be a lot of those.)
Photography is definitely a family affair at our house. I hope you'll make it so at your house, too. Do you have any other questions about how to introduce your kids to photography? Please ask in the comments or contact me at tanya(at)slrlounge.com.
CREDITS: All photographs by Tanya Smith are copyrighted and have been used with permission for SLR Lounge. Do not copy, modify or re-post this article or images without express permission from SLR Lounge and the artist.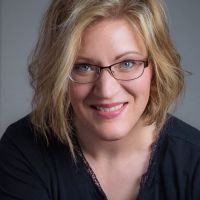 Tanya Goodall Smith
Tanya is the owner of WorkStory Branding Photography in Spokane, WA. Businesses hire her to create story-telling content that sells their high end products and services. She also teachings photographers her unique business model for making serious money as a corporate and personal branding photographer. Find her at
workstoryphotography.com
and
workstoryeducation.com