The ever growing trend of professional applications becoming cloud based subscription services has been a blight to many creatives. The argument is made that improvements and new features will be available to the user sooner, but in reality, the subscription services have become a way for companies to 'tap' users' bank accounts in order to obtain a predictable revenue stream. There are few companies who still hold on the principle of having users purchase a license without a subscription; yet even fewer still who offer a very competent free version.
Blackmagic's DaVinci Resolve has been a very popular alternative nonlinear editor to the popular cloud-based Adobe Premiere Pro, and with the final release of Resolve 14, it has become an even stronger competitor.
Earlier this year we reported on the highly anticipated follow up of Resolve 12.5. First announced back in NAB,  the public beta of Resolve 14 has been available since late April and has been maturing all summer. Black magic has dubbed it as "the biggest release in the history of the product."
"The public beta of DaVinci Resolve 14 has been downloaded more than any other version of the software in its history," said Grant Petty, CEO, Blackmagic Design. "This new version is a major leap forward because it now gives every customer, from individual users to large studios, a way to seamlessly move between editing, grading, and audio. That means they can spend more time being creative and less time translating projects and switching between multiple applications!"
The new release of Resolve is more of a suite of applications (professional editing, color correction, and new audio tools) rolled into one. First, the new video playback engine promises up to 10 times performance improvement over previous versions. Resolve has offered editing tools since version 11 and made huge advancements in versions 12 and 12.5, but some editors complained of playback lag when compared to other systems.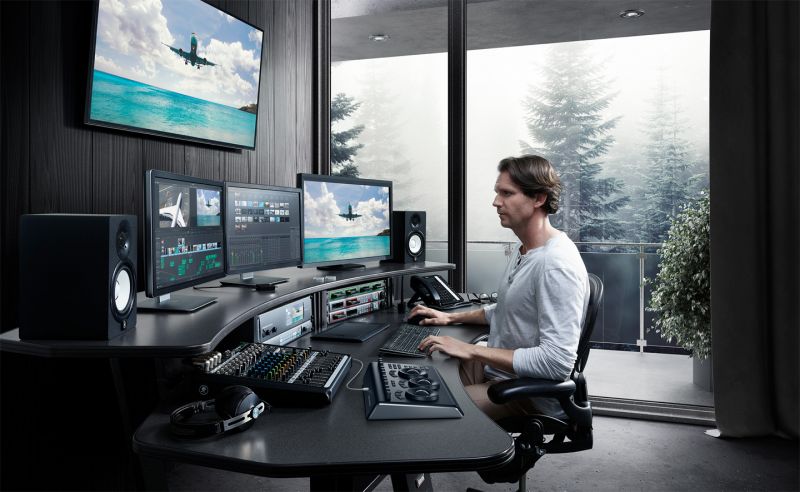 DaVinci Resolve 14 has had extensive CPU and GPU optimizations including better threading and GPU pipelining, lower latency, much faster UI refresh rates, along with support for Apple Metal. Scrubbing is also improved and playback is instantaneous thanks to the powerful new acceleration for processor intensive formats, like H.264, making it possible to edit 4K images on a Macbook Pro or other laptop.
Next, there is a whole new audio post production audio suite built-in, thanks to the acquisition of Fairlight Audio. Fairlight is famous for being used in the world's highest-end studios for audio in film and television, as well as known for both its superior sound quality and its speed. Resolve users get a massive set of professional audio tools for recording, editing and sweetening, professional bussing, mixing and routing, and multi-format mastering to 3D audio formats such as 5.1, 7.1, Dolby and even 22.2.
For colorists, there are over 20 new Resolve FX filters that make it easy to remove dust, fix dead pixels, new stabilization, warp images along with the new face enhancement tool. This new tool automatically recognizes and tracks facial features so colorists can quickly smooth skin, brighten eyes, and adjust skin tone, all without having to rotoscope any part of the image.
Resolve 14 is available, for free, right now at Blackmagic's site, here, which will be fine for most users. The upgrade to the full studio suite is $299, which bringing with it noise correction, shared networked projects, HDR support, DCI-4K export, multi-GPU support, and along with other plugins.
Justin Heyes
Justin Heyes wants to live in a world where we have near misses and absolute hits; great love and small disasters. Starting his career as a gaffer, he has done work for QVC and The Rachel Ray Show, but quickly fell in love with photography. When he's not building arcade machines, you can find him at local flea markets or attending car shows. Explore his photographic endeavors
here
. Website:
Justin Heyes
Instagram:
@jheyesphoto