Instagram has evolved from its humble beginnings as a simple app meant to share photos, and is now a huge marketing tool and resource for businesses and individuals alike. In the last few years, businesses have begun to discover the effectiveness of marketing themselves on IG, not only through having an aesthetic visual platform, but also reaching out to an emerging social media group now defined as "influencers".
As a social media/brand photographer, I understand that lifestyle photos, from the influencer's perspective, is a huge way to relate and stay relevant to their followers while advertising for various brands they are working with at that time. With that said, here are some questions to ask yourself to up your insta-game whether you are an influencer or a photographer: How do I make the photo consistent with the feed? How do I create an atmosphere that followers can relate to and believe to be in concurrence with everyday life? Remember, If the photo strays too far from their perception of you, the connection will be lost and that's a way to lose engagement.
For example, let's say you're a girly, peppy fashion blogger and your followers love your light, optimistic feed, filled with cute clothes and uplifting quotes about life; you wouldn't post a photo of yourself swigging a handle of Smirnoff on the curb of the questionable liquor store down the street. You would most likely pose in front of a cute latte in an adorable coffee shop reading the daily newspaper.
The next thing to think about is how natural the photo looks in relation to how natural it feels to you. If you are uncomfortable or awkward in your photos, chances are that same 'feel' will come across to your audience. Lifestyle imagery, even with as much effort as we put into one photo (posing, setting up the frame, props, etc.), should not look like we put effort in. Effortless, comfort, relaxed—words to think about when creating your look.
When I shoot for Athletic Apparel I like to loosen up the models by having them actually partake in stretches and workouts to get more of a natural movement going. Once they get comfortable in their element, that's when I start shooting (sometimes I tell them, sometimes I'm in silent mode and they have no idea). Candid photos are instant lifestyle photos.
Last but not least, don't over or undersell. Brands that are placed within these lifestyle photos should be seamless and belonging. It's nice to be promoted by other brands, and followers normally are happy you are being sponsored by other brands because it is an indication that you are being noticed and are doing well. However, it is one thing to promote the brand and another thing to sell-out. Trying to put too many unrelated, sponsored items into one photo to the point it becomes so cluttered that the eye cannot rest on any particular object causes confusion and distrust.
Posting an item just to post it, risks disengaging the viewer and lowers credibility due to lack of interest in said item. Showing that you are actively using and/or wearing the item gives it that humanistic, personal connection that is easily relatable, such as holding headphones next to your phone as if you just took them off briefly to take a break from all that wonderful music pumping into your eardrums.
A small tip I like to give out for these kind of photos is try to shoot things at eye-level. It gives it a very personal touch and makes the viewer feel as if they are actually looking at the object with you or in person.
Hopefully these tips will help you figure out what your lifestyle vibe is and how to capture the right moments! In my honest opinion, the best things in life are the unexpected. So stop expecting the results to come to you, and start doing. Grab your camera and never stop shooting!
Gear I use most:
Canon 5D MKIII
Canon 35mm f/1.4L USM
Recommended Reading: Instagram Just Became Its Most Relevant For Photographers & They Can't See It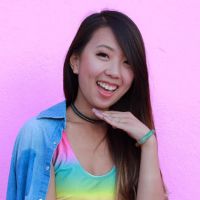 Jennifer Wu
Jennifer is a photographer and graphic designer out in Los Angeles. When she's not shooting fashion bloggers or creating social media content for brands, she's usually bombarding her snapchat with too many photos of her adorable cat or coming up with terrible puns that her friends don't find a-meow-sing