This seems like one of those 'too good to be true' headlines considering how close this is to April 1st, until you watch this video from Adobe Creative Cloud showcasing the new Content-Aware Fill tool for After Effects:
Content-Aware Fill for After Effects
The spring 2019 release of After Effects brings the power of Photoshop's Content-Aware Fill tool to video editing and it's available to download right now. You can now remove distracting or unwanted objects from your compositions, it's as simple as selecting an object and pressing the 'Generate Fill Layer' button to mask in the area.
Say goodbye to unwanted objects with #ProjectCloak, a sneak technology that leverages content-aware fill for video. https://t.co/D6IXxIPzHH pic.twitter.com/uOgBPSrkRv

— Adobe (@Adobe) February 9, 2018
While this tech is impressive, to say the least, and it's been a long time coming for Adobe after they introduced its existence during Adobe Max back in 2017 (see tweet above) under the guise of #ProjectCloak. Since then once experimental tool has been fine tuned to the delivered product we see today. The possibilities of cleaning up footage and removing objects in frame are now limitless. Content-Aware Fill for video is an "indispensable tool since there is nowhere "off-camera" to hide crew, tripods or lights" giving this tool a whole new meaning for cinema editors. You can read more about the spring update on Adobe's blog.
The Content-Aware Fill tool for After effects is powered by Adobe Sensei which "leverages intelligent algorithms to remove unwanted objects my temporarily harvesting pixels from other video frames or images".  To see it in action check out this video from Adobe CC doing a step-by-step content-aware procedure:
To download After Effects and test out the new Content-Fill Aware feature available now click here.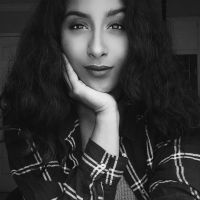 Shivani Reddy
Shivani wants to live in a world where laughter is the cure to pretty much everything. Since she can't claim "Serial Bingewatcher" as an occupation, she'll settle for wedding/portrait photographer at Lin and Jirsa & marketing coordinator here at SLR Lounge. For those rare moments when you won't find a camera in her hand, she will be dancing, eating a donut, or most likely watching Seinfeld. Follow her on Instagram:
@shivalry_inc