I'll never forget the first wedding I photographed as a second shooter. I was only there for about 8 hours and by the end I had a killer, killer migraine. It took a couple days to recover, and I was like, "Wow, maybe weddings are not for me." I actually ended up having to go to my chiropractor because my neck was so stiff. He recommended I try a different camera strap. I had been using the standard neck strap that came with my camera and my neck just couldn't take the weight for all those hours.   I've been on the hunt for the perfect camera strap ever since and have discovered there are so many different types that work for different types of photographers. In this article, we'll help you discover which camera strap type is right for you.  To see our specific recommendations, check out our article on the best camera straps and holsters.
Kit Neck Strap
This is the strap that typically comes in every DSLR camera kit. It usually features the brand name of the camera and is made of a durable synthetic material. There's nothing wrong with this strap, and it's what I used for years as a hobbyist. If this strap is working for you, why spend money on a new one? If you like kit straps and need a replacement, you can purchase them at B&H or another major retailer.
Decorative or Artisan Neck Strap
From one fashionista to another, I'll admit decorative, and artisan leather camera straps make me drool. Brands like Capturing Couture and Artisan & Artist offer well made, beautiful camera straps from materials like leather, silk, scarves, knit cloth, etc. I've refrained from buying them, though because I'm not 100% sure of the functionality of these straps.
If you're a hobbyist or photographer who does short shoots every once in awhile, these are worth checking out. Or, if you use a rangefinder or micro 4/3 camera, these would be great. For hard-core, full day shooting with a heavy DSLR, I would consider other options or at least thoroughly test these straps before you buy. Make sure you check out the return policy.
Sling Strap
The Sling Strap is actually what my Chiropractor recommended for full day shooting, and he made sure I promised I would use the strap equally on both shoulders throughout the day. After asking my local wedding photographer friends, many recommended the BlackRapid Sling Strap, so I went with that. The fact that they have one designed specifically for women appealed to me. I used it for awhile, and it was, in fact, 100x better than using my plain old neck strap.
I had some issues with this particular strap, though. I didn't like the fact that my camera was swinging around by my hip, sometimes banging into things. Plus, a few of my friends had experienced major damage to their camera or lens when the strap came undone unexpectedly. Yikes! It was still causing strain on my neck, too. After awhile I started ditching the strap and going without any strap at all. For one nicknamed "Butterfingers," this was not a good idea.
I came across the Peak Design Slide strap at WPPI in March, and they let me take one home (yay!). I was skeptical because I just didn't see how it would be much different from the Black Rapid Sling strap. I did like the fact that you can use this one as a neck strap, sling strap or shoulder strap (versatility is good!).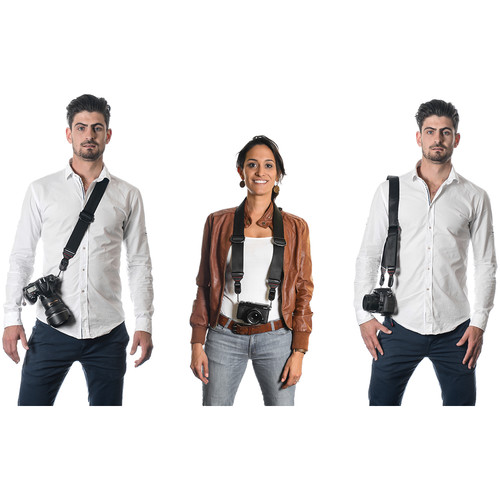 After using it for a few months now, I'm in love. It's comfortable on my shoulder and easy to adjust. Instead of swinging by my hip, I can slide my camera around to the back and have it nestle there nicely. It's sturdy and firmly attaches to my camera. I'll keep it!
Hand Strap
Peak Design let me test out a hand strap, too. I honestly thought this would be the best solution for me since it takes the strain off the shoulders, so I was surprised that I didn't really like it. I found I missed having my hands free when posing or moving lighting around. Especially when working with kids, I need to have my hands available and setting my camera down on the floor was not a great solution.
For someone who has an assistant for lighting and posing or is doing street photography, I think a hand strap would be fantastic. There are various brands available at different price points. I've heard great things about the Spider Pro Hand Strap (check out a full review by clicking here).
Wrist Strap
For small point and shoot or lighter weight cameras, I love a wrist strap. Peak Design Cuff is actually designed to hold up to 100 pounds! So you could technically use it with your DSLR. I like that it's a thicker strap than most, easily adjustable and secure on the wrist (remember the Butterfingers?)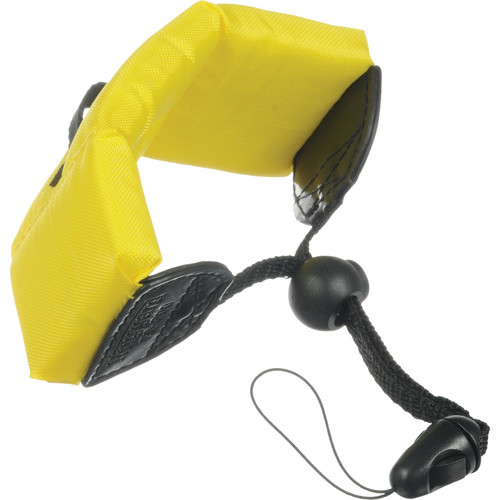 The nice thing about wrist straps is that they can be a more affordable option to keep your camera secure. The Joby DSLR wrist strap is just over $10. There are also options available for keeping your waterproof point and shoot cameras afloat, like the Ruggard Floating Wrist Strap for only $4.99!
Double Camera Strap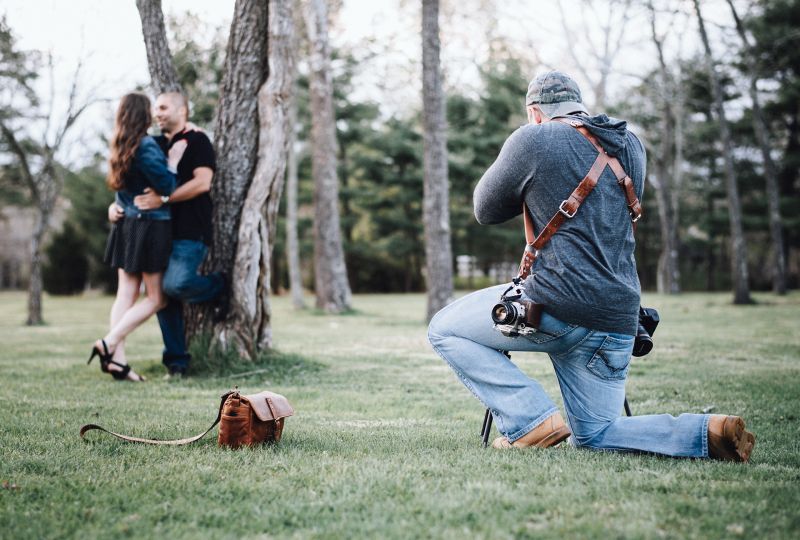 Hard-core wedding photographers who shoot with two camera bodies during a full day of shooting need a heavy duty solution for carrying around all that weight. A double camera strap is one option. I haven't tried one myself, but I know several photographers who swear by them. Various brands manufacture them. I've heard great things about the various models made by Blackrapid, and this one called the Moneymaker by Holdfast looks super sexy on Jay, don't you think?
Camera Holster
A holster style, like the Spyder Pro Holster, has caught my eye recently. I've seen Photographers like Sue Bryce and David Beckstead use them in person and they seem super handy. If you need to have your hands free but keep your camera securely tucked by your side for easy access and get the weight off your shoulders, this seems the way to go. You can even use two, one on each hip.

Check out these full reviews of the Spyder Pro Holster.
Conclusion
Deciding on a camera strap isn't always easy.  The decision factors in comfort, overall physical health, and even personal style.  Hopefully this guide has helped you narrow down your selection.  Which camera strap type do you use? Which do you want to try out?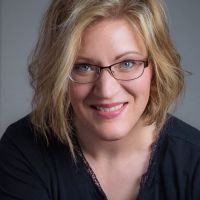 Tanya Goodall Smith
Tanya is the owner of WorkStory Branding Photography in Spokane, WA. Businesses hire her to create story-telling content that sells their high end products and services. She also teachings photographers her unique business model for making serious money as a corporate and personal branding photographer. Find her at
workstoryphotography.com
and
workstoryeducation.com