There is nothing more chaotic than wrangling a group of people together for a photo and then having to set up perfect lighting, poses, and expressions. These are some of the most valuable images you will capture during a wedding day and we know just how stressful they can be.  In this article, we'll give you some essential tips for incredible wedding party photos.
Here's what we'll review in this article:
Note: This article was originally written in 2018 and modified in 2022 to include more tips and updated advice.
Start with the Standard Basic Photos
Starting with a standard photo is critical for wedding party photos.  This is typically the traditional photo, with symmetrical posing, even lighting, and good expressions.  These are not necessarily creative photos or editorial photos, which we'll cover below, but rather these are simple, must-haves to start your wedding party photo session.
Add in Editorial Posing to Your Wedding Party Photos
After you have the standard poses done, add in a more editorial flare.  These are typically more interesting and creative, though they may take more time and effort.  Consider adding layers, with some wedding party members standing and some sitting.  Also, consider different facial expressions for these photos, with a smiling version and a "vogue" or not smiling version.  Lastly, consider finding an area with more dramatic lighting.  Read more on editorial posing here.
Find an Ideal Background
It's important to scout for a location that aligns with the vision your clients requested for their photos. For example, in the image above clients wanted to take a more editorial group portrait which required a classy background with minimal distracting elements. Here are some additional resources to check out to learn more about location scouting for wedding party photos:
Add in Action Poses
Movement and action are essential for a complete set of wedding party photos.  Consider a walking shot like the image above.  Or if your group is up for it, you can even try jumping, dancing, or anything else that you can come up with.
If you start seeing uninterested or tired looking wedding party expressions, then consider shifting over to poses and photo ideas with more movement and action.
Show Your Subjects How to Pose
A great way to get your subjects into their poses as quickly as possible is to physically demonstrate how the pose is supposed to look. Put down your camera and step into the role of a director. This is also a great opportunity to engage with each subject until he or she is in place, and maintain a happy vibe to create a positive experience.
Spread Light Evenly Across The Group
Decide on what lighting modifier you will need to help you light the group evenly. When working with larger groups it can be difficult to light each person equally, especially if you don't have enough light power. Here are some articles to help guide you on our favorite lighting techniques for group portraits:
Double Check Facial Expressions
The last thing you want is to zoom into a wedding party photo and see one person looking absolutely depressed while everyone else is smiling. This is a small detail that many photographers overlook but can be caught by taking a second to look at the image on the back of your camera. Get a greater payout for the time and effort put into setting up group portraits by capturing multiple expressions for each setup.
Incorporate Your Bride and Groom's Ideas
Some of the best photos are a collaborative vision of the wedding couple and the photographer.  The photo above is an example of Pye Jirsa executing on an idea that the bride and groom had on their mood board.  Be prepared with the right lighting gear, the knowledge and confidence to create any type of image, and an open mind.  The results will be ecstatic clients and some interesting wedding party photos.
Conclusion and More Information
For more tips on shooting the wedding party check out  Photographing Group Portraits, available in SLR Lounge Premium.  Many of the wedding party photography tips from above are straight from our workshop Photographing Group Portraits. Watch the trailer below: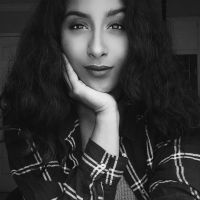 Shivani Reddy
Shivani wants to live in a world where laughter is the cure to pretty much everything. Since she can't claim "Serial Bingewatcher" as an occupation, she'll settle for wedding/portrait photographer at Lin and Jirsa & marketing coordinator here at SLR Lounge. For those rare moments when you won't find a camera in her hand, she will be dancing, eating a donut, or most likely watching Seinfeld. Follow her on Instagram:
@shivalry_inc