Boudoir shoots can seem intimidating to photographers, as it requires a unique set of poses, difficult lighting situations, and a higher degree of client communication skills. As it's our job to make them feel comfortable in some of their most vulnerable, insecure moments, it's important to have all of our necessary tools ready to go so we can focus on bringing out their beauty and keeping them comfortable in front of the camera. In this episode, I will be talking about my 5 favorite items to bring to a boudoir shoot.
Watch The Boudoir Shoot Tips Video
My 5 favorite items to bring to Boudoir Shoot
Boudoir shoots are typically held within hotel rooms or the homes of our clients. We do not always have the convenience to control lighting, so we have to make sure to bring light modifiers.
In numerous situations I do not know how the lighting will look like until I arrive at the location, therefore, I must always come prepared to shoot under any lighting condition. For this reason, my lighting kit is considered one of the most important items to bring to a boudoir shoot.
My lighting kit consists of:
Flash – I like to bring 2 Canon 580ex Flashes to control light in almost any situation
Westcott Umbrella – Used to create soft lighting
Light Stand – Used to hold the flash and umbrella
Video Light Panel – An awesome source of continuous light. With the video light panel I am able to see how the light is going to look in my scene before I capture the image.
Fan or Hair Dryer for Boudoir Shoots
I love fluidity and movement in my images. Something as subtle as hair blowing gives the picture a different dimension, so I always have both a fan and a hair dryer on me. You can easily adjust the fan and even clip it to a light stand. A Hair Dryer is perfect in creating fluid scenes, as well as keeping clients warm. If the client gets cold and gets goosebumps, this is the perfect way to get rid of them.
These two tools are also great for getting the fabric to contour the body in subtle ways to give the body a more flattering figure.
Jewelry for Boudoir Shoots
There is something about bare skin and accessories that adds an interesting, sexy element to a photograph. Some of my favorite accessories to bring to a boudoir shoot are necklaces and earrings. Necklaces are perfect for draping around the neck, shoulder and back. Depending on the size and shape, earrings can elongate and drape the neck.
Fabric or Blankets for Boudoir Shoots
A tasteful fabric is simple, attractive and forgiving. It can be used to shape, drape, and artistically hide the client's body. Other fabrics like a robe is perfect for getting your client on and off set. It also is a great tool to keep your clients warm between shots because it prevents any goosebumps from appearing in any of the photos.
Maxi Skirt or Sweaters for Boudoir Shoots
People rarely think to bring over-sized clothing, but it's actually a great place to start the session. By starting with over-sized clothing, it gets the client comfortable with the camera and sets the tone for the rest of the shoot. If you wear a maxi skirt and nothing else, you can get a great shot of the back and something really playful movements.
Conclusion
Utilizing these 5 tools efficiently in a boudoir shoot can easily give you a helping hand in capturing beautiful sensual images. It can help your shoot go much smoother, giving you more time to capture a wide variety of shots. Try these tips out and in the comments below tell us how your next boudoir shoot goes.
To learn more tips on boudoir shoots, check in next week where we talk about setting the tone for the shoot, when we are doing a boudoir, glamour, or beauty shoot.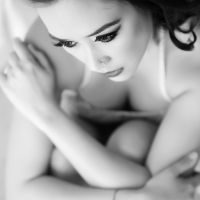 Michelle Ford
Michelle is a Southern California Portrait and Wedding Photographer. When she's not geeking out with a camera she's nerding out in her IT world. All other moments in the day are spent with her two wonderful children. See her work on
The COCO Gallery
check out her blog at
frexNgrin