Finding the right Studio Management Software is critical for photography and videography businesses of all sizes and genres. The right software will help you do the following:
Keep your leads organized
Automate critical tasks, reminders and emails
Avoid double bookings
Provide payment options
Generate invoices and useful reports for performance tracking and taxes
Much more
This article (updated annually) is your guide to finding the right one for your creative photography studio.
What to look for in Photography Studio Management Software
The catalyst for writing this article was the extensive research we did when finding the right studio management software for our own studio.
In 2016, we were using a hodgepodge of apps and services to make our business run that included Google Calendar for scheduling, Google Docs/Sheets for information sharing, Shootq for client booking, Mailchimp for newsletters, Hello Sign for contracts and a myriad of others. We knew that we needed to clean this all up and find a solution to make everything more streamlined, consistent and efficient.
Here were our basic studio management software requirements:
Website Best Practices – Mobile friendly, fast load times, robust search, and friendly user interface.
Scheduling for multiple photographers/videographers – The ability to manage schedules for multiple leads, 2nd and 3rd photographers.
Syncing & Integrations – The ability to sync/integrate with our website (on WordPress) and Google Calendar.
Exporting data – The ability to export  all analytics to excel (referrals, bookings, sales and pricing, financials)
Automated Workflows (Sales Funnel) – The ability to have certain actions trigger certain events, such as sending automated emails on specific days or marking a lead as "dead" after a period of inactivity.
Communication Tracking – The ability to document and see all of the communication with a client quickly without having to search through multiple email chains.
Client Notes – An area to document communication with each client so that everyone on the team is fully aware of all client notes and potential concerns.
Access Restrictions – The ability to set access restrictions for team members, each with their own account.
Support of multiple photography brands – The ability to use one system for all of our photography brands.
Support of multi-day events – The ability to accommodate multi-day weddings, a common need for Indian and other cultural weddings.
Honeybook vs 17 Hats vs Tave vs Pixifi vs Dubsado vs Sprout vs ShootQ vs Iris Works vs Bloom vs Studio Ninja
In our hunt, we researched the following studio management software companies, creating trial accounts with many and even contacting the owners of a few.
Website: Click Here
As a large, well-funded company, HoneyBook develops new features quickly. It is also easy to collaborate with other shooters, vendors, etc. (all of which will have access to an event feed where questions can be asked & answered).
The UI/UX is clean, and the software is responsive and mobile friendly with a dedicated app. Moreover, on-boarding is quick and easy. You can also network through their community (to find second shooters, models, etc).
The software accommodates all types of business, so it's not particularly specialized for the photography industry.  A definite plus is if you run a studio that encompasses multiple brands, you can now set up multiple businesses under a single account.
Starting Price: $40/month with a 60-day money-back guarantee and additional savings when paid annually
Partner Discount: 50% off your first-year subscription (see our partners page)
Website: Click Here
As a newer start-up, Bloom is open to feedback and working on developing features that meet their clients' needs. The user experience is pleasant and the interface is easy to navigate. Because the features are basic (setting up and processing payments, signing contracts, etc.), they're also easy to set up and use.
Bloom is still developing much-needed features. The automation and analytics are not as in-depth as some of the other CRMs featured above.
Like a number of other CRMs in this list, Bloom is recommended for smaller studios, or freelancers, in particular.
Starting Price: $9/month with a free 14-day trial and additional savings if paid annually.
Picsello helps photographers manage, market, and manage their business. It includes a client booking system, where the user can create and view sessions and events right from a calendar, as well as promote upcoming events right from a public profile. Integrated email supports communicating with clients from leads to post-shoot follow-ups. The self-guided client booking system guides clients through the entire booking process so they can view availability and proposals, sign contracts, and submit payments for each booking quickly.
Their Studio Manager was designed to help convert more leads and book more clients with prewritten emails, booking, invoicing, contracts, and an inbox so that the in-built CRM provides an all-access client communication hub. Payment processing with Stripe and partnership with WHCC for high-quality gallery products help photographers keep 100% of their profits.
New features releasing this summer are email automations, 2-way calendar sync, and global currencies. Picsello continues to build out and release new features that streamline, expedite, and support photographers' workflows.
Pricing: $35 per month
Website: Click Here
Tave now serves multiple professions, but they started with photography and they've stayed true to the field. Although it takes a long time to set up, it's for good reason. Tave's system can become highly automated. Once the software is set up, it saves time and removes many day-to-day tasks.
Tave also provides in-depth lead automation, which helps funnel and keep track of leads in various stages. Of the software options we explored, Tave's data tracking points are the best. While the UI/UX is not necessarily friendly, it is logical. Fortunately, if you need help, their customer service uses "Intercom," a quick and convenient customer messaging platform.
If you are not concerned with setting up automations, then setting up Tave may be too complex for your needs and not worth the time it takes to do it.
We currently use this photography studio management software for Lin and Jirsa and Rise 8 Media.
Starting Price: $21.99/month with a free 30-day trial and additional savings for paying one or more years in advance.
Website: Click Here
This software was created by photographers for photographers (and other event professionals), with granular customization that addresses the specific needs of our industry.
Support response time is quick and most issues are addressed quickly. Analytics options are also great, and a wide variety of data can be made available.  For example, you can see your lead shooting hours vs. second shooting hours for a particular client, how much revenue has been generated by each type of booking and more.
If your studio does "Mini Sessions" then this is THE best software that we found to accommodate those needs. giving you options to sell and book specific time slots.
There is room for improvement in the UI/UX. Once you get the hang of it, you should be happy with the features and the functionality, but setting up the software and on boarding staff to use it can be time-consuming.
Overall, Pixifi is a great, easy-to-use solution for smaller, single shooter studios; and this is the software we use for our family photography brand, Line and Roots.
Starting Price: $24.99/month with a free trial and additional savings when paid annually.
SLR Lounge Discount: 60 days free, 10% off  3+ months subscription when paid upfront (see the partners page)
Website: Click Here
Dubsado brings a great look and design to the CRM game and it checks off a wide number of features from our list of requirements above. One of its standout features is how integrated it is with other companies/services (e.g. Google Calendar, PayPal, Stripe, etc).  After reviewing Dubsado, we placed it as our second choice (or tied with Sprout Studio).
One downside we found is that Dubsado's workflow customizations are currently limited, such as not being able to assign leads to specific sales team members. We also found it difficult to track multi-day events with this software.  However, we realize that these may be uncommon, unique problems that are particular to our studio.
Starting Price: $30/month with a no-time-limit free trial (good for three leads) | You can save $60 if you pay annually ($300/yr.).
Partner Discount: 20% off your first-year subscription (see our partners page).
Website: Click Here
Our Thoughts: Sprout Studio is easy-to-use and created by photographers, specifically for photographers.  It features great integration (contracts, billing, sales galleries, photo proofing gallery), and the UI/UX is nice. Perhaps unique to Sprout Studio, this CRM also offers great educational podcasts/resources.
While the many integrations are great, they can also be a con because users may not desire the particular integrated tools and prefer outside apps. If you want to change one module, it may be linked throughout the whole system so a small change can potentially cause other issues.
Nevertheless we think that Sprout Studio is probably the best option for a single-shooter studio (or up to 5 shooters).
Starting Price: $17/month with a free 21-day trial.
Website: Click Here
As an all-in-one-stop shop, 17 Hats is loaded with features for everything from lead generation forms to online payment collection and bookkeeping. The software can sync with Google Calendar and offers a variety of other integrated tools and automated workflow options.
While the software appeals to a variety of professionals, the lack of specialization for photographers leaves it wanting in terms of detailed automation and analytics.
As its name suggests, 17 Hats caters to a wide audience, from photographers to accountants and beyond. This all-inclusive approach brings with it a number of pros and cons.
Starting Price: $199/year with a 30-day money-back guarantee.
Partner Discount: 15% Off (see the partners page)
Website: Click Here
ShootQ is one of the originals to create helpful, automated workflows, and it works well enough to help scale small businesses into bigger businesses.
ShootQ was bought by Pictage and sold to a newer owner. New features are being added and old ones are being modified. If stripped down and rebuilt to be what ShootQ was meant to be, it could become one of the best in the market.
At one time, ShootQ was the best, but became somewhat outdated over time as new competition arose. With their new ownership and new versions of the software being released, they are primed for a come back.
Starting Price: $29/month with a free 1-month trial | $24/month when paid annually.
Website: Click Here
Iris Works covers basic automation (with emails, contracts, etc.),  and it is integrated with several companies/services, including ShootProof for image galleries, Quickbooks for accounting software, and Square or PayPal for collecting payments.    Customer service is helpful and very quick to respond.
We passed on Iris Works because it didn't have enough automations.  For example, they didn't have automated invoicing.
Starting Price: $25/month with a free 30-day trial (and you can save 10% when you pay annually).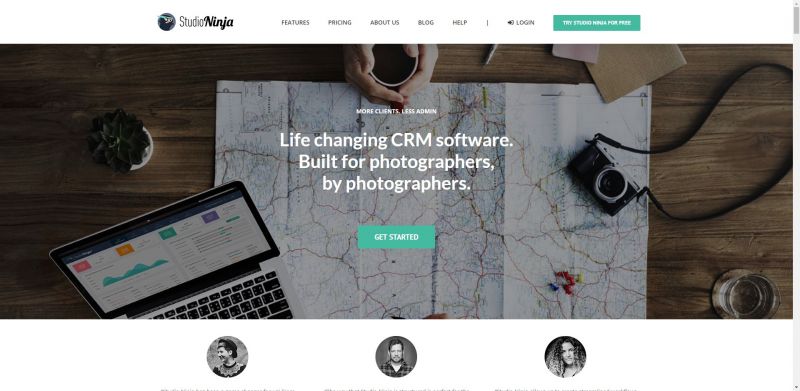 Website: Click Here
This is one of the easiest CRMs to use; the features are plentiful, and the user interface is intuitive and logical. If you need assistance setting up your workflows, you can book a one-on-one call for a demo or account audit. Another plus is that you can customize many features, including emails, contracts, and more.
At our time of testing, we found that Studio Ninja would occasionally load slowly when running multiple tasks, such as filtering and updating leads.  Automation is also limited for email and other advanced workflow funnels.  Nevertheless, we found that the features and functionality make a great fit for smaller studios.
Starting Price: $21.95/month with a free 30-day trial | $17.95/month when paid annually.
SLR Lounge Discount: 35% Off (see the partners page)
Other studio management solutions to consider
Here is a list of other candidates that we were unable to test out ourselves.
Additional Metrics
Moz Domain Authority
Another useful metric is Moz.com's Domain Authority.  According to the Moz website, "Domain Authority (DA) is a search engine ranking score developed by Moz that predicts how well a website will rank on search engine result pages (SERPs). A Domain Authority score ranges from one to 100, with higher scores corresponding to a greater ability to rank."  One of the primary factors in DA is the quality and quantity of backlinks to the site.  In general, a higher DA means that more people, blogs, magazines, and businesses are referencing and talking about that website online.  Again, this is just one of many metrics that we look at to determine the health of a web based business.
Moz DA  as of 12.08.2020:
Honeybook – 56
Bloom -49
Sprout Studio – 39
17 Hats – 48
Tave – 38
Dubsado – 38
Studio Ninja – 38
Pixifi – 34
IrisWorks -32
Other Metrics to Check
While not critical to your decision making, here are other stats that might help you gauge the health of a business and the overall service it provides.
Social Media Stats and Facebook Group Activity – Is the company engaging with their community and providing a place for its members to ask questions and collaborate?
BBB Complaints (or other rating directories) – Does the business have any complaints?  If so, are any of them red flags?
Our Recommendations
After reviewing all of the CRMs featured in this article, we have concluded that certain CRMs are clearly better suited for larger studios while others have been tailored to suit the needs of smaller studios.
That said, we recommend Tave for studios who employ more than five team members and Sprout Studio for smaller studios.
You'll find that the level of difficulty for setting up the workflow for each CRM varies greatly, but the more complex the automation, the more work that will be taken off of your plate moving forward (hopefully).
In a sense, the results are subjective. It all comes down to what tools you need to maximize efficiency within your given situation. Although many of these CRMs aim to be all-in-one-stop shops, there is no one-size-fits-all CRM.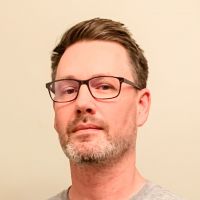 Sean Lewis
Sean fell into photography while teaching for a non-profit. What started as a minor task - documenting guest speakers and classroom activities - grew into a major obsession, and eventually led to a position shooting with Lin & Jirsa. Nowadays, at SLR Lounge, Sean's work as a marketing associate merges his interest in the fields of photography and education.