You can find examples of black & white photography in every genre, from architectural and commercial to fashion and weddings, but there's one genre, in particular, which the characteristics of black and white photos suit particularly well – landscape photography. Black and white landscape photos make exceptional use of the compositional advantages of a monochromatic palette. In the absence of color, compositional elements like tone, form, texture and contrast take on added significance. There's an art to seeing the world in color while envisioning how the elements will translate into black and white. We compiled the following tips and incredible images to inspire your next adventure, whether on the road or a walk around the neighborhood.
Quick Tips for Black and White Landscape Photos
Of course, general landscape photography tips still apply. Only this time, we're focusing on key traits for capturing the landscape in black and white. To start, some scenarios will work better for black and white landscape photos vs capturing them in color. For example, certain scenes offer a wider range of tonal values than others. Here are just a few basic tips to keep in mind when heading out to capture your own black and white landscape photos.
Tip 1: Look for Interesting and Dynamic Compositions
Black and white photography can highlight the contrast, shapes, textures, and lines in your landscape images. Therefore, it's essential to look for compositions that have strong visual elements (patterns, silhouettes, leading lines, negative space, etc.) that will stand out in black and white. Try to create a sense of depth and foreground interest to make your images more compelling.
Tip 2: Consider the Lighting for Black and White Landscape Photos
The way light falls on a landscape can create dramatic or subtle black and white images. For instance, harsh, direct light can create deep shadows and bright highlights that add depth and texture to an image. Alternatively, soft, diffused light can produce more even tones and subtle contrasts. Experiment with different lighting conditions to find the best one for your scene.
Tip 3: Experiment with Different Exposures
As we've mentioned, the contrast between light and dark tones plays a crucial in black and white landscape photography. Therefore, it's essential to adjust the exposure to create the "right" balance between the highlights and shadows. Try to expose for the highlights and then darken the shadows in post-processing to create a more dramatic effect.
Tip 4: Use Filters when Capturing Black and White Landscape Photos
Filters can help you manipulate the contrast, tonality, and mood of your black and white landscape photos. For example, a red filter can darken the blue sky and create a more dramatic effect, while a yellow filter can brighten the green foliage and create more contrast. Experiment with different filters to see which one works best for the landscape you're capturing.
Tip 5: Edit with Purpose
Post-processing is an essential step in creating stunning black and white landscape images. Use your favorite editing software to adjust the contrast, brightness, and tonality of your image to bring out the best in your subject. However, be careful not to over-edit or manipulate the image to the point where it becomes unrealistic or artificial (unless that's what you're after for whatever reason).
The more you begin to understand the differences between color vs black and white landscape images, the more you realize why some photographers prefer shooting in one style over the other.
Black and White Landscape Photos from Instagram to Inspire You
Let's get started!
[Related Reading: How to Create Incredible Black & White Images in Lightroom]
[Related Reading: 10 Famous Street Photographers to Follow]
More Black and White Landscape Photos
Conclusion
I hope this collection of black and white landscape photos will help inspire your next adventure, whether you're hitting the road or taking a walk. If you've never tried capturing black and white photos (or capturing color photos for the purpose of editing them as black and white photos), I highly recommend you give it a go. Fortunately, modern digital photographers have the benefit of shooting in color (ideally using the RAW file format) and choosing to convert the image at a later time, so it's a win-win.
If you're interested in diving deeper into your photography education, be sure to check out our Premium subscriptions, which offer streaming access to over 30 workshops, training systems, and more.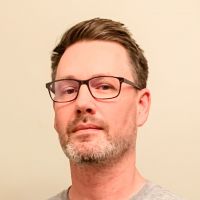 Sean Lewis
Sean fell into photography while teaching for a non-profit. What started as a minor task - documenting guest speakers and classroom activities - grew into a major obsession, and eventually led to a position shooting with Lin & Jirsa. Nowadays, at SLR Lounge, Sean's work as a marketing associate merges his interest in the fields of photography and education.