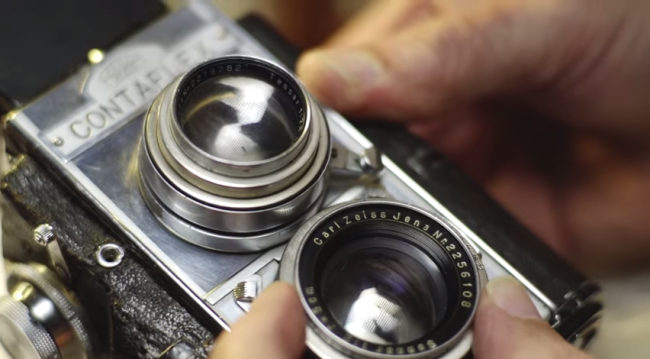 Used by millions of photographers around the world for well over a century, the name Carl Zeiss is synonymous with excellence in the optical field. Owning a Zeiss lens means owning not only a piece of the finest photographic optics, but also the envy of your colleagues and contemporaries. But did you know that up until 1971, Carl Zeiss also made cameras?
As early as 1902, Zeiss, under its subsidiaries, was making quality cameras up until 1971, when Zeiss acquired Voigtländer AG. All this is meticulously documented in a tome that gives a complete history of Carl Zeiss cameras from 1903-2012. The 1,300 page volume, which was almost 30 years in the making, is a labor of love by Bernd K. Otto, who at the age of 6 received his first Zeiss camera. Titled Carl Zeiss Kamera-Register 1902–2012, the book documents the history of all the Zeiss cameras which totaled about 220 cameras in 4,600+ model variations, the last one being distributed until 2012.
The following video is a brief interview with Otto and how he came to collect several hundred pieces from the Zeiss camera, lenses and publications collection. One can see the passion behind the words of this man, who has spent the better part of his life immersed in research for a camera brand he loves.
With all of these historical cameras in his disposal, Otto uses the Sony a7R for its ability to use a wide collection of his historical lenses by using adapters. Says Otto,
I'm happy that the Sony Alpha 7R exists, because it makes it possible to use the old ZEISS lenses from the 1970s with the help of adapters. As a result, I have a whole range of outstanding optics that I can now also use for digital photography.
Watch Carl Zeiss Lenses – A Compendium of the History of ZEISS Cameras
To read more about Bernd Otto and his book, check out the Zeiss blog here.
[Via iso1200]
Hanssie
Hanssie is a Southern California-based writer and sometimes portrait and wedding photographer. In her free time, she homeschools, works out, rescues dogs and works in marketing for SLR Lounge. She also blogs about her adventures and about fitness when she's not sick of writing so much. Check out her work and her blog at
www.hanssie.com
. Follow her on
Instagram