Canon has been on a roll every year since they first introduced their full-frame mirrorless (RF mount) system in 2018! Literally every L-class lens they have released has been truly impressive, and many have been downright innovative, even "previously impossible"! With that in mind, I'm writing this Canon RF 100mm f/2.8 L Macro Lens review with high expectations, and high hopes!
Here's the thing about macro lenses, though: they seem to be quite easy to make! Almost every dedicated macro lens that I have reviewed in the last 15+ years has been incredibly sharp. So, if all you're looking for is a decently sharp macro lens that offers true macro capabilities, you can buy an old autofocus DSLR lens, or even an "ancient" manual focus lens, and be very happy.
However, if you're looking for a modern option, you're probably concerned with things like autofocus performance, optical stabilization effectiveness, etc. That is where the Canon RF 100mm f/2.8 Macro L IS USM comes in. It offers the absolute latest technology in those regards, and that's going to be the main focus of this review. So, let's dive in!
Canon RF 100mm f/2.8 L Macro IS Specifications
FOCAL LENGHT & ANGLE OF VIEW: 100mm, 24°
LENS MOUNT(S): Canon RF (full-frame mirrorless)
APERTURE & RANGE: f/2.8-32, 9-blade rounded aperture, plus SA spherical aberration control" aperture ring
STABILIZATION: Yes, Optical Image Stabilization, up to 5 stops
AUTOFOCUS: Twin nano-USM motors
MANUAL FOCUS: Electronically controlled
OPTICAL CONSTRUCTION: 17 elements in 13 groups, "Super Spectra Coating", fluorine coating
MECHANICAL CONSTRUCTION: Metal & Plastic, full weather-sealing
MAGNIFICATION & FOCUS DISTANCE: 1.4x, 10.2″ / 26 cm
FILTER THREADS & HOOD: 67mm threaded filters, locking plastic hood
SIZE: 3.2 x 5.8″ / 81.5 x 148 mm
WEIGHT: 1.6 lb / 730 g
PRICE: $1,199 (B&H)
Canon RF 100mm f/2.8 L Macro IS Review | Who Should Buy It?
With a price that is well above $1,000, buying this lens should be based on how interested you are in macro photography. It's a little more complicated than that, however, because macro may only be one of the subjects you photograph. Plus, there can be different techniques involved, from still-life imagery captured using a tripod and manual focus, to more active conditions where hand-holding and using autofocus might be necessary.
With that in mind, we'll describe the types of photography you might consider using this lens for:
Nature, Product, Food, Etc Macro Photography
First and foremost, if you're really into macro photography, then you'll undoubtedly have noticed how the Canon RF 100mm f/2.8 L Macro IS offers something a little bit more exciting than most: Its magnification/reproduction reaches 1.4x, as opposed to the standard 1x!
For this reason alone, I think it's an exciting new generation for Canon's full-frame mirrorless system.  If you've always wanted more magnification, without forfeiting any of the modern luxuries of the latest lens technology, then this lens is for you.
Having said that, it's this next category which will really tempt photographers! That's because, for static subjects such as product, food, and various type of fine art, you are often using a tripod and manual focus. If so, then you might not need to invest a whopping $1,200 in a lens like this; you can do just fine with an older lens. Or, you can do even better in terms of magnification with an alternative like the Venus Optics Laowa 90mm and 100mm. More about those lenses later.
Insect & Animal Macro Photography

If you're photographing exciting subjects such as crawling or even flying insects, or anything else that is active, then you know just how impossible it can be to nail focus and sharpness. This is where the impressive hybrid stabilization of Canon's higher-end RF camera bodies comes in, offering significant help.
Simply put, if you're going to use this lens for high-magnification macro, around 1x or above, and you're going to hand-hold some photos and/or use autofocus, then you'll want to get this lens.
Portrait & Wedding Photography
A lot of times, a portrait and/or wedding photographer will consider a macro lens as a dual-purpose lens. It can also take great portraits, as any 100mm f/2.8 lens ought to, and the SA control feature can offer even more creamy bokeh in your background.
Having said that, I have to give the nod to Canon's even better portrait lenses, of course. If you're making money capturing portraits of any kind, then you ought to check out Canon's RF L-series 85mm f/1.2. It's expensive, but it's worth it. Or, if you're intrigued by the SA control optics, here's some good news! Canon has an even more well-suited lens, the Canon RF 85mm f/1.2 DS. "DS" stands for Defocus Smoothing, a technology that creates truly buttery smooth bokeh, even capable of smoothing out "bokeh balls" in spectral highlights. The bad news is, of course, these two 85mm prime lenses are about $2.5K and $2.8K, respectively.
Alternatively, if portability and affordability are the reasons why you're looking for a prime lens to us for casual, at-home (pet?) portraits, then the compact, non-L Canon RF 85mm f/2 Macro IS STM is one of the best on the market; offering a modest but decent 1:2 (0.5x) reproduction, plus stabilization, plus 1 extra stop of aperture.
Simply put, this 100mm f/2.8 Macro lens would work great for portraits, but I'd recommend other options first.
Wildlife & Action Sports Photography
These are areas where telephoto focal lengths are very useful, and 100mm is just not very long of a focal length for most types of wildlife or action sports subjects.
You might consider this lens if you're a general outdoor photographer, and you want a weather-sealed, capable autofocus lens that you can use for all types of outdoor photography, including macro photography.
Landscape Photography
Landscape photographers do appreciate the sharpest lenses, of course. However, in this particular focal range, they are most likely better off with a zoom lens that provides them with "reach" to compress near and far subjects.
Similarly to wildlife, action sports, and portrait photography, the answer is this: Yes, you can use this lens for this purpose. However, there are better options both in terms of price/value, and versatility.
Canon RF 100mm f/2.8 L Macro IS Review | Pros & Cons
As I mentioned at the beginning of this review, the optical formula of making a sharp macro lens seems to be relatively easy. That is, there are innumerable lenses in the range of 90mm, 100mm, and 105mm that are just tack sharp.
Indeed, not all current macro lenses are capable of fully resolving the latest 40, 50, and 60-megapixel sensors, and the Canon is at the top of the heap. However, it will come down to the more subtle aspects of image quality for the Canon to really pull ahead of its competitors.
Either way, you'll have to really pixel-peep to see differences in sharpness and image quality in general. Then again, macro photography is all about achieving the best-possible image quality! You may also find yourself working in challenging conditions, such as bad weather, or with active subjects that refuse to sit still.
Image Quality
As I mentioned, macro photographers are one of the categories that are highly likely to pixel-peep. So, Canon is not going to get away with just having a sharp image center and trash-soft corners! Thankfully, (spoiler alert!) the image quality is stunning for this lens.
Sharpness
I'll let the sample images speak for themselves. This lens is incredibly sharp, and like most of the other Canon RF lenses I've reviewed, it seems to be ready to resolve as many megapixels as Canon can possibly cram into their sensors in the coming years!
Bokeh
Virtually every photo I captured with this lens is an excellent example of bokeh, since macro photography usually has plenty of shallow depth involved. Simply put, the bokeh of this lens is absolutely gorgeous. Background, foreground; even the busiest types of bokeh (sticks and twigs and things) are rendered very softly out of focus…
Bokeh gets even better if you dial the "SA" control ring just slightly in the negative direction, too. This causes the aperture itself to have a softer edge to the blades, smoothing out even "bokeh balls" a little bit. You'll only sacrifice a minor amount of sharpness if you only go one or two clicks off-center, and you'll achieve a faint but noticeable extra dreaminess in our preferred direction of negative.
Having said that, dialing too far in either direction will, of course, "destroy" your image sharpness, and leave you with a truly soft, dreamy look. See the examples below:
One final note about bokeh, shallow depth, and sharpness: When you're working at extremely close focusing distances, depth becomes impossibly shallow. Often you will find that even using f/8 or f/11 will not bring an entire subject into focus. For this reason, many macro photographers resort to focus stacking. Luckily, the Canon EOS R5, and some other Canon RF-mount camera bodies, have a focus stacking feature. That's a whole different article for another day. Just note how minimal the changes in DOF are, in the samples below:
Colors & Contrast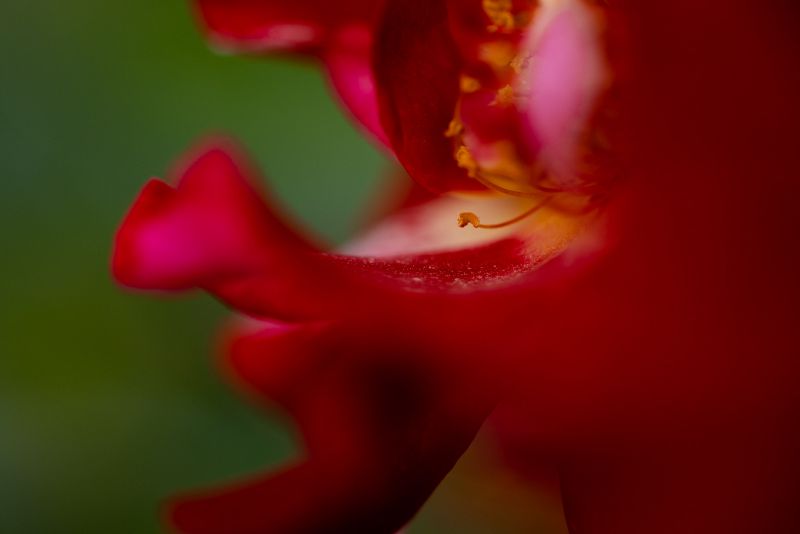 As with all modern lenses and their exotic coatings, crystal-clear glass, and of course, the world-class image sensors in Canon's RF camera bodies, colors and contrast from this lens are gorgeous. There's not much else to say. Honestly, if you're not happy with the colors from most lenses these days, then you probably have a problem with your raw editing, not the lens or camera. That's all I have to say about that!
Vignetting & Distortion
As with all mirrorless lenses, the Canon RF 100mm f/2.8 L Macro will use built-in correction software to help the raw images have extremely low vignetting and distortion. This is both a blessing and a curse. On the one hand, both are negligible, and the vignetting that is present is aesthetically pleasing; it usually draws your attention nicely toward a central subject.
Sunstars & Flare
Because this lens is specially optimized for truly smooth, soft bokeh, its ability to create pointy sunstars is diminished. Flare, on the other hand, is very well-controlled thanks to Canon's exotic optical coatings.
Color Fringing, Aberration, Coma & Astigmatism
All of these more subtle aspects of image quality are kept either negligible or nonexistent, whether thanks to the optics themselves, or the built-in and automatic (in Lightroom) aberration removal tools.
You can notice a faint amount of color fringing at the edges of focus when using f/2.8 and photographing high-contrast edges. In most cases this is easy to remove using automatic tools. Stopping down to f/4 or f/5.6 will also eliminate the problem, and in most cases doing so will barely affect the shallowness of your DOF.
Macro VS Infinity Focusing
One final thing to note is that some (mostly older) macro lenses are actually optimized to be at their sharpest when focusing on close-up subjects. This meant that they actually suffered poor sharpness when focusing closer to infinity.
This is definitely not the case with the Canon RF 100mm f/2.8 L Macro. The incredible sharpness it offers seems to be the same at any focusing distance, whether it is at the maximum magnification of 1.4x, or a distant horizon.
Design & Durability
One of the main reasons why serious photographers opt for Canon's L-series lenses is durability, of course. These professional lenses are made of metal, (mostly) and have full weather sealing.
What else can I say? The design, overall, is utilitarian. I like Canon's "command ring" which you can program to control settings such as aperture, ISO, shutter speed, or EV compensation. The switches for focusing, stabilization, and the SA lock ring are all sturdy, stiff, and yet still decently easy to operate. Overall, this is an excellent, well-made lens.
Ergonomics & Portability
In-hand, the Canon RF 100mm f/2.8 L Macro IS a well-balanced, comfortable fit. It's not "compact", per se, but it's also surprisingly lightweight for such a sharp, professional lens.
Autofocus Performance
Not all of Canon's L-series mirrorless lenses have twin focus motors, but the RF 100mm Macro does. This gives it swift, snappy, accurate autofocus. This is especially useful for close-up macro subjects, and that is where this lens absolutely "destroys" the competition.
Personally, I do love photographing bugs and things, and I use autofocus a lot, and I shoot hand-held a lot. So, I would absolutely choose this lens over anything else, at least for the Canon RF mount. (The Nikon Z-mount 105mm macro lens is similarly stunning; our review of that lens is coming soon!)
Manual Focus Performance
Being electronically controlled, manual focusing offers a high level of precision. Even though the autofocus on this lens is truly incredible, I often find myself using manual focus.
PRO TIP: Are you struggling to get sharp photos at high magnification such as between 1:1 and 1.4x? Here's avery useful tip for sharper photos: magnify your in-focus subject,  and just watch it for a few seconds. You can actually see the subject shaking, and, simply put, if it never stops shaking, due to maybe a light breeze blowing on your subject or even your tripod leg, then you're simply not going to get sharp photos at most slower shutter speeds. See the comparison image below:
Features & Customizations
The SA control does set this lens apart from other macro lenses, even though the star of the show is undoubtedly the 1.4x magnification. There's not much else to mention; like most all Canon RF L lenses, there are no customizable Fn buttons on the 100mm.
A tripod collar is an aftermarket accessory, but honestly, I really don't see much of a need for it. The lens balances beautifully with a tripod foot mounted to the camera body itself.
Value
Priced at $1,200, there might be quite a few other lenses that you'd want to purchase before investing in a dedicated macro lens. Specifically, if you're a general outdoor/nature and landscape/travel photographers, and you merely dabble in macro might find a lot more use and value in one of the best landscape photography lenses ever made, the Canon RF 14-35mm f/4 L IS, which is just a little bit more expensive at $1,500.
At the opposite end, the same type of outdoor photographers might instead invest in an affordable telephoto lens such as the Canon RF 100-400mm f/5.6-6.3 IS USM, at a mere $650.
Canon RF 100mm f/2.8 L Macro IS Review | Compared To The Competition
As I mentioned already, macro lenses are "easy" to make very sharp, and even the now aging Canon EF 100mm f/2.8 L IS, a DSLR lens from 2009, is still a rather sharp lens. So, if you already own that lens, don't mind using an adapter, and are content with the 1:1 reproduction ratio, then you might not see that big of a need to upgrade.
Then again, that Canon EF lens still costs about $1,100. So, there's essentially no reason to choose it instead of this modern RF full-frame mirrorless option.
By the way, just for comparison in case you're wondering if "the grass is greener" anywhere else, I'll say this… The Nikon Z MC full-frame mirrorless 105mm f/2.8  costs $1,046. It's absolutely tack sharp, like the Canon, and it would be splitting hairs to differentiate between the image quality; both deliver beautiful results. The biggest difference is that the Canon offers higher magnification.
The Sony FE 90mm f/2.8 Macro G OSS costs $1,098, and is "ancient", from 2015. It's decently sharp, but not nearly as prepared for the challenge of high-megapixel sensors as the newest competitors. On the Sony E-mount, the best full-frame macro lens is undoubtedly the Sigma 105mm f/2.8 DG DN Art, for $799. (NOTE: adapting Sony E-mount lenses to Canon RF is, to the best of my knowledge, impossible.)
Canon RF 85mm f/2 "Macro" IS STM (Not really a macro lens!)
The Canon RF 85mm f/2 "Macro" IS STM offers 1:2 macro reproduction, which for most casual photographers is more than enough. Plus, with the 85mm focal length and faster aperture of f/2, the 85mm of course makes a fabulous general portraiture lens, Plus, it costs only $499 since it's not an L lens.
Because Canon's RF mirrorless mount is a closed, legally protected protocol, third-party options are scarce. You can currently purchase a Venus Optics (Laowa) 90mm, or 100mm f/2.8 Macro for RF, and it offers 2x magnification, for a mere $499. If you're okay with all-manual lenses that not only forego autofocus but all communication with the camera whatsoever, then you'll appreciate this lens' magnification. Being all-manual makes it an even more highly specialized macro lens, of course.
Last but not least, you can also adapt other third-party DSLR macro lenses. Sigma, Tokina, and Irix all make excellent choices. Honestly, though, my top recommendation is simple: Save up for this lens if you are really interested in dedicated macro photography. Or, if you're only curious about it, or simply on a very tight budget, go with either the Canon RF 85mm f/2 Macro IS STM or the Venus Laowa 100mm f/2.8 (with 2x magnification) instead.
Canon RF 100mm f/2.8 L Macro IS USM Review | Conclusion
For any photographers who are interested in serious macro photography, the Canon RF 100mm f/2.8 L Macro IS USM is a top contender. It's one of the most impressive macro lenses I have ever reviewed, with its ability to reach a magnification of 1.4x.
It's not a casual purchase, of course, because with a price tag of about $1,200, (when the $100 rebate is available) …there are simply better options available if you're shopping for a more versatile, all-around lens in that modest telephoto focal range. This optic is for serious macro photographers, and for them, it will not disappoint!
Check Pricing & Availability
You can purchase the Canon RF 100mm f/2.8 L Macro IS USM for $1,199. (B&H) There is also a tripod adapter, if you need it, for $199.
Pros
Superb image quality
Macro magnification goes beyond 1:1 (1x) reproduction
Professional build quatity & weather sealing
Useful features & customizations
Excellent autofocus performance
Precise electronic manual focus control
Cons
Expensive, for those who do not need cutting-edge autofocus & stabilization
SA control is more of a novelty feature beyond its lowest settings
Ergonomics & Portability
9
Autofocus & Manual Focus
9
Features & Customizations
9
Final Verdict
The Canon L-series macro lenses have always been some of the best, sharpest lenses around, and this full-frame mirrorless macro lens is their best yet!