As content creators, we have a number of tools available to help us streamline our workflow and simplify the process of creating content. Of these tools, one of the best for saving time on productions has to be having quick access to stock footage and royalty-free music. Just about everyone in this industry, from YouTube influencers to commercial videographers and feature filmmakers, uses these assets. We've explored a few different options in our search for reliable resources for content creators, and one in particular checks several noteworthy boxes. Also, it goes beyond stock footage and music. The company in question, Motion Array, offers an affordable, all-in-one solution for incorporating royalty free stock footage, music, graphics, templates, and more into your projects. In this Motion Array review, we'll take a closer look at Motion Array to help you decide if they can serve you as well as they've served us.
What Is Motion Array?
Motion Array has set themselves up as a full service marketplace offering 800K+ creative assets, including video templates, stock footage, photos, music and sound effects. To put it bluntly, the goal for using Motion Array centers on saving time and money when creating content. If you explore their site, which you should do, you'll quickly get a sense of how using Motion Array can help you.
Some of you might already know about Artlist, a royalty-free music hub that offers music licensing and other products that we've reviewed in the past. Artlist recently acquired Motion Array to expand their already wide range of content creator-friendly assets, including those we'll cover below.
Motion Array Review: Getting Started
You'll have no trouble navigating the Motion Array website, and with an account (both free or paid), you can immediately access quality content to start using in your projects. That said, it's worth investing in one of the subscription options to gain access to their full catalog with unlimited downloads, multi-use licenses, and other tools. You can opt out of a subscription at any time, but once you have it, you'll likely want to stick around. To help you get started, you can save $50 on an annual plan when you use this link.
Highlights for Considering Motion Array
Over the course of 10+ years, Motion Array has used their time in the industry to build a substantial catalog of tools designed to make life easier for content creators. More importantly, these tools also exist to make the projects we create better than they would have otherwise been. That said, we've highlighted some standout features and tools that we feel will best serve your needs as a content creator.
Motion Array Review: Motion Array's Massive Library
When you first visit Motion Array's site, you'll notice the navigation bar serves somewhat as a table of contents for exploring the different types of assets that Motion Array offers (see the screenshot above). Basically, they've divided their library into the following sections:
Motion Array Review: Templates
If you're unfamiliar with using templates, they're ready-to-go designs that contain interchangeable elements. For example, you'll probably want to choose a template when using line titles. You can customize them and change out the various placeholders with your own content. Whatever your style is as a content creator, you'll likely find templates to suit your needs, or at the very least inspire you as you create your own layout.
The list of supported software for using these templates covers several of the most popular applications, including the following:
Adobe After Effects
Adobe Premiere Pro
Motion Graphics (for use in Premiere Pro)
Adobe Premiere Rush
DaVinci Resolve
Final Cut Pro
Start your search by selecting the application you use in the tabs at the top of the Templates page. Next, you can hover over the thumbnails for a quick preview of what each template will look like, or you can use the search tool on the left side of the page to quickly locate the types of templates you need, whether that be intros to transitions, logo reveals, titles or other applications. When you see one you like, click on the template to get more information on everything included with the template and how you can use it in your projects. This method will hold true for most of the assets found on this site.
Presets
Motion Array provides presets for three applications, including Adobe After Effects, Adobe Premiere Pro, and DaVinci Resolve Macros. Unlike templates, which in effect are complete projects, presets are simply predefined settings that you can further customize and add to your videos. Presets provide an effective means for saving time on your projects since you don't have to start from scratch each time you want to add a new effect or look. Motion Array provides presets for everything from text animation to transitions, color grades, backgrounds, overlays, effects and more. Once you find a preset you like, simply drag and drop your chosen preset onto your video clip.
Audio: Royalty-Free Music and Sound Effects
In terms of audio, Motion Array supplies access to a sizable library of both royalty-free music and sound effects. You might already expect this if you know their parent company, Artlist. To make shorter work of going through the extensive audio library, I highly recommend using the search filters to narrow your options on things like genre, BPM, and song duration. You can also check out the Staff Picks for additional recommendations. As for the sound effects, you can find everything from transitions to gaming SFX, human voices, city and nature sounds, futuristic sounds, and more.
Videos: Footage and Motion Graphics
It's an open secret, or maybe no secret at all, that a huge number of creators use stock footage in their projects, even at the Hollywood level. Often called b-roll, stock footage refers to video content that somebody has already created for use in other people's projects. This content has to be licensed, which of course is already taken care of when using a site like Motion Array.
Stock footage is meant more to fill in gaps rather than be glued together to create a project from scratch, although there's enough content available to come up with something interesting (at the very least) were you to give that approach a try. You can use the filters to search for stock footage according to theme, resolution and popularity. When you click on a thumbnail to access the video, you'll find information on the file compression, resolution, and frames per second. You can also download a preview of the clip to see if it will work well in your project.
For motion graphics, Motion Array offers a number of background loops, transitions, overlays and more. It's important not to confuse these with motion graphics templates, which can be customized. Like most other assets listed in this article, you can drag and drop the motion graphics directly into your project.
Images: Graphics and Photos
Using royalty-free graphics and images in your projects can add up when purchased individually. That's no longer the case when you use a collection of graphics and images all covered under one subscription alongside your other fully licensed assets in Motion Array. Check out the available libraries to see how you might incorporate these files into your graphic design projects, which includes coverage for any creative projects, whether personal or commercial.
Motion Array's graphic assets include stock illustrations, vector illustrations, royalty-free icons, stock images, graphic design templates, mockups, and more. Their photo libraries include images of everything from background textures and abstract shapes to photos of office spaces, and nature, etc.
Plugins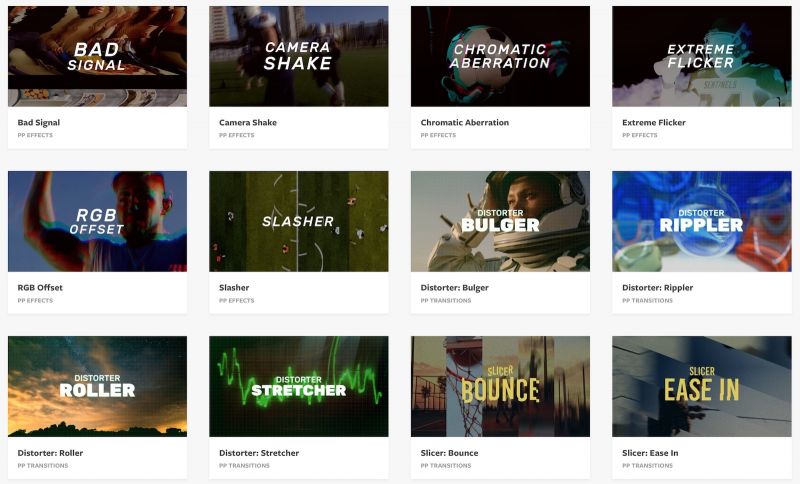 Motion Array's plugins work exclusively in Adobe Premiere Pro. If you use Premiere Pro, you'll gain an edge for video editing. The plugins are built into the software and offer users a deeper pool of creative resources, including transitions and effects (such as lighting looks, flicker effects, distortions, spinning transitions, and more). Get a free sample kit of Premiere Pro plugins with a free membership.
It's worth noting that plugins differ from templates and presets. Plugins are software add-ons that can be installed directly into editing software. Templates, on the other hand, are pre-designed customizable projects, and presets refer to predefined settings that produce specific effects.
Motion Array Review: Additional Tools
In addition, Motion Array also offers process-based "tools" for further streamlining your workflow in a number of ways, including the following:
Video Collaboration
With Motion Array's Video Collaboration tool, also known as Review, you can quickly share your project with clients or other team members to get feedback for revisions. Visually, the layout is clean and customizable, allowing you to add your logo for branding purposes and host the tool on your own domain so that it appears as part of your own website. As a work tool, it offers access to an unlimited number of collaborators, and collaborators can leave comments about specific frames using onscreen notation (see the example above). You can demo this tool yourself right here.
Portfolio Builder
If you don't already have a portfolio site, then you can beat this option for getting one up and going in no time. This tool does what it says with little effort on your part. Simply upload your videos, drag-and-drop style, to create a gallery. Then, for branding purposes, you can customize the portfolio page by changing the font and colors, as well as adding your logo. If you already feature your portfolio as a page on your existing site, you might consider switching to this one, which you can host from your own domain. That, of course, will depend on which look and functions you prefer.
Motion Array Review: Integrations
This tool works well for saving time. If you work on a lot of projects, the minutes you spend switching out of your application to retrieve assets can add up quickly. For those who use Adobe products, you won't have to leave those applications to download and access the assets you need from Motion Array.
Educational Resources
One hesitation that many of us have when trying new things, whether for work or play, involves having to learn a new system. Motion Array has put together a collection of helpful videos and articles aimed at alleviating any stress in regards to learning to use a variety of applications (see the image above), as well as their own products and services. For example, this helpful article shows how to use Motion Array's graphics in your projects. Even if you already know the tools, you can use Motion Array's "Learn" resource for inspiration and tips to help your creative process. It's free to use and worth bookmarking in your browser for future reference.
Easy to Use Licenses
Having to license assets from a variety of resources can prove problematic for a number of reasons. First, while a number of sites offer stock footage, the licensing terms can vary greatly, making it difficult to consistently find and use quality content whose license won't expire unexpectedly. Secondly, keeping track of your licensing rights can be a hassle when your assets pile up from a variety of resources. For that reason, using a site like Motion Array with access to 800+ creative assets takes a load of stress off our shoulders and minimizes the time and effort we need to put into finding and using licensed content.
How Licensing Works with Motion Array
Motion Array offers a full usage license for paid members. If your membership is up-to-date, then you can continue to add an unlimited number of assets from their catalog to your projects, and it's all covered, no matter how big or small the project or distribution. If at some point you decide to cancel your membership, your finished projects will remain covered for life. When the time comes to use additional assets for new projects, you'll need to renew your membership.
If you ever have any questions regarding your licensing rights with Motion Array content, you can reach out to their customer support team.
Affordable Pricing with Membership Options
Motion Array is a membership-based site, and they offer a few different plans for accessing their content, which are outlined in the image above. They also have a free membership that offers limited access to use their products (with somewhere in the neighborhood of a few hundred assets), but it's a great way to test them out if you're hesitant. Currently, you can save $50 on an annual plan. Guidelines on the site note that "all plans are for single users only" and "assets from Motion Array are licensed to the user with the paid subscription."
Overall Pros & Cons
Drawing from the list of highlights above, we've culled the following list of pros and cons for using Motion Array.
Pros
As you may have guessed after reading through the highlights, the pros for joining Motion Array are many. Here's a quick recap of what we think makes Motion Array a worthwhile investment for content creators. Some of these items are taken straight from the Membership options list, which makes sense for including them as a "pro."
You can kick off your "trial" with a free subscription plan to make sure Motion Array is a good fit. After that, payment plans are fairly priced and each includes full access to digital content.
For members, the digital library includes a wide variety of quality (and royalty-free) assets, including video, audio, and photos, not to mention templates. That "quality" part is important and worth mentioning.
Also of note, the Motion Array library expands constantly.
An active membership allows for unlimited downloads to be used in new projects.
Building on the previous pro, the included full-usage licenses simplifies what can otherwise be a complex aspect for using media that you didn't create yourself. And better yet, once you've used an asset in a project, the license through Motion Array covers your usage of that asset for life.
The Portfolio Website Builder works well for quickly setting up a professionally designed site to showcase your work. In addition, the Video Collaboration tool and Integration offerings also contribute a great deal to streamlining the creative process.
The educational videos found on Motion Array's site take the guesswork out of how to use the various assets.
Memberships include 250GB of storage space.
Cons
Fortunately, this short list only affects certain users, for the most part.
Members who don't use Adobe's Premiere Pro can't take advantage of the plugins for video assets.
Only members with an active subscription can use downloaded assets in new projects.
Assets are not available for individual purchase and instead require a membership.
Motion Array Review Conclusion: Final Thoughts
Overall, based on our experience, a Motion Array subscription has proven a worthwhile investment. Motion Array provides helpful, easy-to-use tools that you can input into your projects right away. As evidenced in the above Motion Array review, the pros far outweigh the cons for just about every different type of user. Furthermore, they've set affordable membership rates, especially in light of what you get for your money.
At the very least, if you want to get serious about creating quality content without worrying about licensing issues for various video clips and music, Motion Array represents a solid option. Furthermore, the templates, plugins (again, for Premiere Pro users), and other collaborative tools work well for streamlining your workflow, all of which translates to saving both time and money. At the end of the day, creating stronger projects with ease while minimizing costs makes good business sense.
**Feature image template from freepik.com.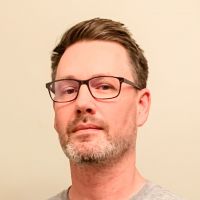 Sean Lewis
Sean fell into photography while teaching for a non-profit. What started as a minor task - documenting guest speakers and classroom activities - grew into a major obsession, and eventually led to a position shooting with Lin & Jirsa. Nowadays, at SLR Lounge, Sean's work as a marketing associate merges his interest in the fields of photography and education.