Canon's EOS R mirrorless camera and its new RF lens mount have arrived. Announced hot on the heels of Nikon's full-frame mirrorless "Z" system cameras and lens mount, and at a time when Sony has racked up NINE (did I count right?) full-frame mirrorless camera bodies, …the question on everybody's mind is this: did Canon "save the best for last", or is the EOS R too little, too late?
Official Video Review of the Canon EOS R
Written Review of the Canon EOS R
SLR Lounge was present at the official press release for the Canon EOS R, and we were even sent home with a full production camera, two RF lenses, and an EF-RF adapter for us to review as extensively as we possibly could.  While we aren't the first to come out with a Canon EOS R review, our goal was to be the most usable and practical review out there for the sake of our community.
I wasted no time and took the EOS R to two weddings here in Southern California, with our photography studio Lin & Jirsa.  What better way to gather useful information for the official Canon EOS R review than to use it for actual paying gigs.
Canon EOS R, RF 50mm f/1.2 | 1/800 sec @ f/1.2 & ISO 800
SPOILER ALERT: I've been a Nikon shooter for over 15 years, and yet I found this camera (and the RF lenses) to be downright exciting, indeed even "worth the wait". But of course, there are some rather notable caveats.
In our full review below, I'll cover the five things which I think Canon truly deserves credit for doing an impressive job with, and the five things which I think Canon may regret doing with (or omitting from) the EOS R. Watch our video review above, and scroll down for additional review notes and sample images!
Who Is the EOS R Made For?
At $2,299, the EOS R is certainly meant for serious photographers. (Even an iPhone XS Max @ 512GB is "only" $1449!) But who, in particular, is it aimed at?
Canon EOS R, RF 50mm f/1.2 L | 1/3200 sec @ f/1.2 & ISO 100
First and foremost, you have to enjoy being an "early adopter", if you want to get this future-proof system. Some people enjoy the process of getting to know a whole new camera, while others prefer things to be as familiar as possible. The EOS R is definitely aimed at the former, not the latter, type of photographer.
[Recommended Reading: Canon EOS R Vs. Canon 5D Mk IV Showdown]
The Canon EOS R for video
Video shooters who want full-frame video quality, and a fully articulated LCD screen, are still hard-pressed even in 2018 to find many options. Most other articulated LCD screens on full-frame cameras do not fully reverse, which makes this camera a fantastic choice for vloggers. Also, the face-detection autofocus is very impressive for video, it's possibly the best on the market, though it lacks eye AF at this time. Again, a vlogger's dream camera. If you shoot 1080p, that is. More on that later.
Learn To Photograph the Milky Way HERE!
Canon EOS R, EF 16-35mm f/2.8 L III, EF-RF adapter
13 sec @ f/2.8 & ISO 12800
The Canon EOS R as a travel Camera
Travel photographers of any kind, from landscape or cityscape shooters to nightscape or astrophotographers, are always looking for portable cameras that are still durable and dependable. The EOS R is a great blend of portability and durability, with weather sealing and relatively comfortable ergonomics. Also, I don't know what the CIPA standards people are smoking; the EOS R has been giving me well over 1,000 clicks per battery charge, even when using stabilized lenses and chimping a fair amount. Toss just one extra LPE-6N in your pocket, and you could easily shoot a whole wedding or any other full day of work/adventures.
Canon EOS R, EF-70-200mm f/4 L IS II, EF-RF adapter
1/250 sec @ f/4 & ISO 100
Canon DSLR Shooters
Of course, current Canon shooters who already have an investment in EF lenses will be curious about the EOS R. If you're very keen on keeping your great "L" series lenses, then the EOS R's native adapter experience will be flawless if not better, which is something that no third-party adapter and camera system can claim.
By the way, for those existing Canon shooters who are wondering, the EOS R falls squarely between "a mirrorless 5D mk4", and, "a mirrorless 6D mk2". It's got the 30-megapixel sensor of the 5D4, which is great news, and yet it has a fully articulated touchscreen LCD like the 6D mk2. Unfortunately, it also has hints of the control layout simplicity that the 6D2 has, for example, there is no big rear thumbwheel, but instead a new Nikon/Sony style thumb dial up top.
Master Wedding Photography – Complete Course
Canon EOS R, RF 50mm f/1.2 L | 1/8000 sec @ f/1.2 & ISO 100
Canon EOS R, RF 50mm f/1.2 L | 1/200 sec @ f/1.2 & ISO 100
Full-Frame Mirrorless Camera Competition
At the time of the Canon EOS R's release, the Nikon Z6 and Nikon Z7 cameras are still not yet on shelves. The Z6 and Z7 are going to be $1996 and $3396, respectively, making the Z6 the closest competition to the EOS R. Sony also has the $1998 A7 mk3, which was announced this past February. (2018)
So, how does the EOS R stack up? If you compare the spec sheets and nothing else, you might notice the Canon is missing a few things. However, the EOS R is more than just a spec sheet. Here's why…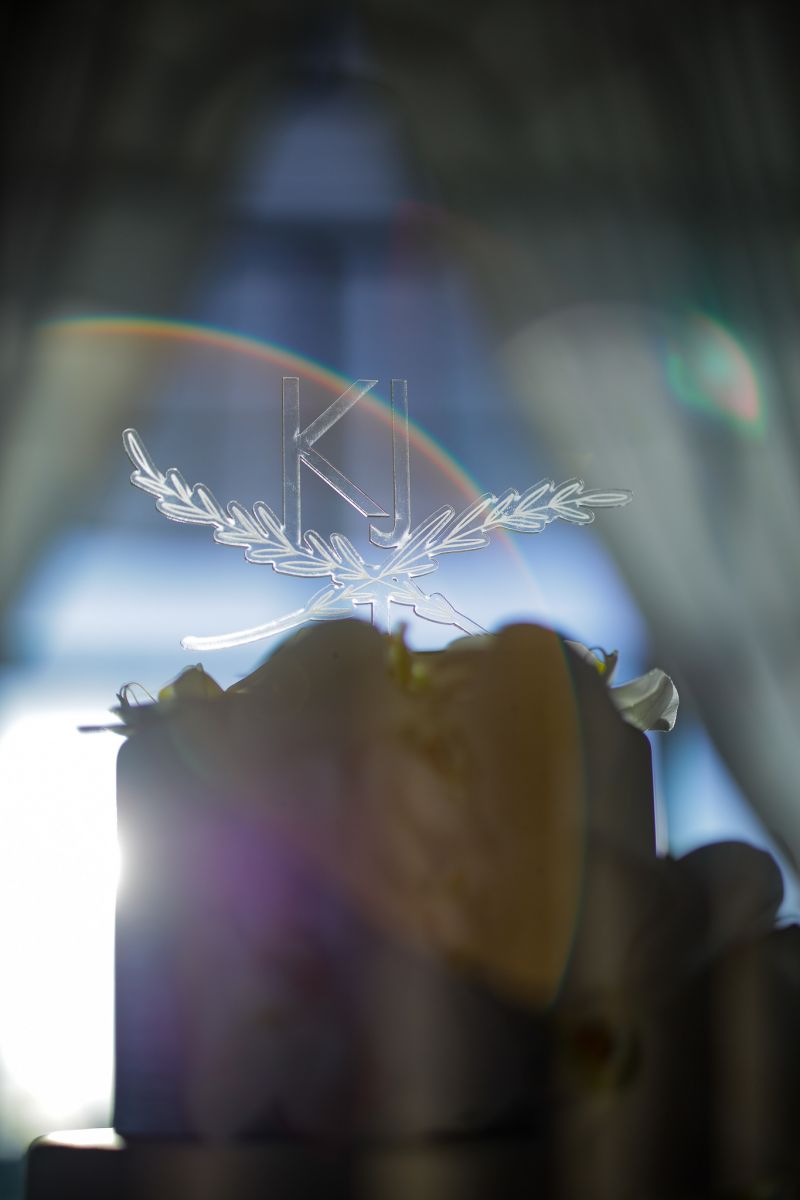 Do you "Leica" some unique lens flare? |Canon EOS R, RF 50mm f/1.2 L
Five Things Canon Got Right With The EOS R
1.) Great Autofocus
The EOS R's autofocus system isn't as full-featured as a 1-series or 5-series pro/semi-pro camera body, however, the Dual-Pixel AF itself is actually better than any previous DPAF we've seen. This is thanks to Canon's complete redesign of the DPAF system; basically, now the EOS R's sensor is capable of performing AF at almost every single pixel on the sensor. There are 5655 AF points, and if you use the rear touchscreen while your eye is to the electronic viewfinder, moving the selected AF point around the viewfinder is a breeze, not a chore.
Canon EOS R, RF 50mm f/1.2 L | 1/320 sec @ f/1.2 & ISO 1600
The bottom line is this: The AF system doesn't miss. In One-Shot AF, both face-detection and eye-AF are great. Even at f/1.2 and in abysmal lighting, the EOS R nails sharpness every time. In Servo AF, despite missing eye-AF it works shockingly well at tracking faces, or any subject, especially when using the 5-point configuration. Only when subjects are moving very quickly towards the camera does the AF system start to have a number of missed shots.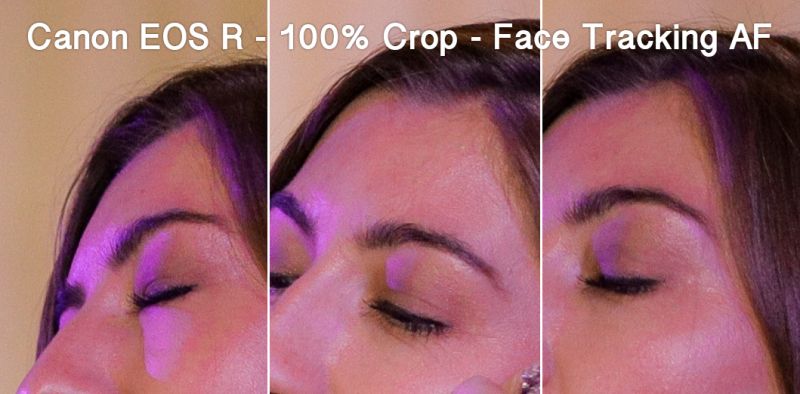 Canon EOS R, RF 50mm f/1.2 L | 1/320 sec @ f/1.2 & ISO 1600
What all of my fellow wedding photographers want to know is, how does it stack up to the various Canon and Nikon DSLRs which we have learned to trust for even the worst possible lighting; dimly lit churches or reception dance floors are brutal on AF systems. Believe it or not, the EOS R delivers the goods. Especially with the new RF 50mm f/1.2 L, I've gotten more in-focus keepers on dark dance floors than I've ever gotten from any prime ever before. I don't know if the Sony or Nikon mirrorless AF will be slightly better or slightly worse, but that doesn't matter to me as a wedding shooter. All that matters is that it WORKS, and never lets me down. Considering Canon's claims of -3 EV light levels for AF and -6EV levels for metering, I suspect that time will prove this new Canon DPAF system is a winner.

Canon EOS R, EF 16-35mm f/2.8 L III, EF-RF adapter
1/125 sec @ f/11 & ISO 100
2.) Image Quality
Canon put the 5D mkIV sensor into the EOS R, at least as far as things like dynamic range and ISO noise are concerned. Which is a good thing, because this 30-megapixel sensor is enough of a leap forward from Canon's former days of poor dynamic range (at ISO 100) that I'd consider it to be more than good enough for almost all photographers. Whatever differences might be measured on paper between this sensor and say, the Nikon Z6 or the Sony A7iii, are just that- on paper. In other words, whether you spend all your time at ISO 100 or 6400, you're much better off just worrying about nailing your exposure to within 1/3 EV of "perfect", than you are worrying about whether or not you should switch systems for better image quality.
Andromeda Peeking Through Clouds
Canon EOS R, RF 50mm f/1.2 L | 2 sec @ f/1.2 & ISO 25600
3.) New Controls & Customizations
The Command Ring
The most exciting thing about the EOS R, isn't actually on the R body itself. Get this: each of the RF lenses has a dedicated "command ring", in addition to focus and zoom, which can be programmed to dial any exposure settings including ISO, Aperture, Shutter Speed, or EV compensation. Having a third command dial for ISO is something that I've been asking for literally since the first day I ever held a DSLR over 15 years ago!
Nikon and Sony have a few neat functionalities in their mirrorless lens communication protocols, but nothing this big thus far. It's great to be able to adjust my ISO on the fly without moving my fingers from their natural hand-holding positions.
Alternately, if you're a vlogger you'll immediately notice how easy it now is to dial in your exposure using this ring, when the camera is facing you. No more reaching around to the back of the camera to try and blindly find a command dial!
Touch Dial
Also, the coolest thing on the EOS R body just might be the new touch-dial. It has even more customizable options, including things related to exposure, autofocus, white balance, and various video functions. As a wedding photographer, I'm constantly dialing my white balance for both "correct" and creative effects, and now I can program the touch-dial to smoothly swipe left or right to cool or warm my images.
Furthermore, I programmed a single "tap" of the left and right edges of the touch-dial to jump to 3000K and 5000K, respectively, since those are the WB temperatures I always start at for indoor and outdoor shooting.
4.) The EVF and the Touchscreen
The Viewfinder
One of the things Canon absolutely had to "get right the first time, or else!" was the electronic viewfinder. There was to be no sympathy whatsoever for a laggy, low-resolution EVF. Period.
I'm delighted to report that Canon delivered the goods. The EOS R's EVF is not only beautiful, with its competition-matching (or beating) 3.6M pixel resolution, but it also has seemingly zero lag time, and there's no blackout time when clicking a picture. If anything, it is a little unnerving to not know whether or not you've captured a picture when you first start shooting! Also, it is a delight to shoot daytime long exposures with, even in bright sun; it's fantastic to be able to look through the viewfinder and see the image clearly, even with a 10-stop ND filter on!
Canon EOS R, RF24-105mm f/4 L IS, PolarPro ND1000 + PolarPro ND8PL
30 sec @ f/9 & ISO 100
Silent Shutter
Also, the 100% silent shutter is an amazingly useful feature for shooting in quiet conditions. Again, not a ground-breaking feature, since other cameras offer electronic shutters too, but still a delight for anyone coming from a Canon DSLR and the optical viewfinder experience.
The Touchscreen is similarly fantastic. It has great resolution and the touchscreen functions are a bit more extensive and capable than the competition. My favorite thing about the touchscreen, though, is that when your eye is to the EVF and the rear LCD is turned off, you can use a finger on the touchscreen to move your AF point around the viewfinder, which is amazing. It makes the omission of the traditional "joystick dot" for AF point control a non-issue, and takes the intimidation away from that crazy 5655 number.
5.) The Impressive New RF Lenses
In addition to having the command ring on them, the RF lenses are just plain awesome. Although the RF 50mm f/1.2 L is going to be $2,299 and the RF28-70mm f/2 L is going to be $2999, they are both ultra-sharp and super reliable at focusing in low light.
The new RF 24-105mm f/4 L IS is a bit less "magic" at focusing in low light, due to its f/4 aperture, but it's still a very sharp lens and decently compact for lightweight travel.
The fourth RF lens, the only non-L of the bunch, is the 35mm f/1.8 Macro IS. Although it's not an L lens, it too is sharp. It too may not be as "magic" at nailing focus in low light as the RF 50 L, but it's still quite good.
I'll look forward to seeing which RF lenses Canon decides to produce next, both L and non-L classes. I'm secretly hoping that we see not just more "exotic" lenses, but also some truly modest, portable options. More on that later!
Canon Reliability & Support
Before we move on to the cons, I feel that I must mention one last thing which never gets mentioned in spec sheet comparisons- the overall track record for reliability and customer support that a brand has. Simply put, for professional photographers, CPS is the gold standard of the industry, and neither Nikon's NPS nor Sony's service can match it. For hobbyists, too, Canon has a track record of delivering camera bodies and lenses that just plain work, and make photography seem effortless and fun. The EOS R inherits not only Canon's general standards of durability, but also its familiar menu interface, and extensive (though admittedly not unlimited) customization.
Canon EOS R, RF 50mm f/1.2 L | 1/200 sec @ f/1.2 & ISO 800
Five Things Canon Must Do Better, ASAP
1.) No Dual Card Slots
This is one of the two main things stopping the EOS R from attracting many serious professional photographers. Before, Canon used to say, "if you're a 'serious pro' you should consider our ~$3,300 cameras!" However, now that Sony's mk3 A7-series cameras all have dual SD slots, any camera $2K or higher is going to be expected to offer the same if it wants to be truly competitive. (And yes, I'll scold Nikon's Z6/7 for this omission, too! Although Nikon omitted dual cards from the Z-series, they set a 6-year precedent with the D600, D610, and D750 that many serious photographers now take for granted.)
2.) No In-Body Stabilization
Again, with Sony offering this feature for years now, even in their ~$2000 A7 mk2 and mk3, Canon should have known that many now consider IBIS as par for the course.
It's possible that Canon has developed IBIS already, but is waiting to debut it in a more pro-grade body in the ~$3,500 range. If so, this is a mistake they may regret, as the EOS R will not put as much of a serious dent in A7iii purchases as it could have, were it to include IBIS. And at this stage in the game, it might have been wiser to sacrifice a few short-term sales in exchange for long-term customer retention.
At any focal length, IBIS is dearly missed when shooting in shaky conditions
Canon EOS R, EF 16-35mm f/2.8 L III @ 35mm, EF-RF adapter
1/60 sec @ f/6.3 & ISO 100
3.) Cropped 4K Video
The EOS R's 4K video is cropped b 1.83X, which is a real show-stopper for anyone looking to shoot 4K on their full-frame, wide-angle lenses. Your 16-35mm lens is now a 29-65mm lens. Heck, the ground-breaking 11-24mm f/4 is reduced to a downright embarrassing ~20mm on the wide end.
Simply put, if you're not specifically looking for the "added reach" for something like wildlife or sports, this is likely a deal-breaker for any serious cinematographer.
Canon EOS R, EF-70-200mm f/4 L IS II, EF-RF adapter
1/500 sec @ f/13 & ISO 100
I hope Canon is working on this. As someone who shoots both Nikon and Sony regularly, it's a fantastic feature to be able to shoot video with BOTH full-sensor (un-cropped) as well as 1.5x (DX or super-35) crop mode.
4.) That First-Gen Feel
Despite the handful of awesome new functions that the EOS R and the RF lenses offer, the camera still has a faint "first gen" feel to it.
It's definitely a far more polished and easy-to-use first-gen camera, mind you, compared to Sony's original 1st-gen A7-series, heck even their mk2 A7-series.
Any Canon user who is used to Canon's ergonomics and menus will be both delighted at the abundance of familiarity, yet also slightly frustrated by a few omissions and design flaws.
Command Dial
First, I wis the new upper-right rear command dial was easier to reach with my thumb. Canon put it a little bit out of the way for my hands' normal shooting position, compared to Nikon. (Sony struggles with this too, though.)
Switching Between Photo and Video
Secondly, the button that now lies within this new rear command dial is even harder to reach, with either my right thumb or index finger. And, unfortunately, it's the main way to switch between video and still mode. The EOS R has no photo/video switch like we've come to love on almost all mid-range Canon DSLRs from the 80D to the 5D4. For anyone who frequently switches between full-blown video mode and photo mode, this is a problem. (You can, of course, record video by hitting the REC button in "photo mode", if you customize the camera that way. Unfortunately, you're locked out of all the video shooting settings and menus.)
Lastly, there are a few things that I wish mirrorless cameras would do to make them function slightly more like a DSLR. For example, some people are accustomed to having images playback in the electronic viewfinder, but any DSLR shooter will be totally accustomed to only ever using the viewfinder to shoot, and only ever using the rear LCD to review images. It would be awesome if Canon would offer more extensive customization about which function happens on which screen so that I could, for example, only ever use the EVF to shoot, and only ever use the LCD to play back images or access menus.
Image Scrolling During Immediate Playback
Last but not least, for crying out loud, why can't we scroll from image to image during immediate image playback? It feels silly and inconvenient to have to hit the "Play" button when an image is already displayed on the LCD, just so that I can scroll from shot to shot. On Nikon/Sony, I can even zoom to 100% on a just-captured shot, and scroll between shots to quickly ensure sharpness for a set of images.  Oh, and while I'm ranting about things that may never change, I gotta say it: the best place for the on/off switch is around the shutter release. I wish Canon would finally see the light in that regard. Okay, rant over!
Canon EOS R, RF 28-70mm f/2 L | 3.2 sec @ f/2 & ISO 800
(From a pre-production Lens. But, trust me, WOW is it sharp!)
5.) More Affordable & Lightweight Lenses
As much as I have to praise the RF lenses for being awesome, the fact is that as the last entrant into the full-frame mirrorless market, Canon's RF mount lacks lenses. The EF-RF adapter and its superior user experience is definitely a bonus, but for those who are looking to either buy their first full-frame camera or switch to mirrorless for the sole purpose of fully embracing the new mount, more lenses are needed.
The shorter flange distance of the RF mount is extremely useful; Canon engineers have almost zero restraint as to what they can now design. The 28-70mm f/2 certainly proves that. Also, the 24-105 and 35mm are both more compact, offering a shorter, almost reversed-looking overall optical design that balances very well in the hand. The RF 35mm f/1.8 in particular looks like it literally has the rear element in the front!
However, even the 35mm could be lighter and smaller; I can only imagine how small and light a "pancake" style lens could be on the RF mount. I'd love to see such "modest" lenses from Canon, not just the "exotic" beasts. How about a set of f/2.8 primes, maybe even with slight compromises in wide-open extreme-corner sharpness, for casual shooters to turn to when they want a truly portable travel kit, or even a daily setup?
I just hope that Canon doesn't focus all of their energy on developing flagship pro lenses, or even non-L lenses that are still a bit hefty, because competitors like Sony and Rokinon/Samyang are now starting to cover this base, and they're doing it decently well.
Conclusion: The EOS R Is More Than Just A Spec Sheet
The Canon EOS R is, quite simply, a window into the future of Canon's new system, with its impressive lenses and new possibilities in camera functions. It's a glimpse at their amazing level of dedication to photographers who just want a camera that makes photography seem downright effortless.
It's also a reminder that Canon has been making cameras for over 80 years, and that experience still counts for something when it comes to ergonomics, functionality, and optical design.
Overall, my experience is very positive. As with all technology, it takes some getting used to, and can be a challenge to dial in just the way you like.
Canon EOS R, RF 28-70mm f/2 L | 1/400 sec @ f/2 & ISO 6400
(From a pre-production Lens. But, trust me, WOW is it sharp!)

Canon EOS R, RF 50mm f/1.2 L | 1/400 sec @ f/1.2 & ISO 3200
Yes, the internet has a way of boiling things down to a "battle of spec sheets" and nothing else. But if Canon can step up their game at this particular price point and offer more features, the system as a whole will be very attractive.
The hard truth is that these days, serious pros are looking to cameras in the $2,000 price range, and expecting them to be packed with everything they can't live without. Even amateurs who are considering a full-frame camera are definitely taking photography as serious as the pros.
And, at this point, Canon could have really used a camera that stopped "ship-jumping" dead in its tracks. The EOS R may not be enough for the impatient folks who (understandably) miss the bigger picture. However, I strongly believe that anyone who actually handles the EOS R, and dare I say is a little forward-thinking, will see the great promise the EOS R offers, with both RF and EF lenses. Simply put: get an EOS R in your hands, shoot with it and get to know its new functions. You'll be glad you did, and you might at least give Canon "a minute" to make even more RF bodies and lenses. You may even buy one.