Broncolor strives for the best in consistency and accuracy in the professional grade of lighting equipment as demonstrated by their premium lighting tools. The company continues to listen to the demands of their consumers and the market, and create products without compromise. The highly sought-after Siros line is evidence of this, and includes the same technology and quality of the prestigious Scoro line.
The RFS 2.2F transceiver utilizes Broncolor's coveted HS technology and allows a flash sync speed of up to 1/8000s on supported lights, and up until now it has only been available for Canon, Nikon and Sony. The company is extending these capabilities to Fuji shooters with the newest release of the RFS 2.2F as they prepare to embark on their 60th anniversary.
"We're excited about expanding HS support to Fujifilm users and what the photography community creates with this newfound capability. We heard the initial praise from Canon, Nikon and Sony users in 2016 and the demand from Fujifilm users. A little over a year later, we're happy to grow our product lineup to meet this demand." – Mike DiCola, Associate Product Manager at Hasselblad Inc, USA.
Like its counterparts, the RFS 2.2F was also developed in cooperation with Godox and maintains the sleek profile, design, and carrying case. With radio connectivity up to 300 feet, the transceiver controls remote flash output and modeling light toggle for up to 99 individual channels and up to 40 lamp groups per channels.
The HS function was designed to primarily bring versatility when photographing outdoors and also opens up countless creative possibilities in a controlled studio environment. The RFS 2.2F brings the 1/8000s sync speed to the Siros and Move lines and additionally offers backward compatibility for the Scoro and Senso lines.
The RFS 2.2F is available for pre-order immediately through authorized Broncolor dealers and will begin shipping with a delivery date of late December.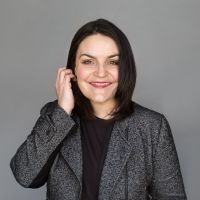 Brittany Smith
Brittany is a fashion and beauty photographer who works between NYC, Montana and LA. She photographs the way she has always wanted to feel and believes in the power of raw simplicity. When not behind a camera she can usually be found at a local coffeeshop, teaching fitness classes at the YMCA, or baking something fabulous in the kitchen. Instagram: @brittanysmithphoto