Social Media is the stage on which the dramas of our lives play out in 2017. Once a tidbit of information is unleashed, particularly if its privacy settings are "public," all manner of twists and turns can be taken, and where what you've put out there ends up is anybody's guess.
Recently, a shoot by Wolf & Rose Photography that can best be described as outdoor couples boudoir went viral as a promotion of body positivity, showcasing beauty with a body type less typically celebrated than what our senses are inundated with daily. The woman in the photos, Stephanie, is plus-size, and her scantily-clad figure entwined with her fiancé drew much applause from crowds weary of the same-old body type, and appreciative of representation.
Many people were enamored with the empowering set, unabashedly baring what is so often left covered to reveal a woman who reflects what so many see in their own mirrors. Fueled by these feelings, the set was shared like wildfire and ultimately was picked up by major media outlets like Huffington Post and was seen by millions of eyes.
Sadly, the social media roller coaster ride has taken an unpleasant dip – the unsuspecting heroine of body-positivity was subsequently fired from her job at Austin Bank Texas N.A, as a direct result of the viral photo shoot.
Of the situation, Stephanie told Buzzfeed,
"I gave over a year to a company that I worked really hard for and then to have them turn on me for doing something so positive, something that I was so proud of — to help myself as a woman — it was hurtful. People were pulling out their phones at work and showing the pictures and that was blamed on me."
As a photographer, it gives pause when considering what to post on social media to promote one's work. This particular scenario lurks in a grey area – no parties involved could have reasonably foreseen the extent that the photos would gain traction online, and arguably there are lasting positive consequences – though the job loss does dampen the triumphant feeling of seeing other varied body types elevated, it is still empowering to many women, and the photographer has received (and is still receiving) massive amounts of publicity over the ordeal. But Stephanie's loss can't be ignored as a real and unintended negative consequence.
Per Wolf & Rose Photography's Facebook page, Stephanie is pregnant and has just lost her insurance and maternity leave for what amounts to nothing. She's "guilty" of nothing more than being a sexual female who doesn't fit society's mold of what is acceptable to show in a photograph. Albeit finance isn't known to be a particularly free-spirited career path, there is really no reason to fire someone for something they've done on their own time that is harming no one.
Here's hoping all the publicity helps Stephanie land before the eyes of an employer who is more appreciative of her as an individual and she ends up in a better place for it all.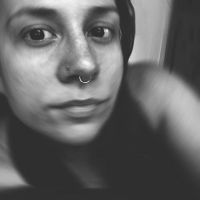 Holly Roa
Seattle based photographer with a side of videography, specializing in work involving animals, but basically a Jill of all trades. Instagram:
@HJRphotos