If you're in the market for the best monitors for photographers, you've come to the right place. The right monitor will take your photography to new heights, whether you're a professional, amateur, or hobbyist photographer.
Photo editing monitors are usually calibrated to display colors as accurately as possible. They're customized for video, photo, and graphic work.  Often they feature 4K, 5K, and 8K resolutions.
That said, this guide will provide you with a list of six monitors perfect for photo editing. We hope once you're done reading it, you'll be able to select a monitor that meets all your photography needs.
Without further delay, let's dive in!
Things To Look For In The Best Monitor For Photo Editing
There are a few important attributes that will make a computer monitor good for photo editing. As you might guess, at the very top of the list is the accuracy of color and tone. But, also, there are some more subtle technical details we need to go over, too.
Monitor Color Accuracy
First and foremost, we are photographers, so the absolute most important thing is color accuracy. We are highly concerned with color reproduction as well as brightness. What that means is, are the colors you see on your computer display the same colors you captured, but also, are they accurate to what you will get when you print out a photo?
Also, what about the shadows/highlights? If you can see good detail in the highlights and shadows on your computer monitor, but when you go to make a print they are just white and/or black, that is a problem, and vice versa.
Thus, we are looking for a few things: An IPS display, (In-Plane Switching), as well as a wide color gamut that covers 100% of sRGB, and preferably 100% of Adobe RGB if possible. Also, one critical factor for seeing shadows correctly is the viewing angle; 178 degrees (both vertically and horizontally) is essential.
Display Resolution
Having good resolution is almost as important as color accuracy, but not quite. Thankfully, most of the good photo editing monitors these days offer 4K resolution, which is more than enough for both photographers and videographers.
Another thing to keep in mind is that pixel density can vary from one display to another, too. This can affect how "sharp" your images look on your computer display, and/or how close your eyes have to be to the display in order to actually see a  100% image zoom. Honestly, extremely dense pixels can tend to hurt your eyes and make you squint if you edit photos for long periods of time, so we are happy to say that any pixel density (pixels per inch)  is fine for photo editing; you don't need a "Retina" type display.
Physical Display Size
The best monitors for photo editing don't necessarily need to be as enormous as your TV screen, however, it is a good goal to have a 27-inch or up to a 32-inch computer display for photo editing.
Again, keep in mind that color accuracy and display resolution are more important than this spec. In other words, if we were on a budget, we would absolutely choose a slightly smaller display if it offered us better specs in the other regards.
With that being said, let's dive into our recommendations!
1.   Dell UltraSharp U2723QE 27" 4K IPS Monitor
The Dell Ultrasharp U2723 is an incredibly well-priced 27-inch 4K UHD IPS monitor that will offer you a great balance of performance and value. The monitor's 4K (3840x2160p) resolution and 27" screen size offer photographers lots of on-screen real estate, while its 1000:1 contrast ratio keeps images crisp and beautiful.
Color accuracy on the U2723 is impressive, as well, with 100% sRGB, 100% Rec 709, and 98% DCI-P3. (For the price, this level of color fidelity was impossible just a few years ago!)
It's also the ideal monitor for photographers who make use of daisy chaining, (using two monitors at once) because it has a dedicated 4K output via its USB type C and "Display Stream Compression".
The monitor also comes with four downstream UB 3.2 ports that you can use to charge other peripheral USB devices or connect them to your PC. Last but not least, the Dell U2723 even allows 90W USB-C (Power Delivery) type power, for your laptop or similar device.
Aside from connectivity, setting up the monitor based on your physical studio or office needs is seamless, since the stand accommodates all the key ergonomic adjustments, including swivel, height, and tilt, with full 90-degree rotation possible.
Pros
Good value
Excellent quality
Plenty of connections
Very adjustable base
Cons
Not truly calibrated "out of the box" (though almost good enough)
Lacks speakers, relatively slow compared to gaming displays
2. BenQ PD2700U DesignVue Designer 27″ 4K 16:9 IPS Monitor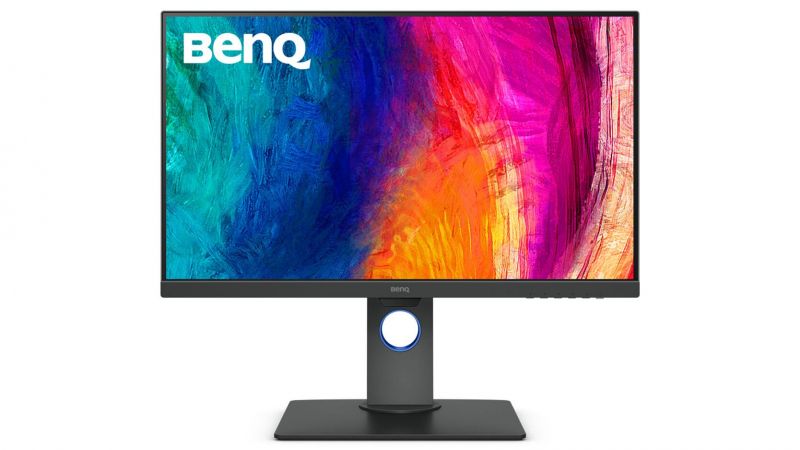 ($499 | Adorama | B&H | Amazon)
The BenQ PD2700U is another one of the best monitors for photo editing in the market today. Especially when value is concerned, the price-to-performance ratio is almost impossible to beat.
Its impressively sized (for the price) 27" 4K IPS panel boasts a full complement of specs and features: 100% sRGB, 100% Rec. 709, and 10-Bit color support. 1300:1 contrast ratio, 350 cd/m² brightness, and a 178°/178° viewing angle.
Additionally, BenQ's Eye Care Technology is included, and additional features to make your experience healthy for your eyes. Photographers who do a lot of long hours of photo editing, take note!
HDR video editing is also supported, with HDR10 (ST2084) compatibility.
Pros
Solid and sleek stand/base
Excellent image quality
Calibration-friendly
Impressive value
Cons
No images adjustments in HDR mode
Definitely requires calibration before full accuracy for photo editing is achieved
3. Eizo ColorEdge CS2740 4K 26.9" Wide Gamut IPS Monitor
The Eizo ColorEdge CS2740-4k is among the most powerful 4K monitors today. Photographers and video editors/producers alike will love this monitor because of its impressive visual specs, as well as the CGI and VFX settings.
Simply put, the Eizo matches or beats virtually all other monitors' specs: 1000:1 contrast ratio, 178°/178° viewing angles, and 350 cd/m²  brightness. Additionally, Eizo displays are known for incredible uniformity of brightness and color. This makes it a must-have for editing subtle gradients.
This monitor features built-in automated calibration adjustment capabilities and an (optional) dedicated calibration sensor. This option helps the Eizo ColorEdge monitor deliver professional results efficiently, saving the user time and money.
The monitor has a ton of advanced, useful features that ensure higher color accuracy, and workflow efficiency for both photographers and video editors.
Pros
Offers impressive image quality for the discerning eye, especially subtle gradations and evenness
Fully professional specs for response time etc.
Supports a wide color range
Supports automatic calibration with routine updates
Cons
Lacks HDMI 2.0 port
Expensive compared to value options
4. ASUS ProArt Display PA279CV 27″ 4K HDR Monitor
The ASUS Pro Art Display is a versatile, affordable 27-inch monitor that has been upgraded to 4K resolution compared to its predecessor. It is designed for creative professionals with a small budget. It's well-built and comes with a sleek design that can fit any creative's studio or office setting.
The ergonomic design offers physical buttons for adjustments, which we appreciate these days, and a sturdy, adjustable base.
This screen covers 100% sRGB, and has a dedicated sRGB mode that's pretty accurate right out of the box. It also offers 100% coverage for Rec. 709, which is the same gamut as Adobe RGB.
Pros
4K resolution, 100% sRGB, and Rec 709
Impressive refresh rate of 5ms, 350 nits peak brightness
178 x 178° viewing angles, 1000:1 contrast ratio, 60Hz refresh rate
Cons
Has trouble displaying dark colors
Mediocre black uniformity
[Related Reading: Guide to Color Management for Photographers – Part One | Finding the Right Monitor]
5. AOC AG324UX 31.5″ 4K UHD 144 Hz Gaming Monitor
($799 | B&H | Amazon)
For those photographers and videographers who might also be interested in gaming, or editing high-FPS video, the speed and responsiveness of a monitor is just as important as color accuracy. For this specialty, one of the best monitors is the AOC AG324UX.
Besides the impressive size (31.5") its most prominent features are the 1ms response time, 144 Hz refresh rate, and dual 8W speakers. These make it a perfect choice for photographers who are also gamers.
Although exact color accuracy and tone evenness across the panel may not match the most high-end dedicated photo editing monitors, the AOC does boast impressive specs on paper: 125% sRGB, 100% DCI-P3, 107% Adobe RGB, and 109% NTSC color accuracy. Also, with 400 nits, HDR content can be viewed as the monitor is VESA DisplayHDR certified.
Pros
Excellent out-of-box color accuracy
Extremely fast response time & refresh rate
Impressive color reproduction
Cons
Color gamut/accuracy may not be as advertised
Calibration may therefore be slightly more difficult
Evenness of color and brightness is average.
6. LG 34WK95U-W UltraWide 5K 34" Nano IPS LED Monitor
The final product in our list of the best monitors for photographers is for photographers who need a little more resolution than 4K. The LG 34WK95U-W UltraWide 5K 34" Nano IPS LED Monitor is a 5K display for those who may be editing 4K video and want some room around the edges for an editing panel, for example. This 34-inch IPS screen features a huge 5120×2160 resolution, which means that vertically it is still 4K, but horizontally it offers an extra 1280 pixels beyond 4K.
NOTE: this is NOT a curved monitor; like most 5K displays, and we prefer this for photo and video editing.
The monitor comes with a Nano IPS panel from LG, so it delivers excellent image quality with a 1200:1 contrast ratio, 600 nits of brightness, and excellent color specs. (It offers 10-Bit
The LG 34WK95U-W also offers users comprehensive connectivity, including DisplayPort, USB Type-C, Thunderbolt 3, and HDMI.  Although it contains several amazing features, it doesn't come cheap.
Pros
Contains a great Nano IPS panel
Numerous features
Excellent 5K resolution
Cons
Expensive for those who don't need 5K
[Related Reading: Why Calibrating Your Screen Is Important & How To Do It]
Conclusion
Overall, whether you are on a tight budget, or you need the absolute best, today's best monitors for photo editing are better and more affordable than ever before. With multiple 4K displays under $500, and more under $1,000, it is clear that even serious photographers shouldn't have to spend more unless their needs are highly specialized.
What do you think? Do you have any experience with another monitor that meets your needs and has great value? Please leave a comment below!