We've had the joy of being based in Portland, Oregon since 2004. While we've photographed weddings and engagements all over the world, our charming and lush-green Portland remains one of our favorite cities to do engagement photography for boundless reasons. Portland is rich with "lifestyle" (so much so that we actually call our engagement sessions "lifestyle photography") and it provides the perfect playground for great adventures. Every corner of this city is loveable & peculiar, with amazing food and drink options, a sophisticated culture and art scene, an eclectic nightlife, and a wide range of outdoor activities immediately accessible.
When couples hire us to take their engagement photos, we take quality time to get to know who they are and what is most meaningful to them. Every couple is different, so we always take them on a customized adventure in settings that embrace their lifestyle and allow them to feel authentic. With Portland's diversity, we always have endless options to explore.
Below, we've included a few of our favorite engagement photography locations in Portland, Oregon, and the surrounding areas.
Cathedral Park
This couple just returned from getting "engaged" in Paris, but they didn't have a photographer. Not to worry, Portland's historic landmark, St. John Bridge in Cathedral Park, gave us some epic architecture. It's the only steel suspension bridge in Portland with 400-ft towers and a main span of 1207 feet. Their picnic in the park routine from Paris to Portland with a colorful Fall sunset and the crescent moon was perfect.
Location: 8600 NW Bridge Ave, Portland, OR 97203
Ron Tom's
Among literally hundreds of fun, funky dive bars in Portland, Ron Tom's was where this couple first met each other while yes, "waiting in line for the bathroom." The way the window light fell on this couple with the leading lines of the window drapes perfectly framed these two while snuggling. Ron Tom's has impeccably decorated vintage interiors and a spacious back patio, featuring an outdoor fireplace and pingpong table. This bar is also one of countless microbreweries. Fun fact: Portland has more microbreweries per capita than any other city in the world.
Location: 600 E Burnside St., Portland, Oregon
Portland Tom McCall Waterfront Park
Portland is a serious lounge zone. There are at least 279 parks and natural areas in Portland. Portland's Waterfront Park is a great place to relax and connect and has an easy 2.6-mile loop to explore. The fountains can be fun to photograph, too. Portland is one of the only cities that allows public bathing in the fountains. The Portland waterfront park can have up to 137 jets going at once. There is a big boat dock, historical site, paths – paved, plaza, riverfront views, statue or public art, trails – biking, and other visitor attractions. For the couple in the sailboat, we climbed the mast and photographed down on them as they enjoyed the last rays of sunset.
Location: 98 SW Naito Pkwy, Portland, OR 97204
[Related Reading: Best Engagement Photography Locations in Toronto, ON, Canada]
Forest Park
Another favorite location of ours is exploring the trails in Forest Park. Portland's Forest Park is one of the largest urban forests in the United States (5,200 acres). We like taking couples along the creek, and there is also a hidden, old castle-like ruins inside the park. There are more than 80 miles of trails, fire lanes, and forest roads. Forest Park is a true Northwest forest located within Portland's city limits.
Location: 4099 NW Thurman St, Portland, OR 97210
Portland International Airport
These two wanted something different. They love architecture and the association of traveling goes to the heart of their relationship. So why not take photos at Portland International Airport? It has been voted America's Best Airport for the past seven years and you can get a taste of Portland right in the airport. PDX's promise is you will never pay a premium. "Street pricing" means things cost the same as in town. We went right at sunset and captured some fun silhouettes with the architecture then found a spot just under the landing strip where we captured some fun dancing underneath planes flying by.
Location: 7000 NE Airport Way, Portland, OR 97218
Key's Lounge
After exploring the Portland International Airport we took this same couple over to Keys Lounge, which is only 10 minutes from the airport. Here, they enjoyed some drinks and good conversation with a comfortable lounge atmosphere. This funky casual cocktail bar lives inside a restored locksmith building from 1962. It's known for its "laid-back, retro" feel with its mid century rumpus room with wood paneling, Persian rugs, and booths filled with deep red leather. You can't miss the massive wall filled with vinyl records. We made good use of our MagMod lighting tools to illuminate these two with color and mood.
Location: 533 NE Killingsworth, Portland OR 97211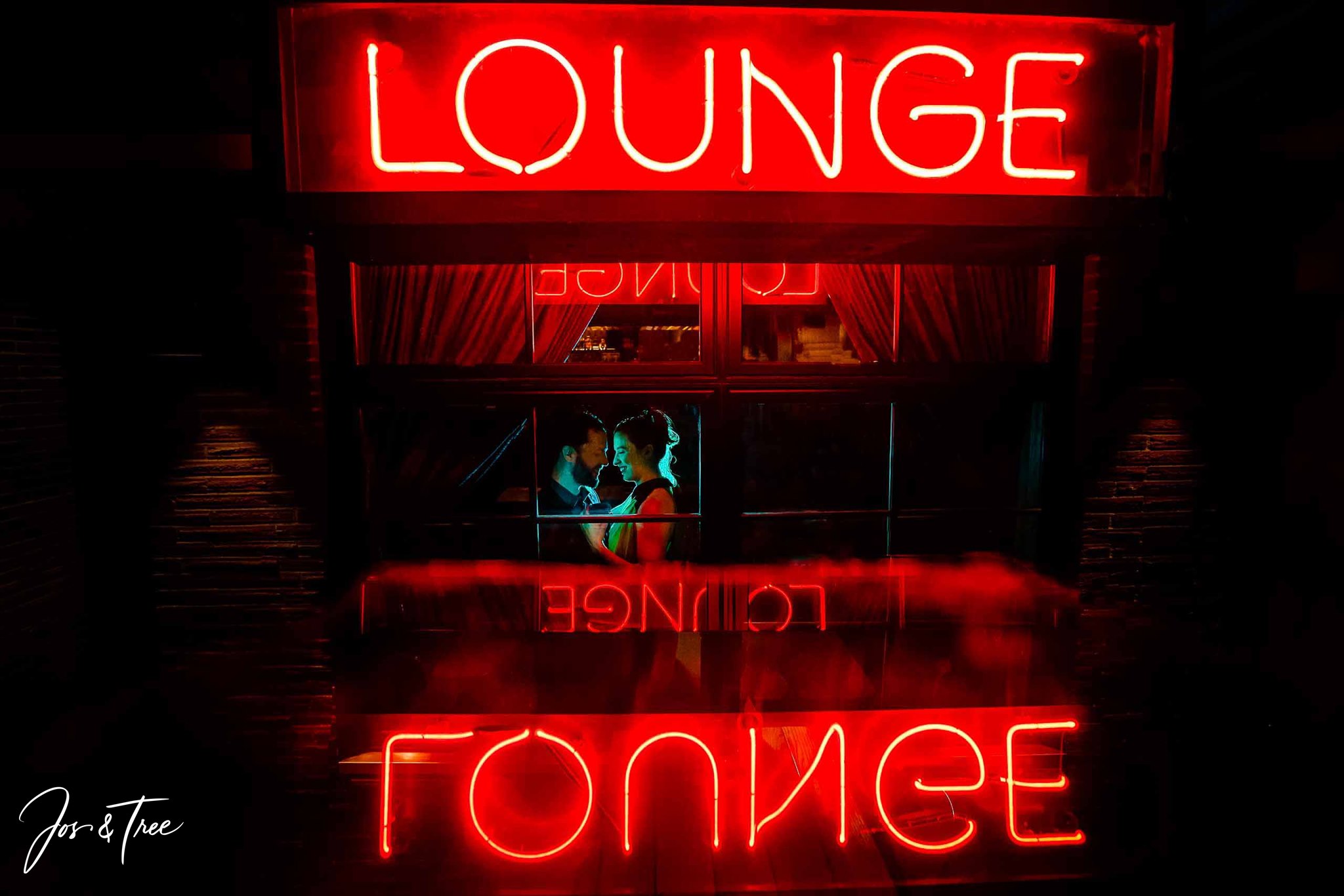 Stumptown Coffee Roasters
One of our favorite approaches to engagement sessions is to simply get in the car and organically stop somewhere, photograph for a while, then jump back in and repeat. But, traffic and lighting can get tricky. So, starting in a great place such as Stumptown Coffee Roasters is a great place to begin because you have Powell's Books just around the corner and Clyde Common next door. Portland is a coffee culture and this photo reflects the vibe of a fun and intimate adventure in Portland.
Location: 1026 SW Stark Street, Portland, Oregon 97205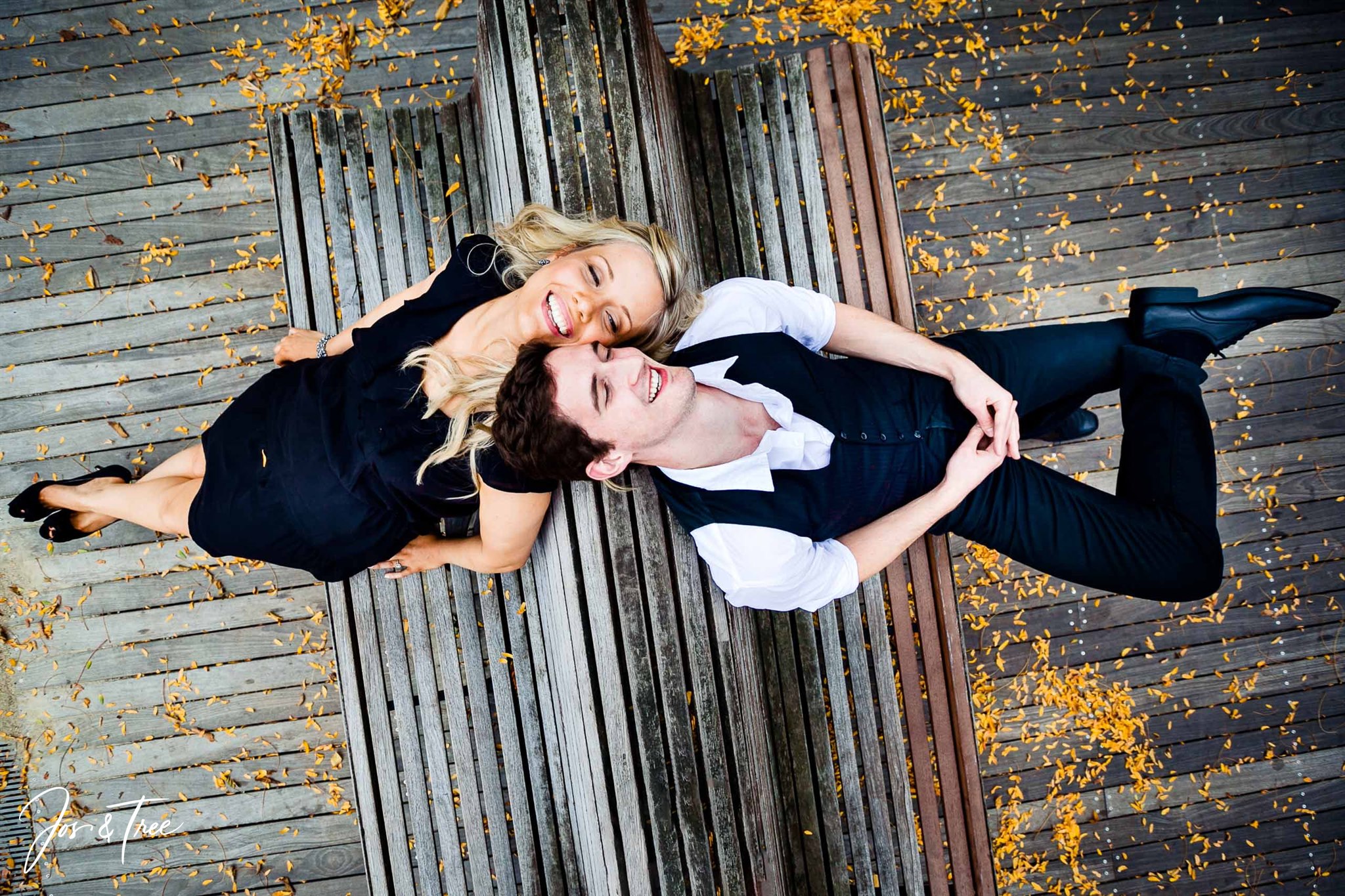 The Nines Hotel
The Nine's Hotel is Portland's Luxury hotel, situated in downtown with incredible rooftop views, artwork everywhere, and two restaurants. This hotel has all the modern vibes you would ever want. It's a great place to end an engagement session for epic eats. Also, checkout the gorgeous event space they have for weddings.
Location: 525 SW Morrison St, Portland, OR 97204
SE Industrial District
Portland is known for lots of funky industrial backstreets and train tracks. Traffic is getting trickier every day in Portland, so often the best rule is to go somewhere where there is interesting architecture that you can walk through without congestion. We find the backstreets along SE 2nd near Produce Row offers an array of backdrops to explore, not to mention great stop-offs such as Wayfinder Beer, Olympia Provisions and some killer bridge views.
Location: SE 2nd Street, Portland Oregon
Location: Noble Rot – 1111 East Burnside Street, Fourth Floor, Portland, OR 97214
Portland Foodcarts
Okay, so Portland has more than 600 food carts with 400 operating at any given time. Crazy! It's known "that you could literally eat at a Portland food cart every night for two years before you'd be forced to eat at the same place twice." It's impossible to name our all-time favorite food cart, but one that definitely stands out is The Grilled Cheese Grill. We followed this couple down Northeast Alberta street with their bikes and captured them through the funky school bus eatery window enjoying these warm, crunchy, gooey cheesy sandwiches. The colorful inside of this refurbished bus brings you right back in time with little kid school pictures from 20 years past. A true Portland experience! Ride some bikes, too. Portland comes in as the second most bike-friendly place to be in the country, behind Minneapolis.
Location: 1027 NE Alberta St, Portland, OR 97211
Alberta Arts District
Speaking of the Alberta Arts District, just roam and get lost down Alberta street for hours. You'll find dozens of hip and funky boutique shops and tons of colorful murals, boutique shops, and yes…more pubs.
Location: The district centers on NE Alberta Street, and stretches approximately 1.5 miles, from Martin Luther King Jr. Boulevard to NE 33rd Avenue.
[Related Reading: Best Engagement Photography Locations in Raleigh, North Carolina]
Mary's Strip Club
Okay, so this is definitely one of Portland's peculiar characteristics. Portland has more strip clubs per capita than any other city. Some serve steak and some are vegan! This couple we photographed specifically wanted us to capture them in Mary's Club because the grandfather of the "groom to be" started Mary's way back in the day, so we just had to do it!
Location: 129 SW Broadway, Portland, OR 97206
Day After Sessions
Many of our couples love the backdrop of Portland so much that we often get asked to photograph "day after sessions" with their wedding outfits. This is a great concept because it can take the pressure off taking portraits on the wedding day. Instead, couples can enjoy the organic flow of their wedding with all the candids and take a separate day to explore Portland with wedding outfits on. It's a great date and a wonderful way to capture great photos. One of our favorite spots is exploring the old brick buildings Near Castaway in NW Portland. Another is the Tilikum Crossing Bridge which is the largest car-free bridge in the US, stretching 1720 feet long.
Location: Old Brick Buildings near Castaway – 1900 NW 18th Ave, Portland, OR 97209
Location: Tilikum Crossing Bridge – Bridge of the People, Tilikum Crossing, Portland, OR 97201
Surprise Proposal
There is nothing like photographing a real proposal. Butterflies are everywhere from the person proposing, the photographer(s), and of course the person being proposed to! We've been asked many times to capture the "real moment" which goes to the heart of our photography. We offer proposal consultations to help brainstorm ideas and plans for capturing proposals. "How to capture it without the photographer being seen" while keeping the moment authentic for the person proposing is key. Nothing like the real thing! These first two photos were on Portland's Waterfront Park on a bench under an umbrella. We hid behind trees with our long lenses to get in tight on the moment. The 3rd photo was at Ava Jean's restaurant with us hiding behind the bar and corners sneaking in on the moment. Also, the nearby streets and Portland's Saturday Market area filled with lovely market lights. It almost feels European.
Location: 98 SW Naito Pkwy, Portland, OR 97204
Location: Ava Jeans: 3377 SE Division St, Portland, OR 97202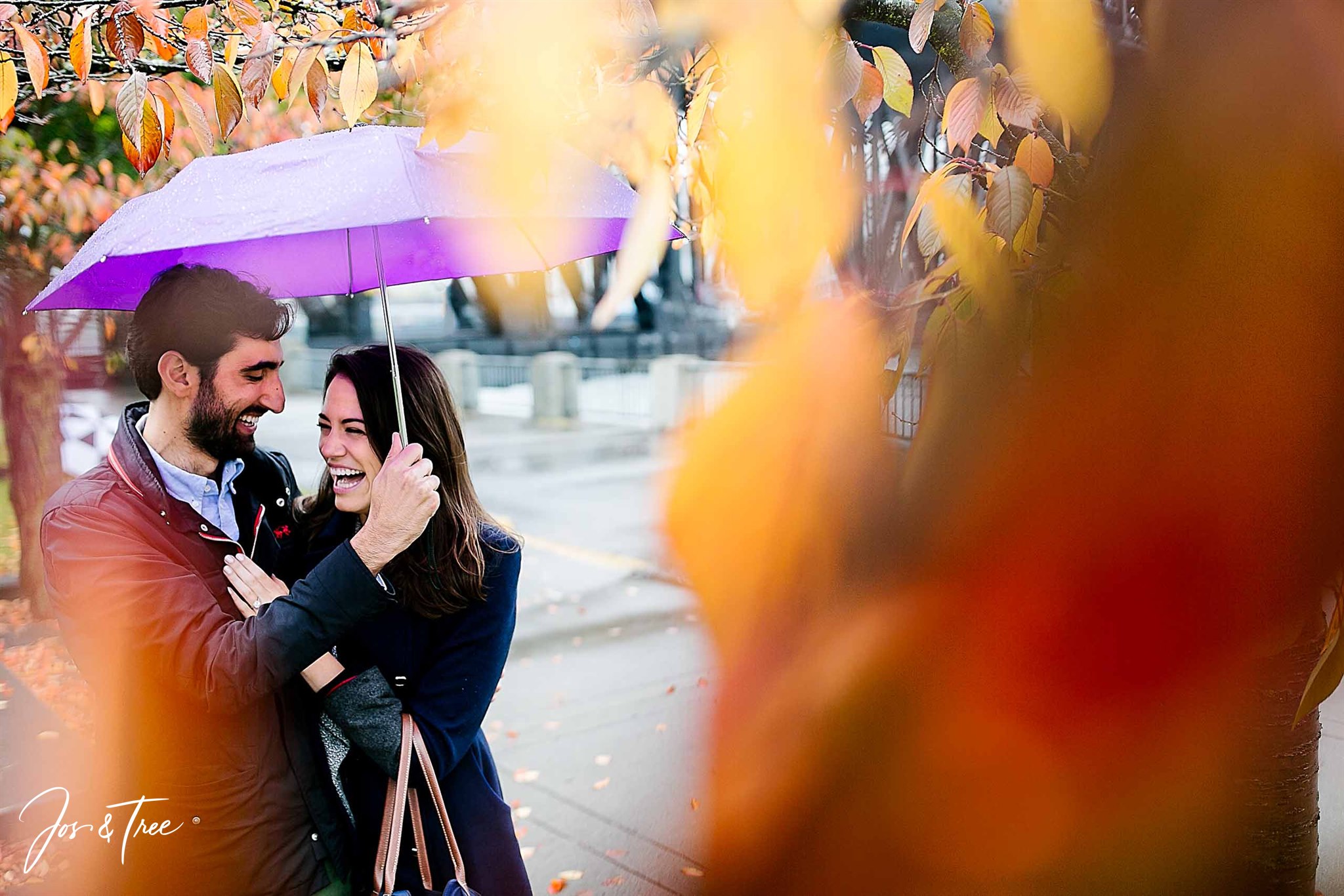 Just Outside of Portland
The city of Portland is truly a melting pot for endless exploration. The surrounding areas just outside of Portland are excellent, too. Portland is only an hour and a half from the Pacific Ocean (approximately 80 miles), the Columbia Gorge is just 30 miles east of downtown Portland, and Mt Hood is only 62 miles away.
Take a full day and explore engagement photos in nature just outside Portland.
Horsetail Falls and Columbia Gorge River Walk
The Columbia Gorge offers endless vast gorgeous walks and dozens of waterfalls. The greenery, pure air, and majesty of the waterfalls is sublime. Plan ahead and catch gorgeous sunsets and long shadows while walking along the Columbia Gorge river walk.
Location: Horsetail Falls, Oregon
Mt. Hood Ski Bowl
The Mt Hood area is full of gorgeous scenery, including hidden lakes and spectacular views of Mt. Hood. Get familiar with this area and you'll find endless treasures.
Location: 87000 US-26, Government Camp, OR 97028
Gorgeous Lakes Just outside Portland
Timothy Lake
Checkout Timothy Lake, which lies just 75 miles east of Portland. This is a camper's paradise. Here, you can see Mt. Hood's highest peak. Rent a canoe with a picnic lunch and the depth of nature will inspire you beyond words.
Timothy Lake Location: NF-58, Government Camp, OR 97028
Lost Lake
Lost Lake is one of our all-time favorite spots for engagement photos. This lake doesn't allow motorcraft, which means the water is pristine and reflects the sky and mountain vista. Old-growth forests and abundant wildflowers are everywhere. What's great is it's easy to get around the trails for hiking, swimming, boating, and camping. Rent a boat and get lost. You can easily walk along the shorelines to capture epic scenic photos of engaged couples.
Lost Lake Location: 9000 Lost Lake Road, Hood River, OR 97031
You can find more of josandtree photography's work here: Website | Instagram | Facebook
Jos & Tree Woodsmith
We are a team of photographers who specialize in creative documentary wedding photography. Our passion is to capture the most authentic and artistic photography possible. We also facilitate wedding photography workshops and are conference speakers. While based in Portland Oregon we travel photographing wedding celebrations worldwide. Learn more at josstudios.com and Instagram @josandtree.