It's a sensitive time in the media, to be sure. The old ways are being questioned relentlessly, and with good reason. What one may consider to be the exploitation and monetization of the female form is no longer accepted without question, but instead met with considerable scrutiny. In 2018, if one wishes to, say, pose two alluring sisters nude together for a high-profile photo shoot, it is guaranteed that it will not slip quietly into the sphere of social media. But maybe that's the point…
British Vogue has done just that, creating a beautiful debacle with predictable results. Two of the most in-demand models in the industry happen to be sisters Bella and GiGi Hadid. The March issue will feature each sibling individually on two separate covers, but the two appear naked and entwined in a spread within the magazine, photographed by Steven Maisel and styled by Joe McKenna. British Vogue has released the imagery via its social media channels, and a storm of opinions has churned ever since.
Some of the most vocal online, of course, have been those who are offended. Words like "porn," and "incestuous" have been tossed around, but it's arguable that porn is in the eye of the beholder. The photograph that has created such a stir passes the litmus test for artistic viability in that many conclusions may be drawn from the same subject matter depending on the viewer. In fact, it begs you to draw your own conclusion.
In a way, these images pose as a Rorschach test for one's attitude on a number of things. It can reveal the viewer's biases toward sex, nudity, women, physique expectations, and utilization of the female form via media to name but a few.
Are you disgusted? Aroused? Maybe you're made nostalgic for childhood, a time when two siblings might share a bath in perfect innocence. Why might you feel the way you do? One great thing art can do for us is offer a chance to go swimming in our own psyche.
When considering the intentions of the photos, however, Vogue magazine and the fashion and advertising industries' historical insidious shaping of society's perception and treatment of women can't be ignored. Photography in this medium is a marriage of art and salesmanship, and it never hurts to question what one is being sold. The tides are definitely turning as those who were once diminished take the reins, but we've only just begun to tackle social issues that affect so many.
In a society where women's bodies are treated as a public commodity, where sex and nudity are held as one and the same, it's no wonder the go-to assumption of many would be that these sisters are being sexual. The product and the reactions are both reflective of a world where women have long been seen as objects. Art imitates life, while it has, in turn, shaped it as well.
When you look at this photo of Bella and GiGi Hadid, what do you see?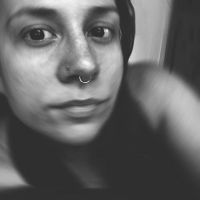 Holly Roa
Seattle based photographer with a side of videography, specializing in work involving animals, but basically a Jill of all trades. Instagram:
@HJRphotos