Adobe has just launched a Sneak Peek video detailing a powerful new feature that's coming to Photoshop this year! This new feature uses Adobe Sensei AI to let you quickly & easily replace any sky in your images. Have a look at the quick 3-minute video above to see the complete overview of this new AI powered tool.
[Related Reading: How to Replace Skies in Seconds: Complete Lightroom to Luminar 4 Editing Tutorial]
What's going to be interesting is to see how this compares to the existing AI Sky Replacement tool in Skylum's Luminar 4. The version in this demo seems to run quite quickly and smoothly with an improved and easy UI to navigate, "Adobe Sensei-powered models do the heavy lifting of masking and blending," says Adobe product manager Meredith Stotzner, but Luminar is apparently releasing a powerful update to it's already existing sky replacement tool very soon as well. Maybe once both are out on the market we'll have to do some head to head vs review of the tools?!
As for photoshop, the Sky Replacement feature can be found under the Edit menu here;
From there you'll be presented with a few options for choosing your sky, adjusting the fade and position of the edge, and how you want the new sky to be output in your working file.
Within the "Sky" dropdown you'll be presented with thumbnails of all the available skies you have to choose from, including an option to add your own custom files.
Something I was impressed with from this preview video, was how quickly the scene was "re-lit" after choosing and/or adjusting the skies position in relation to your image. Sensei AI will automatically adjust the colors and lighting of your image to match the visible sky, making your scene more realistic and believable.
You can also scale the sky images (larger/smaller) and manually make adjustments to the brightness and color temperature if you choose.
The best part is everything you do is saved as separate layers, given you the utmost control afterwards to make adjustments should you need too!
Adobe teased this feature back at Max in 2016, but as I mentioned above, Skylum's Luminar beat them to release. We've been using Luminar to improve the skies in our images now for a few months so we're quite interested to see how a native tool in Photoshop will work when compared.
If you've never tested luminar out as an option, check out the tutorial video linked above for a step by step guide on how it works. If you're holding out for it to be available in Photoshop, the good news is it'll likely be available with the updates to the Adobe Creative Cloud suite that has typically been released on or shortly after the Adobe MAX conference that'll be entirely free and online this year from October 20-22nd.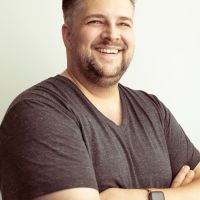 David J. Crewe
David J. Crewe is a full-time commercial photographer and Senior Editor with SLR Lounge. Based out of both Southern California & Las Vegas, Nevada. View his work and blog:
DavidJCrewe.com
Follow his Instagram:
@DavidJCrewe