Our "SLR Lounge Artist Feature" articles highlight some of the very best photographers in the world. This article features an interview with Anna Nguyen, of Zee Anna Photography (Naples, Florida).
Read on as Anna talks about everything from how she got started into photography to what it's like running a proper photography studio to why we shouldn't be killing all our plants. As well, Anna gives some solid advice on how to increase your album sales!
Anna, thanks so much for taking up so much of your time to talk with us! You rock! Tell us how you first got into photography.
I really got into photography when I met my first mentor (my photography instructor James Greco), while attending a business etiquette dinner. We struck up a photography conversation. Then, the next thing I know, I'm applying for a spot in his photography class! Shortly after that meeting, I joined Flickr, found a community of amazing friends (many with whom I'm still friends), and started a 365-day project of self portraits. That personal project changed things for me in a great way!
Zee Anna Photography is a full-service photography studio. Tell us about your business. What do you love most about having a photography studio?
I love having my own space. Now that the Zee Anna Photography studio is full of exceptionally crafted wall art—and it's renovated to serve my clients the best—it's been such a dream. Sometimes, I have to tell myself to slow down and savor the moments. Five  years ago, I was photographing high end commercial work for someone else, in a space no bigger than a walk-in closet and making do. Now, I have my own space, designed and created just for me and just to spoil my clients.  … My favorite part of the studio is our 'Cinema Room,' where we project all our clients' photographs and album designs and create with them …  it's simply an amazing experience. And I love having that 'wow factor' for our clients that just thrills them.
You excel in several areas: weddings, portraits, underwater photography, and commercial work. A lot of photographers stick to one genre. How did you get into several and what advice would you offer for a photographer looking to get into a new genre?
I thought for the longest time that I needed to specialize … I have been photographing for nine years, and you can work in multiple genres. … Moreover, you can take a break from one genre for a few years to become an expert in another. Now, that doesn't cancel your skills. In fact, it's like riding a bike. You may be a little rusty when you jump back into it, but you'll find that you still got it after a few laps around the block.

As far as advice? If you want to get into another genre? First, see if you even like it! Try photographing in that genre for fun, for trade, or for a reduced cost. Find others who are doing what you want to do and ask to assist, or work for free or trade to get the experience. …

Of course, sometimes you'll get into another genre for fun, and it will organically move its way into your provided services. That's how underwater photography started for me. Now, I've been photographing commissioned underwater portraits since 2013.
So, you're very well-known in the industry (and amongst your peers) for your album design and sales process. What are a few tips you'd offer to a photographer looking to improve their album sales?
First, set expectations early on and maintain them often. Your clients deserve to know what to expect from the album design process—how it affects them and what is expected of them. … Relatedly, you need to get to know your clients! At least know enough about them and their families to know what they want treasured and remembered …
Second, always pre-design your wedding album designs. Not only will this speed up your design process, but it will also take off a huge weight from your clients' having to choose their favorites. Of course, you can make changes together with your clients so you create an amazing album just for them.
Finally, partner with an amazing album company that has quality products—products where you can clearly tell the difference. An album is a luxury art product, so your albums need to be clearly different than anything a client could get at the consumer level. … A high quality product will typically sell itself to your clients.
What's the best business advice you ever received?
Don't project your personal blocks onto your clients. Just because you think they won't spend money on something doesn't mean that they won't spend it with you, and vice versa. If your clients find value in what you provide and do, they will figure out how to pay for it. (I think Sue Bryce said something similar to that in one of her Creative Live courses.) 
How about your best piece of business advice for photographers who need a bit of a jumpstart, who are struggling a bit, etc.?
Marketing and sales training will help you achieve financial success faster than creative talent, but you should balance out your educational goals so that you can steadily grow and maintain that growth. Also, stay coachable. Be open to any possibility to learn new ways to improve yourself, your business, or your processes/workflows.
Okay before you go … We have to ask! Anyone who follows you on social media knows you love your dogs and plants. Why can't we keep plants alive? Seriously, we kill them all!
I love our dogs. They are the most spoiled, attention seeking, camera loving babies … Some of our clients expect to see them in studio when they visit. However, both Einstein and Momo like to be in the shooting area and will sometimes appear in our clients' portraits. Because of this, if you want to see them in the studio during your visit, you have to request their presence!

As for your plants: it's so easy to kill them with kindness! What I mean is that many people don't do proper research on what type of plant they have. Some big box nurseries do a horrible job labeling the plants as well, so definitely try your best to find out the type of plant and what its care needs are. The biggest plant killing thing you can do is overwater your plants. The funny thing about overwatering is that the plants start to freak out and get yellow leaves. Then, we all think that they're dying. So, we water them more, and they keep dying. …  Also, if you're watering as needed, but the plant isn't thriving? Check the roots. It might need to be re-potted due to bound roots!
Thanks for checking out our latest interview and artist feature. You can see more of Anna Nguyen's work on her website, Zee Anna Photography. Check her work out on social media as well: Facebook, Instagram, and Wedding Maps Profile!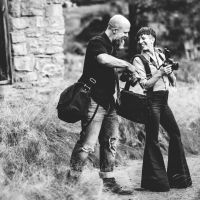 Amii & Andy Kauth
Amii & Andy are a wife and husband team of rad portrait and wedding photographers (Sunshine & Reign Photography) who absolutely love life and are generally just stoked! Yeah! When they aren't photographing or writing and teaching about photography, you'll find them off on a seriously legit adventure with their little ones, lifting weights in their garage, training jiu-jitsu, refining their archery skills, or surfing every chance they get. And on the rare chance they escape off on a "date night"? Yep! They'll find a wedding to crash (true fact). Website:
Sunshine & Reign Photography
Instagram:
@sunshineandreign