My Hesitation Buying an 85mm
I had considered buying the Canon 85mm f/1.2 II for many years, but I just couldn't justify it, especially since I already owned the Canon 50mm f/1.2 and a Canon 70-200mm f/2.8 IS II. But one day my 50mm needed servicing, and I had a wedding coming up. I felt like this would be a great chance to try out the Canon 85mm f/1.2 II, because in the back of my mind I thought "I could always return it if I don't like it." I ended up falling in love with the lens, and now it goes with me on every shoot.
The Situation
I was on my way to do a quick portrait session for a friend's daughter. She was turning 1 and having her first birthday party on the weekend, and they wanted to have a photo to print. "No problem" I thought, I would simply go to their house, take a couple photos, and be done. I had packed minimally for this shoot, only taking my Canon 5D Mark III, Canon 50mm f/1.2, and my Canon 85mm f/1.2 II (because those 3 things fit perfectly in my 13in One Bag).
I wanted to do the daughters portraits outdoors, but the backyard was narrow and there was only a small amount of shade. My mind immediately thought "Which background will look the best" and after looking around, I realized my options were limited.
We started this shoot at noon, so shooting in the sun would give me harsh shadows, and shooting in the shade towards the sun would completely blow out my background. After judging the direction of the sun in the shade using the hand technique, my only option was to shoot in the shade towards an unphotogenic wall of vines and leaves.
85mm Saves The Day
With my composition finally figured out, my next thought was "How can I blur out that back ground as much as possible." The answer was simple, 85mm. Shooting with the Canon 85mm f/1.2 II turned the background from sharp leaves to a nice, blended, and not so distracting green. I shot these portraits at f/2.8 to make sure everything in the face is sharp, and I'm extremely happy with the results. All of these photos were shot at ISO 100 f/2.8 at 1/200 sec.
The best part about this shoot was that because I knew exactly how I wanted these photos to look, I simply put them in Lightroom, applied the "01-10 BASE – SOFT: 10c. Soft – Skin Desat" preset, and I was done! With the Lightroom v5 preset system I was able to edit, export, and deliver 54 images in about 10 minutes!
Of course if you're considering buying an 85mm, you don't have to bankrupt yourself by going with the Canon 85mm f/1.2 II. There are many great 85mm's out there. Do you use an 85? Do you love it? Let us know in the comments!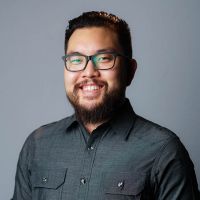 Joseph Cha
I'm a photographer and cinematographer based in Southern California. When I don't have a camera in my face I enjoy going to the movies and dissecting the story telling and visual aesthetics.