Last week I agonized over writing my post, 4 Reasons You Shouldn't Take Portraits on Railroad Tracks. I have to admit, I once took a family photo on some supposedly abandoned tracks, because I was completely ignorant of any of the points brought up in the article. Through my research, I learned a great deal, and thought it was important to share with our community. I figured it was kind of a boring subject and most would pass over it for a more interesting read.
Imagine my surprise by the barrage of heated comments on Facebook and following the article Sunday afternoon. I was even more shocked by the blatant disregard for the law, and the safety of clients, by many of the commenters.
Common themes were: Who cares if it's illegal? Only an idiot wouldn't be able to tell if a train was approaching. How many photographers have actually been killed on tracks? It's ok to use tracks that are abandoned… Julie La Combe, Kansas Operation Lifesaver Executive Director, read the article and contacted me to clear up a few of the arguments made by photographers. She gives answers, as well as a Reason #5 to stay off the tracks. Basically, if you disregard your own life, please at least consider the lives that are affected when a person is hit and killed by a train (which happens every three hours in America.)
"I would offer, after reading through the photographer comments, that a possible reason number 5 would be to consider the train crews, their families, the paramedics, and anyone else who has suffered through a preventable tragedy. Photos of people on tracks bring these tragedies into cruelly sharp focus.
Even if the line is "abandoned." It doesn't have to be active to be a terrible idea. The last thing a train crew sees right before impact is that innocent face, unaware of what is about to happen to them, and there is nothing they can do to stop it. A rail-themed shoot is okay if it's clear that no one is on tracks, equipment, bridges, or tunnels—real or green-screen.
"Education is the step that we try to use before enforcement. We send a photographer safety notice to those who are in violation. If they don't take down the photos from their websites or Facebook page, I call Railroad police, as well as local law enforcement to report the trespass violation. I don't like to see a photographer get fined or arrested, but if it means saving his or her life, then I suppose it's necessary.
"Railroad law enforcement can also fine the CLIENTS if a photographer shows a habit of continuing the practice…since the photographers give them all the evidence they would need on Facebook, tagging clients after posting trespassing photos in galleries available for public view. Something to consider.
"I would also offer that if a photographer knowingly uses private property for a shoot, and a client is injured or killed, that photographer could be liable."
Operation Lifesaver in Kansas sent the above poster to all high schools in the state (public and private), urging yearbook editors to reject photos submitted that feature railroad tracks. Some have already taken action to comply.
I realize we have a global audience here at SLR Lounge, and trespassing laws may vary by location, but I believe staying off the tracks is still the wisest choice for the safety and consideration of all concerned. Please stay off the tracks!
Note: Our article 10 Basic Poses for Wedding Photographers features a couple posing on tracks. We will no longer be endangering our clients in this way. For lots of safe posing ideas, check out our Natural Light Portraiture Workshop. Click here to view more details.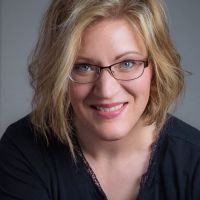 Tanya Goodall Smith
Tanya is the owner of WorkStory Branding Photography in Spokane, WA. Businesses hire her to create story-telling content that sells their high end products and services. She also teachings photographers her unique business model for making serious money as a corporate and personal branding photographer. Find her at
workstoryphotography.com
and
workstoryeducation.com